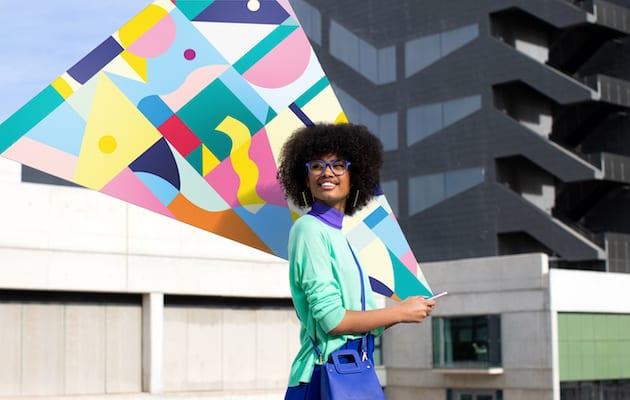 Workspace personal trainer, and OnOffice online columnist, Dan Brathwaite explains how and why we need to fight blue light
The way we work is changing rapidly due to advances in technology. From the moment we wake up, to arriving at the workplace, then relaxing at home, much of our time is spent surrounded by or using screens.
All these devices emit blue light, which can put our eyes under pressure. This can lead to side effects like fatigue, headaches, dry eyes, neck pain, blurred and double vision. Overexposure to blue light-emitting products can have an incredible negative effect on sleep also, which can ultimately make the average workday even more of a struggle.
Glasses by Barner: The Chamberí style in military green
We know that too much screen time isn't good for us, and recently many smart phone manufacturers have introduced screen-tracking functions and apps, to help us become more mindful. However, Barner, a Barcelona-based accessories company, has another solution.
The Dalston style in shade coconut milk
Barner was founded in 2017 by Edu and Ray, two tech workers who were having a hard time coping with long hours spent in front of screens. It started as a Kickstarter campaign, offering glasses that block out blue light, the kind emitted by digital devices. Today, Barner's glasses offer a wearable solution to the problem of constant screen time that could well protect millions of eyes around the world from blue light overexposure.
As well as protecting eyes from strain associated with blue light, the glasses are designed to fight fatigue from long hours at a computer. When using screens, it's important to take care of your eyes with movement and breaks too – try following the guidelines below for a quick eye break.
The Dalston in Black Noir
The eye exercise you can do right now at your desk
Le Marais Dusty Pink
Our eyes have six muscles attached to each eyeball, and just like any other muscle in the body, they need regular movement. Try these eye circles next time you're feeling tired.
First, stand up by your desk and grab a pen. With your posture relaxed and legs shoulder width apart, begin to steadily draw a big circle in the air with the pen.
Le Marais Honey
Follow the circle with your eyes – not your head. When you have completed a full circle, repeat another two times, before beginning another three circles in the opposite direction.
Chamberí in Palace Blue
Find out more about staying healthy at work – read Dan's piece on why being dehydrated is bad for your workflow.