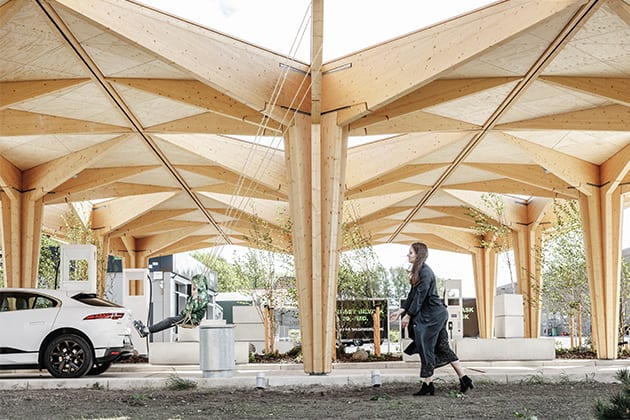 |||
Joyless tarmacked petrol stations and tired highway pitstops are soon to be a thing of the past. Well, in Scandinavia at least. "A green revolution is occurring in Scandinavian mobility," says Eik Bjerregaard, architect and project director at Cobe, an architecture firm in Copenhagen. Bjerregaard is part of the team that designed a graceful timber electric vehicle (EV) charging station, which can now be found on the motorway near the Danish city of Fredericia.
"We looked more to nature than to built references," he says of the station's organic appearance. Indeed, the EV station takes the form of a series of structural 'trees', whose lightweight branches and canopies filter in light. The struc- ture's modularity means that the design is scalable, and that one 'tree' can easily be multiplied to become a forest, depending on the needs of each site.
What's more, all building components can be disassem- bled and reused. "When shaping the project we first and foremost looked at traditional gas stations, which are characterised by noise, odour and bright commercial neon signs. We asked ourselves, 'What would a charging station look like, using natural materials and natural daylight?' We designed it not only for cars, but also for people to recharge their batteries," says Bjerregaard. When thinking about materials, timber was the obvious choice and the station canopy is built in certified wood.
"Timber is the only renewable building material that actually absorbs CO2, rather than emitting it," explains Bjerregaard. The Fredericia charging station features12'trees',witha400sqm canopy, which is covered with green sedum.
"This attracts insects and birds, and all the plants have been carefully selected in collabora- tion with the Danish Society for Nature Conservation with the aim of enhancing biodiversity," explains the architect. There is also space on the canopy to add solar panels. Although the 15-20 minute charge time is shorter than topping up the batteries of an electric car at home, it's still much longer than filing up with petrol at a traditional station.
So Cobe thought about how to create a meaningful and restful space where people can have a moment of peace and quiet. "We wanted to create a non- commercial green space, a sense of resting in a zen garden, where you can pick your own strawberries while the kids play on the swings," says Bjerregaard.
Scandinavia is at the forefront of driving change when it comes to renewable energy and clean living. For instance, by next year, wind and solar power will provide more than 80% of Denmark's energy and there is a big push (and helpful subsidies) to get drivers across the region to swap their expensive petrol-guzzling cars for electric or hybrid vehicles. As traditional petrol stations are bound to dwindle, 47 of Cobe's stations are set to pop up along the highways of Denmark, Sweden and Norway. They are sure to set the tone for the future of Scandinavian mobility – and hopefully the world's.
An electric vehicle charging station by Danish practice Cobe provides a restful space for drivers to unwind