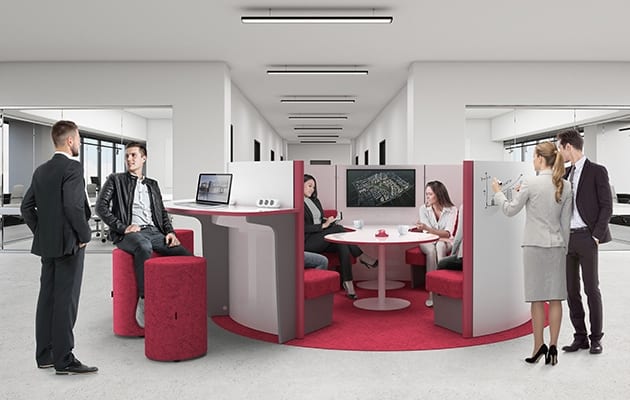 |||
Spaceoasis, originally known for its trademark Curvpress® pods developed in conjunction with Marks Barfield Architects, has evolved into a company that designs brilliant, purposeful work and learning environments. We catch up with Spaceoasis MD, Simon Hick, to find out more.
What's the current focus for Spaceoasis?
Purposeful environments with functionality at their core; spaces designed for collaboration, creative thinking and team-working with a focus on agility and writable surfaces.
Our clients are looking for a more relaxed, collaborative way of working. Getting people away from their desks, so they can network and make connections, boosts innovation. Designing environments that deliberately facilitate serendipitous encounters – those spontaneous chats that unlock ideas – is a key trend.
So, are the desk's days numbered?
People now do around 50% of their work away from their desk, so not everyone needs a desk all the time. There's a reason people like going to coffee shops to work; that 70db buzz is conducive to creative thinking – and a silent office isn't a great place to call or Skype, so you need a variety of spaces for different types of work.
Why is having a variety of spaces important?
Wellbeing in the workspace is becoming a priority for companies that want to attract and retain the best talent. Creating varied environments people actively want to be in shows that you care about your employees. They feel good at work so they're more likely to stay.
You mentioned agility. Why is that important?
We've been working with a neuroscientist on optimising environments. Being able to change your environment builds a sense of ownership; you become more invested in the space and more engaged. Also, movement improves cognitive performance by boosting the oxygen supply to your brain, so we design environments that enable it.
How are you embracing the growth in popularity of writable surfaces?
We developed LearningSurface®, a high quality writable surface solution that can be applied to pretty much any surface – horizontal or vertical. You can have tables, screens, interior and exterior pod walls and even entire walls clad in LearningSurface® – epic, freeform canvases for ideas.
What makes Spaceoasis different?
We're highly consultative because we don't sell an off-the-shelf solution, so we work in close partnership with our clients. We make products to order. We don't have a warehouse full of product to shift so we are free to work with clients on the best solution for them, rather than being restricted by what's in stock. When we design a solution it's because that's what the client needs. I think this way of working builds trust that we have our clients' best interests at heart.
This is an advertorial feature
Originally known for its trademark Curvpress® pods, Spaceoasis has evolved into a company that designs brilliant, purposeful work and learning environments.