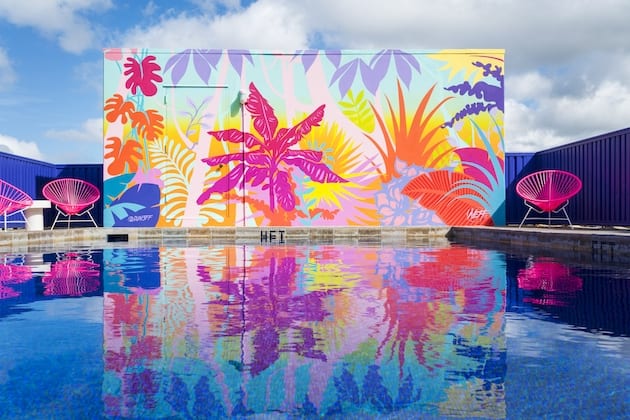 |||
Design catering for the millennial generation has long been on the rise. The influx of the younger crop entering the workforce – those commonly labelled digital natives or Gen Z – has influenced the way the office is perceived and executed: flexibility combined with user experience is now at the centre of all that's said and done with the modern office. But workplace aside, what about the millennial traveller and this cohort's impact on hospitality? Who are they and what do they want from a hotel experience?
Dan Mazzarini, principal of NewYork-based design firm BHDM Design, defines the millennial-minded traveller as someone "with an appreciation for social media, sharing experiences and a fun transient adventure". And their requirements for a hotel: "They're looking for an escape and something different than their everyday."
BDHM's riotously colourful design offers guests social media-friendly photos. Photograph: Adam Kane Macchia.
So, to accommodate these needs, BHDM Design recently completed the boutique Shoreline Hotel Waikiki, on the tropical turf of Hawaii – in a neighbourhood of Honolulu that is well known for its coastline decorated with high-rise hotels. Prompted as a major property renovation, the redesign gives a colourful update to the 135-room building, which includes various design features that make for a flawless Instagram post backdrop.
Instagram and its visually focused content – alongside the vividly stunning setting of Hawaii – is what stirred the brief.The concept, developed alongside creative collective Army of Moon People, was refined into a narrative of "nature meets neon", as Mazzarini explains: "Nature meets Neon was a way to reflect the natural beauty of Hawaii, but intensified.While there are actual neon colours and lots of bold chroma in the landscape, we tried to appeal to a millennial-minded traveller. So we imagined the space, colours and nature of Hawaii through an Instagram filter."
A neon Aloha welcomes visitors to the hotel's pink-hued reception. Photograph: Adam Kane Macchia.
He continues: "We studied the flora of Hawaii and its colours – including sunsets – as well as the competition in the market, in order to develop the concept into a brightly coloured retreat, like being in an endless sunset."
Since launching in 2010, Instagram's impact on the creative landscape has been phenomenal – particularly in the realms of interior design. So much so that to request an Instagram-friendly or Instagram appeal in a design brief is becoming the norm, and designers are opting to capture the attention of social media influencers and to garner likes via an Instagram-worthy photograph.
Shoreline achieved this new angle by means of carefully considered interiors, such as kinetic art and lighting, a "welcome wall", neon signage, custom murals, art infused with tropical prints and clashing tones. "By looking at nature through a neon lens, we were able to reimagine the Hawaiian landscape in technicolor and to enliven the space as a backdrop for social media," says Mazzarini.
The wild colour scene continues into the bedrooms. Photograph: Adam Kane Macchia.
The colourful setting can be experienced throughout. At first, guests are greeted outside by an ombré logo wall and pink flooring, which Mazzarini describes as the "perfect place for your first picture on vacation".
The lobby, or "living room", has an overscaled 4m sofa and jungle walls designed with white styrene-cut leaves, followed by a reception desk and neon "Aloha" signage that washes guests in a pink light. "Nearby, guests can help themselves to our hat wall and flavoured waters," he adds.
And if this isn't enough to infuse your social feed, the guest floor corridors are heavily saturated with colour, neon lights, patterned carpets and wallpaper, leading to bedrooms that are equally as striking.
Naming itself as the "most Instagrammable hotel in Hawaii", the Shoreline hotel is undeniably eye-catching and its success via Instagram seems inevitable. But why should the hospitality pay so much attention to the sharing platform? Mazzarini explains: "Because its a great way for people to express their creativity with and through photography. Our spaces get documented as part of the experience: from vacation pictures to inspiration images, Instagram is a great global link for all people to experience a property or a place from different points of view."