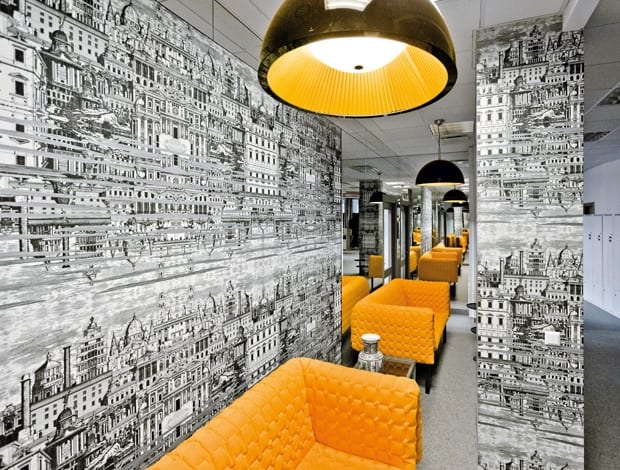 Mirror walls create an infinite row of sofas|Designers Open AD layered up graphic wallpaper with an eye for internal vistas|Furniture old and new sits together, and there's a curtained-off meeting area|Colouring in the ceiling plates is part of a strategy to revive a rented space|Morris & Co wallpaper and a gilded chandelier make for an opulent washroom||
Like most things in publishing, this project was driven by high ambition and tight deadlines. Occupying the fourth and fifth floors of a historic building in Riga's old city, Latvian publishing house Rigas Vilni wanted a lightening-quick turnaround for its new headquarters. It gave design agency Open AD a mere two months – from initial meeting to working up designs, making any necessary structural changes, sourcing and ordering products and materials, and final fit out – before the firm's editorial and administration staff moved in.
Open AD was unaccustomed to workplace fit outs until last year when it won the contract for advertising agency's McCann Erickson's Riga offices (onoffice 58). Since then, it has taken in its stride the addition of workplaces to its portfolio of private houses, hotels and clubs. Its latest client offers design and fashion-led titles, one of just two consumer publishing houses in the Latvian capital. "We came up with a concept of what we could offer for the space in a short time span and it was accepted by the client," says designer Elina Tetere. "To keep on deadline we began rebuilding and repainting walls and working on the detailed plans in parallel." In addition to the time limitations on this project, Elina and architect Zane Tetere had to think of possibilities that would work in rented premises, where the client was not motivated to invest big money in capital repairs.
"We wanted to avoid small, boring rooms and long, gloomy corridors," Zane explains. "We decided to keep parts of the existing rooms' partitioning, but to plaster the panels with a combination of wallpapers and fabrics, using clean black and white graphics as a base, and incorporating fuchsia pink and yellow accents to differentiate the floors.
"We focused on refreshing zones with a mix of fabrics and wallpaper, and then creating sub-zones, separated with coloured metal storehouse shelves, which are symbolic of production processes. On some of the ceiling plates we coloured in different zones, or squares, turning defect into effect." On both floors, the flooring has been changed to carpet that resembles valjenke – traditional Russian felt boots – with oriental patterned rugs adding a little luxury to different work areas.
The washrooms have tiles that tie into each interior scheme: decadent patterned wallpaper, gilded mirrors and chandeliers on one floor, and more graphic black and white designs on the other. "Working in hotels and clubs, you learn never to forget or neglect toilets as simple white rooms, or exclude them from the themes of the interior," Elina explains. "It's important to keep them interesting, to go with the rest of the project."
The copious amounts of wallpaper – from Cole and Son, Timorous Beasties, Morris & Co and Fornasetti – was sourced by Open AD from an interior design company in Latvia that imports mid-to-high-end products. The selected graphic designs range from two dimensional cityscapes to trompe l'oeil bookshelves, the latter highly apt for a publishing firm. Glass panels were installed in place of walls across some of the office spaces, creating a kaleidoscope of patterns when standing looking from one end to the other. "We were aware of the effects that could be achieved by seeing the graphics layer on layer, and we wanted to play with that and create interesting perspectives with the designs," Elina explains.
Furniture is mixed and matched in the same way as the 2D graphics and tactile curtains, with new and contemporary light fittings, desks and task chairs specified alongside antique tables, ornate chairs and mid-century sideboards, sourced from antique fairs.
The eclectic selection of furniture ranges from bespoke oak furniture, to Flos's Zeppelin pendant light, to a black and white contemporary desking system from a manufacturer in Poland, to Ligne Roset's squashy Ruche sofa in egg-yolk yellow. Somehow, it hangs together seamlessly, and lends a timeless quality that will, the designers anticipate, outlast the lease.
The need for reflection and for creative contemplation has not been overlooked, and among the open-plan working areas are three larger meeting spaces topped with circles of curtain rail, with printed curtains that can be pulled around to create impromptu hubs. The chairman of the editorial board, Aija Simsone, was actively involved in the design process, and sourced and chose her own furniture for her office. With a low-slung beige leather lounger and settee, brass-legged side tables and stools, an oriental cream rug, modern sideboard and yellow patterned walls, it merges antique and boutique. Elina says that the scheme perfectly emulates Simsone's personality and taste.
As for Open AD, this small but burgeoning design company now has its sights set beyond Latvia, with speculative meetings in Ukraine underway. "We are keen to take on projects across the border," Elina explains, "but we will still be working in Latvia. Workplaces will always be part of what we do now."