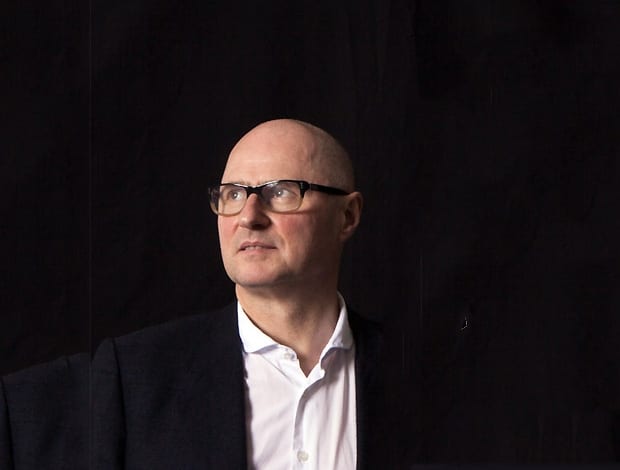 Simon Allford, co-founder of AHMM|(L) Edward Barber (R) Jay Osgerby|Philippe Starck, who will also open the exhibition||
Jaime Hayon, Barber & Osgerby, NBBJ partner Ryan Mullenix and AHMM co-founder Simon Allford are among the top designers and architects lined up to speak at the upcoming 100% Design exhibition.
On Thursday 18 September, Mullenix and Allford will join the discussion 'Designing with data: is this the future for designing buildings'. Mullenix will talk about NBBJ's use of computational design for Google in California and Samsung's US HQ, while Allford will discuss AHMM's approach to its current projects for Google in Kings Cross and Scotland Yard.
Edward Barber and Jay Osgerby's repertoire includes the London 2012 Olympic Torch, designs for Vitra, Flos, Cappellini, B&B Italia and Swarovski, and a recent commission to design London's Crossrail trains. At the show, the pair will shed light on the future of their diverse portfolio in a talk with Design Museum's director Deyan Sudjic. What next for Ed Barber and Jay Osgerby? forms part of the museum's What Next series and will take place on Saturday 20 September.
Former Apple CEO Steve Jobs said: "One of the biggest innovations of the 21st century will be in the intersection of biology and technology." What does this mean for design? This question will be explored in 'The big question: what impact will synthetic biology have on design?', which is also being held on the Saturday.
The intriguing panel for this talk includes architect Rachel Armstrong, who designs buildings that repair themselves; Daan Roosegaarde, who has designed glow-in-the dark trees as replacements for streetlamps using the bio-luminescent qualities of jellyfish; and Carole Collet an academic and researcher, who has reprogrammed strawberry plants to create lace from its roots.
Other speakers include Jaime Hayon, Philippe Starck, members of the Stirling Prize-winning practice Witherford Watson Mann and Mark Eley of Eley Kishimoto.
Visit 100% Design 2014 to find out more about its list of speakers.