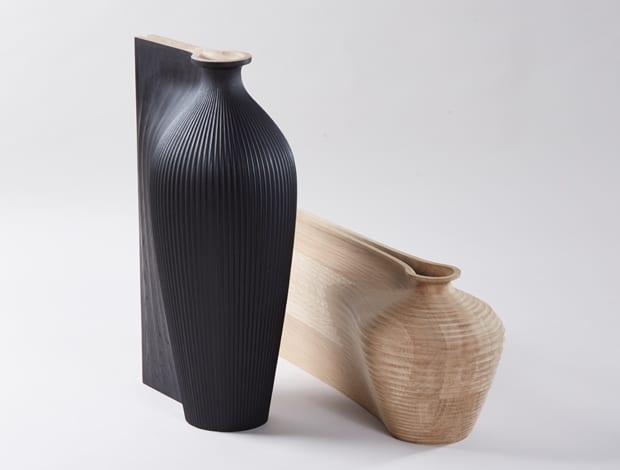 Zaha Hadid's tableware vessels by Gareth Neal|Felix de Pass' kitchen stools for Alison Brooks|Norie Matsumto's pencil sharpener for Norman Foster|Amanda Levete's serving dish by Win Assakul|(L-R) Ab Rogers, Richard Rogers and Xenia Moseley|Barnby & Day's table for Alex de Rijke|Paul Smith's garden shed by Nathalie de Level|Studio Areti's interior architectural elements for John Pawson||
Benchmark co-founder Terence Conran has brought together top figures from the design and architecture world, commissioning ten up-and-coming designers to produce items "they've always wanted but never found".
The designs, predominantly created by hand, were produced at Benchmark's workshop over the course of a week, while the young designers camped in bell tents at the end of Conran's garden.
The project was run in collaboration with the American Hardwood Export Council (AHEC), which introduced the designers to a range of American hardwoods and educated them on the concept of life-cycle environmental assessment (LCA).
David Venables, European director of AHEC, said the amount of land used to grow American hardwood is greater is size than the whole of the UK, France and Spain, and that the carbon footprint of shipping timber from the US to the UK was less than the amount used to transport it by road from Scotland.
The Wish List pieces are on display in the Victoria & Albert Museum until 24 October.
Gareth Neal's tableware vessels for Zaha Hadid
Echoing the flowing, undulating nature of Zaha Hadid's work, Gareth Neal decided to make a pair of carafes that mimicked the fluidity of water. Working in Hadid's studio, he used took advantage of their 3D modelling capabilities to create two grooved, sculptural forms out of oak – one untreated and one ebonised – that benchmark co-founder Sean Sutcliffe described as "the most remarkable thing we've ever made".
"The designs were emailed back and forth initially, then I went along with the design and had a face-to-face talk with [Zaha Hadid] about it," Neal told onoffice.
"I was working with her CAD operators and that's like her fingertips – her tentacles – whatever you do it's sort of part of herself because the studio's like this massive large organism that creates everything – it's very much a collaboration."
Xenia Moseley's ladder for Richard Rogers with Ab Rogers
The father and son duo's long-term fascination with ladders was the starting point for their wished-for product. They requested a ladder they could perch on at at a height and be comfortable enough to write, eat and work.
For the ladder 'uprights', Xenia Moseley' steam bent red oak, which curved out "like wings" at the top. A leather seat tops the ladder, which sits between a table on one side, and a two pronged piece of timber on the other between which a wine glass or an iPad can be slotted.
"It was a matter of deciding which wood would be appropriate because we initially wanted to use tulip wood, which is really light so the ladder could be moved around but we couldn't steam bend it, so we switched to red oak which is heavier but allowed us to get that sharp 90-degree angle on the left wing.
"[Roger and Ab] chose the trademark Rogers lime green of the seat, while I chose the pink of the table."
Barnby & Day's dining table for Alex de Rijke
dRMM's founding director Alex de Rijke worked with Arup to design AHEC's 'Endless Stair' in 2013, which now sits outside London's Tate Modern. He requested a large, circular dining table made from laminated tulip wood.
"Everything takes place at the table," said de Rijke. "[A round table] is more democratic. It means that children have as much say as adults."
He chose tulip wood because it is "light, strong and abundant", he said, and he likes the varieties in the grain which come from being grown in different microclimates.
Rob Barnby and Lewis Day designed a table made up of 13 rings of three-layered CLT, the top being two metres in diameter. The hollow in the centre of the table increases the sense of solidarity in the table, and acts as either a fruit bowl or an ice bucket when lined with spun copper."
It was the largest object Benchmark had ever turned on the lathe and a specialist turner was brought in to carry out the process. When the largest section was turned, the outer edge spun at 62mph, which Barnby described as being "amazing and feeling quite dangerous".
Tulip wood is the tallest and fastest growing tree. It naturally regenerates and produces a thousand seeds per season.
Sebastian Cox's 'cocoon-like' desk for Terence Conran
Sebastian Cox created curved screens out of woven red oak to enclose the desk and create a private area. Within this structure, he made a desk and shelving from cherry wood that incorporates a "secret drawer".
To make the red oak supple enough to be woven, Terence Conran advised Cox to soak it in a brook on the Benchmark property. Cox finished the structure with whitener to lighten their appearance to Conran's specifications. Cox said he wanted to showcase the two types of wood because they grow in abundance, yet are widely under used.
"This is the most intricate and challenging thing that I had ever made, but how often will I get the chance to design for someone who is so important in the industry," Cox said.
Other projects included Felix de Pass' kitchen stools for Alison Brooks; Lola Lely's reclining seat for artist Allen Jones; Norie Matsumoto's pencil sharpeners for Norman Foster; Win Assakul's three-metre serving dish for Amanda Levete; Nathalie de Leval's revolving garden shed for Paul Smith; and Studio Areti's suite of interior architectural elements for John Pawson.