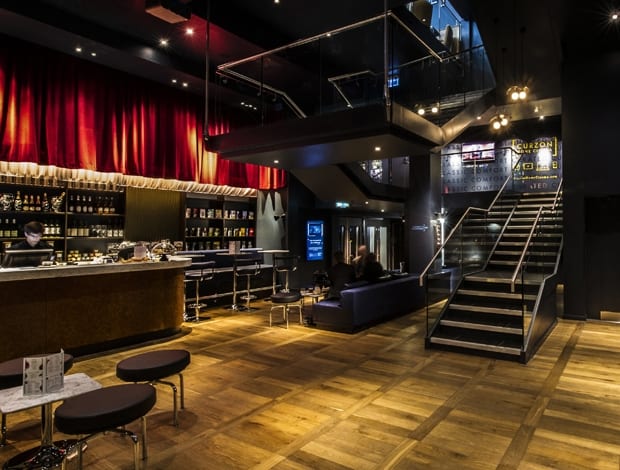 A swathe of red curtain in the basement bar nods to classic cinema design|A monochrome marble floor incorporates the bracket in Curzon's logo|A physical space representing the entire brand offering|Films projected into the basement bar add drama to the space|A 'private' home cinema that can be rented out||
Designer Afroditi Krassa uses Curzon's roots in the golden age of cinema to create a glamorous spot to catch a film in London
The antithesis of large flashy multiplexes, independent cinema chain Curzon has retained the nostalgia and romanticism of cinema-going since it was founded in 1934. So for its new flagship in London's Victoria, designer Afroditi Krassa has tapped into that bygone-era charm, while also creating a cultural hub for film buffs.
"Curzon wanted it to be like the Apple Store of cinemas," explains Krassa, "a physical space that represents the whole brand." The firm also owns an arthouse film distribution company and a home cinema service, so rather than just a place to watch films, the space is multifunctional.
The ground-floor cafe is equipped to host gigs and Q&As. On an upstairs mezzanine is the Sound and Vision Archive, where people can lounge and watch films or listen to curated sound content from the Curzon back catalogue for free. Downstairs is a private 'home cinema' room that can be rented out, and in the basement there's another more intimate bar, and finally, the five screening rooms.
"People can use the space in different ways; it's very democratic and accessible," says Krassa.
The interior design draws on the brand's history without veering into pastiche, instead putting elements of old cinema charm into a modern context. On the facade is a backlit marquee board displaying what films are showing, but it's digital rather than mechanical. "We wanted it to look cinematic, using icons like the marquee, but instead of taking old elements and plonking them in a contemporary building, we used new technology," says Krassa.
The entrance is framed by red velvet and sheer curtains (more classic cinema features), which at night are used as a projection screen for snippets of old movies. Inside, the bar is lit by a frame of big Hollywood-style bulbs, and the materials and patterns hark back to the brand's 1930s beginnings.
"Curzon's logo is in a Futura font from 1929, which refers to a modernist, early-Bauhaus era, so we've used that same bold Thirties visual language," says Krassa.
The monochrome marble floor in the bar has been custom designed to subtly depict the bracket in Curzon's logo, as have the carpets downstairs, while the flooring in the archive area and the downstairs bar is a heavily grained timber. Walls are charcoal blue and the bars are clad in tan leather and marble – "classic materials that will wear beautifully," notes Krassa. The Atelier Areti lighting, made from black steel and brass, aligns perfectly with the 30s theme.
Materials are softer and richer as one moves towards the screens, and the lighting scheme, designed by Firefly, dims in six stages from entrance to cinema screen, gradually adjusting visitors' eyes and building momentum to the opening credits, As Krassa says: "The whole experience has cinema at its heart."