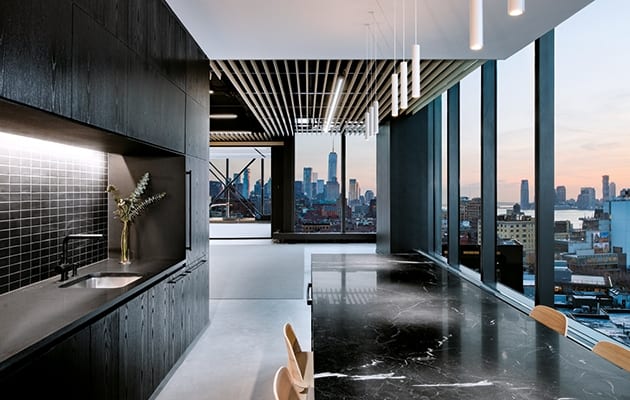 Lush interiors in 412 West 15th street, in Manhattan. All photos: by Connie Zhou|||
In the fast-paced city that never sleeps, it might be surprising to learn how little the established Manhattan neighbourhoods change year to year. New York's Meatpacking District, in far west Manhattan, between Chelsea and the West Village, has been a haven of small art galleries, high-end fashion boutiques, chic restaurants and trendy clubs since its 1990s renaissance from meat processing. With the opening of the elevated outdoor walkway the High Line, tourists suddenly flocked far west – and hotels sprang up.
Incidentally, the sleek, gallery-like building at 412 West 15th Street began its build as a hotel. In 2014, The Boston-based investment management firm Rockpoint Group switched the project to commercial space after deciding that creating edgy, high-end office suites would ultimately be more profitable. An insightful decision it seems, since the customisable, collaborative offices immediately attracted financial companies, bringing an unlikely industry into this creative neighbourhood. Rockpoint Group hired architectural company Fogarty Finger to design the interior of this boutique office building in March 2017, while it was still under construction. The project had to move quickly, since a number of finance companies snapped up floors that had yet to be fitted out. The second wave of projects will be finished by July, when half the building will then be occupied – primarily by European financial organisations (mainly French and Danish) looking to establish a New York City outpost.
Flos Infra-Structure creates custom spot lighting where required
"This is exactly how I pictured it, more or less," lead architect Garrett Rock says of the design outcome, while showing me around the completed twelfth floor office. Rockpoint Group wanted this boutique luxury office concept to stand out from other high-rises, so it gave Fogarty Finger carte blanche when it came to design and utilising cutting-edge materials. Since the building was custom built, the original hotel plans didn't affect the final design. The few columns in the frame were left exposed and painted, adding an industrial element that plays well with the West Side's repurposed factories and warehouse buildings outside the window.
Keeping the lines clean, maximising the sightlines and creating private space presented some logical challenges due to the building's small floorplate. "The core is very small and tight, so we had to engage that. On some floors it was a challenge to manoeuvre the pantries and common spaces," says Rock. The 23,700sq m building has 18 floors that vary between 350sq m and 970sq m.
Custom display bookcases are matched with Scandi furniture
The practice has created a neutral, monochromatic palette using materials like light oak, glass and light concrete. The staged furniture is new Nordic, with pieces by Muuto, Blu Dot, Eastvold and various accessories by Hay, Aesop and others. While the delineation between private offices and public spaces is clear, the office walls themselves are floor-to-ceiling glass panels with a black metal exterior frame. This family-style work environment doesn't allow for a lot of privacy, but there will be roughly 20 to 40 people per floor (all from the same company) and plenty of communal areas to escape to. Each office has a discreet pantry space that imbues a residential feel without disturbing the clean lines of the rest of the floor. The architects used layered tones of black to create texture and depth throughout each pantry's low millwork island with Nero Marquina marble, black granite countertop, Italian tile backsplash and wire-brushed black oak cabinetry.
"Stylistically, this could be any kind of office. The rents are very high so it will be mainly business and finance companies, but we designed it to be appealing to everyone," he says. "We're seeing a trend in liveable offices giving more space to collaborative areas, like the pantry, meeting room and conference space. Companies can attract more talent with this kind of setup."
Clean lines and natural materials give a spare simplicity
The space is invigorating and impressive, with natural lighting and none of the typical felt fabrics normally found in large Manhattan cubicle-style offices. The floor-to-ceiling windows (serving as exterior walls) have hypnotising, sweeping views of the city complemented nicely by the neutral colours of the clean, sleek, modern interior. Upper floors have open glass terraces, which one tenant has already designated as an after- hours barbecue space.
Inspired by the tower itself as well as the neighbourhood, Fogarty Finger has created a design that highlights the building's assets by keeping the colour schemes neutral and transparent so the ever-changing cityscape immediately captures the eye. To create a seamless transition from exterior to interior, he has used innovative, high-end lighting from Flos and Zaneen, among others.
Layered tones of black have been used in the pantry areas
"We wanted modern lighting with spots instead of those horrible fluorescent panels in so many offices," says Rock. The lighting is equipped with sensors that can dim during the day and allow an astounding amount of natural light to stream in, creating a modern-yet-cosy aesthetic that is more akin to a luxury apartment than a corporate office. The low voltage lights are plug and play, meaning they can be reconfigured as needed. The cylindrical downlights can be moved around, creating spot lighting. This is the first installation in North America of Flos's Infra-Structure system lights, designed by Vincent Van Duysen.
With its residential touches and cutting-edge design, 412 West 15th has achieved something remarkable in New York, a city known for its hustling and rushing: an office space with a timeless quality that makes you want to linger a little longer.
Fogarty Finger's boutique interiors for 412 West 15th Street offer the understated elegance that Manhattan's financial high-flyers crave