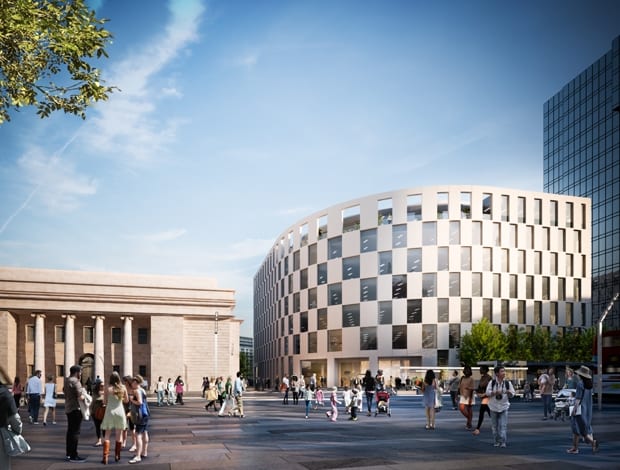 Plans for the first building in Birmingham's Arena Central development||
Gherkin-architect Ken Shuttlesworth has designed a distinct curved chequerboard facade for the first building in the Arena Central development in Birmingham.
Ken Shuttleworth's Make Architects has revealed its plans for the first building in Birmingham's Arena Central development. Called 1 Arena Central, the mixed-use building features a distinctive curved chequerboard facade that extends out, creating a covered walkway to encourage pedestrians on to the site.
Based in the city centre on Broad Street, opposite Centenary Square, the proposed eight-storey structure is the first step in the masterplan for the 3.7-ha (9.2-acre) mixed-use site. Make's building includes 41,150sq m of grade A office space, 6,400sq m of retail units and 68 car-parking spaces in the basement. Open balconies on the top floor provide views over Centenary Square and the rest of the site. Work on 1 Arena Central is due to start early next year, and is targeted for completion in mid 2016.
Arena Central Developments (ACDL) has already received planning permission for 213,680sq m of mixed-use space, containing 79,896 of office space, more than 18,580sq m of residential units, 111,480sq m of retail and leisure units, and 2,500 parking spaces. Around 40% of the scheme will be used for soft landscaping, designed by multi-disciplinary landscape architects Gillespies, that will include an 'urban meadow' and stream running through the site.
A joint venture between Miller Developments and Bridgehouse Capital, the development benefits from simplified planning and reduced business rates as part of the city's vision for regeneration.
"Birmingham's stock on the global stage has never been higher," said Jonathan Wallis, development director for Miller. "Delivery [of] a truly grade A office space… will continue to attract the very highest quality of occupiers to the city and region, which is particularly important now, given the city's dearth of office stock."