OnOffice sits down with the London-based designer to talk about colour, music, work and more
OnOffice: You inject colour and pattern into your work to create a unique visual identity. Where do you find your day-to-day inspiration? Does this differ now that you are working from home during the coronavirus pandemic?
Adam Nathaniel Furman: I have always found inspiration in a combination of my background and heritage, my personal passion for architectural history, and a constant amazement with the richness of the city around me. I adore just wandering around London, and some of the other cities I am lucky enough to often be able to visit. I suck up so much inspiration and ideas from every street. Since Covid, the latter has fallen away, which has been rather hard, but I have luckily had my history books and interest in ornament and traditional expressions related to my background to fall back on.
OO: Tell us about New London Fabulous.
ANF: There has been an efflorescence of designers and artists in London over the last few years that are really interested in visual culture in the city as a means of proud and forthright personal and communal expression, in ways that almost always disregard academic notions of good taste and decorum. It's really an expression of London as a multicultural and diverse city whose design establishment, which was not representing that, cannot now ignore the amazing amount of new blood, energy and vigour that is coming at them from all these exciting newcomers.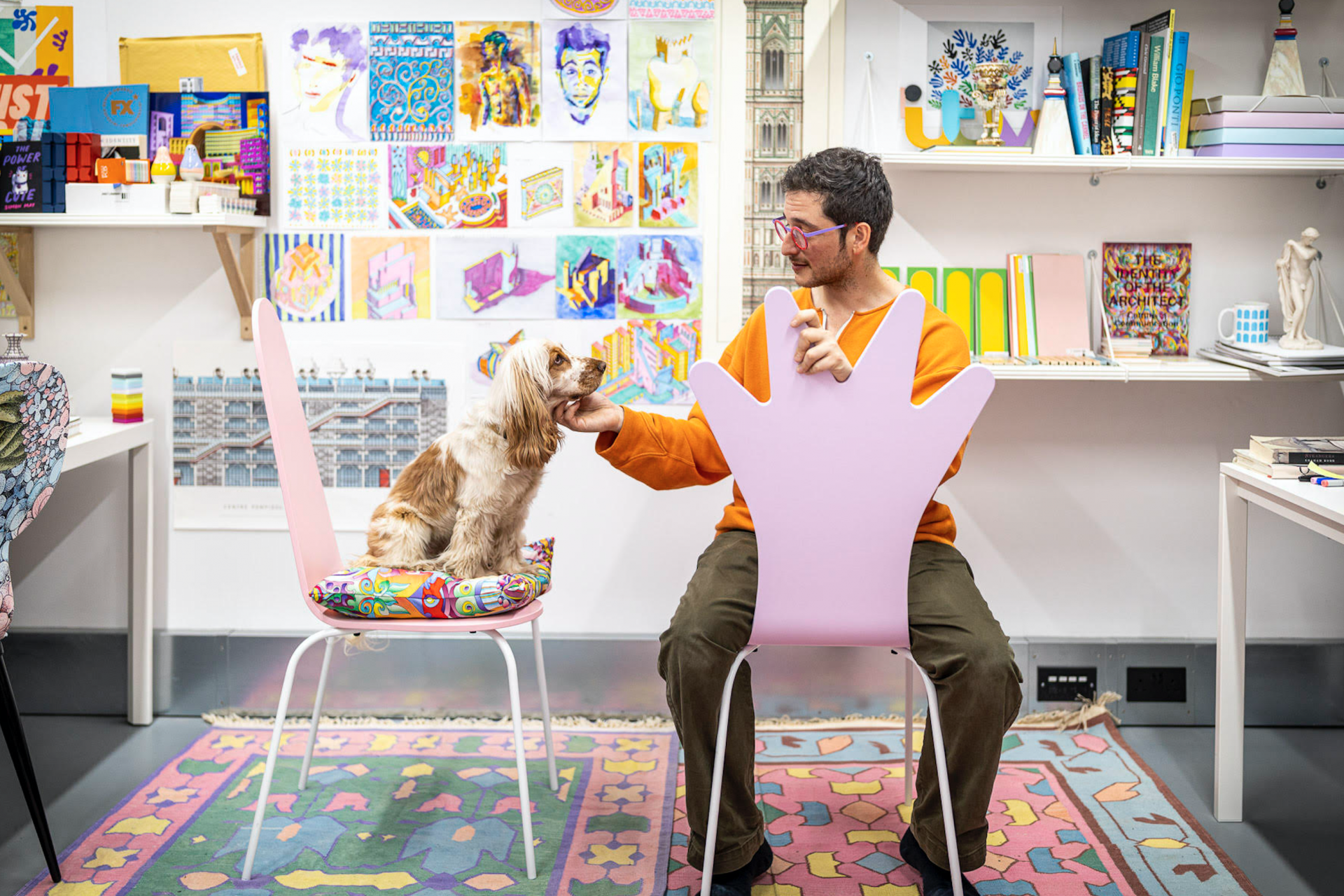 OO: Where is your favourite place to work at home?
ANF: I have a little study in a kind of attic-mezzanine where I like to work.
OO: What's on your desk?
ANF: A large yellow fragment of a classical-inspired ceramic sculpture I made in Minneapolis, lots and lots of pens in pots, about seven colour guides, Post-it notes encrusting every surface, sketchbooks, a cutting board, my childhood teddy bear, a DAB digital radio, and a row of books on a 19th C. desktop stand.
OO: Do you have a favourite item in your office?
ANF: A tiny six-centimetre little yellow Italian ceramic pot covered in blue acanthus ornament which I think is the most perfect object I own.
OO: What music, if any, is playing in your office?
ANF: Liz Phair was on repeat for quite some time…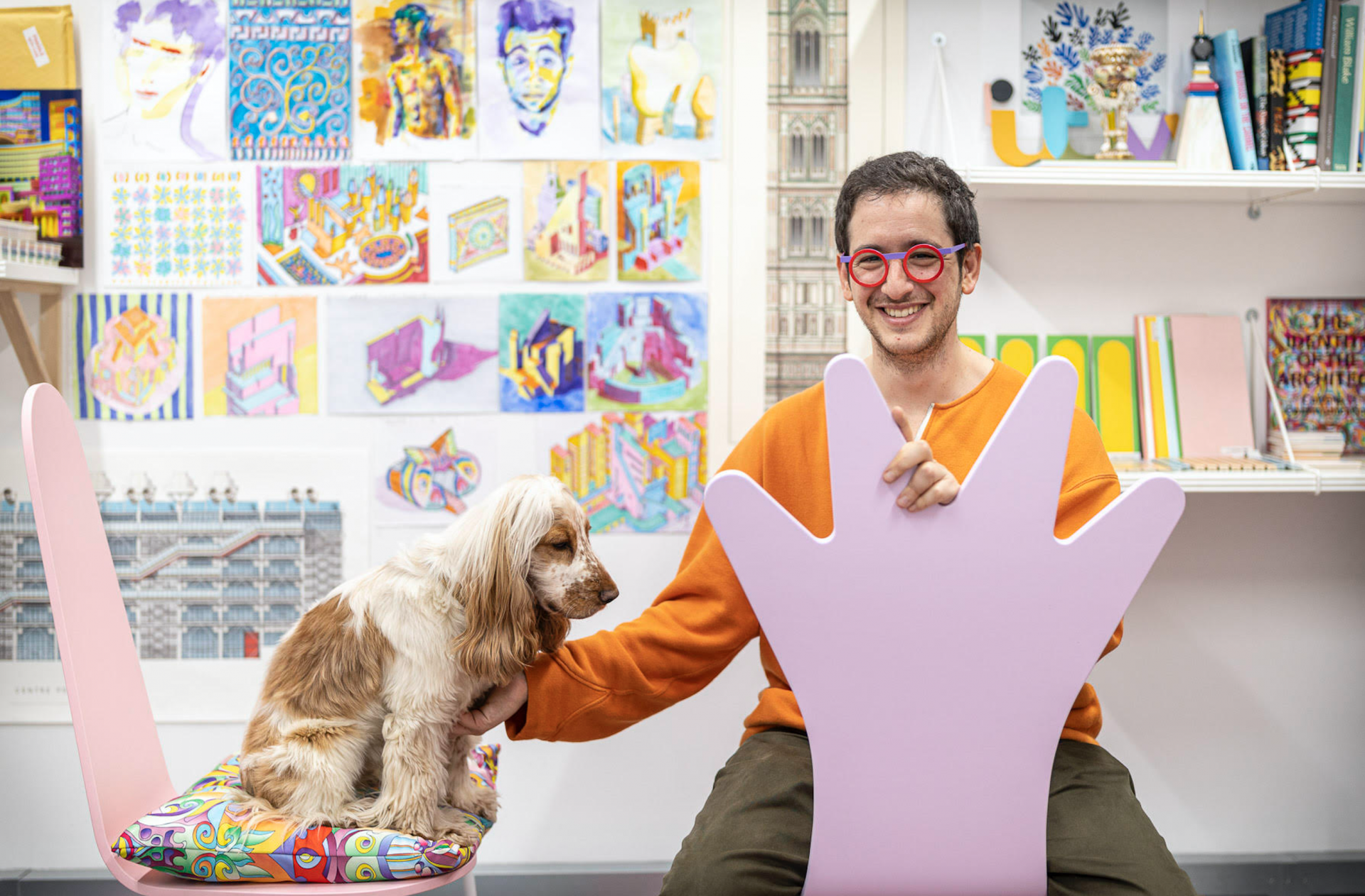 OO: What kind of activities you like to do during your lunch break?
ANF: Cuddle my dog, we have a good snuggle and I read the news.
OO: What projects are you currently working on?
ANF: A beautiful vase for an amazing Italian ceramics brand, a glass and ceramics collection for a Lebanese company, as well as a piece of stone furniture with an Italian company and a piece of public art in Croydon… fun things!
OO: Do you have any advice for other creatives working from home?
ANF: Punctuate your day with going out. The act of seeing the outside world, even if it's just your street, really helps one step outside one's headspace, and be much more focused when you go back to your desk to work.
OO: Sum up your workspace in three words.
ANF: Cosy coordinated chaos.
For more information visit adamnathanielfurman.com and make sure to follow Adam on Instagram @adamnathanielfurman
Images by Gareth Gardner