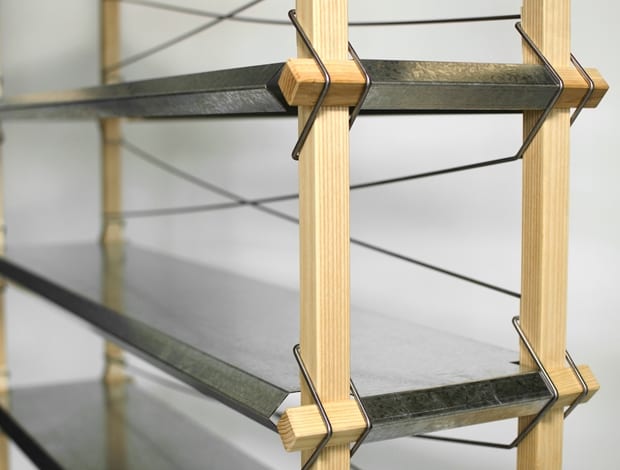 Douglas Pulman's Brace system|Your Position workstation by Not Just Chairs|Stor light by Tom Robinson|Aswego studio's Cube Curtain|Scarlett San Martin's concrete Angelo light|Pegged Together hanging system by Jack Chivers|Make Your Own Light by Mark Colliass||
Our pick of the standout graduate projects from New Designers 2014
Douglas Pulman's Brace collection was borne from a brief for no screws, no nails and no glue, hence his work focused on developing a joining mechanism that could be used universally across a furniture range. The University of Plymouth graduate developed a wire brace fixing that wraps around the joint and is held in place by a wooden wedge. Pulman says, "the aim was for the pieces to exude functionality and utilitarianism through a simplistic aesthetic." Brace won the 100% Design award, judged by onoffice features editor Jenny Brewer, Icon editor Christopher Turner, 100% Design's William Knight and Saul Leese, and Leah Harrison Bailey, head of design at Thomas Matthews.
Not Just Chairs (Sheffield Hallam University's David Manning) looked to provide an antidote to the design industry's chair overload with a mobile workstation. Called Your Position, it can be customised by rearranging the elements – a desk, storage boxes, pin board, light and hooks – on the rails. Manning says it "focuses on improving physical and mental wellbeing in the office environment."
Tom Robinson from Nottingham Trent University showed the Stor light, a table lamp with a flecked black and white Corian base, slender arm and paddle-shaped articulated head, housing 18 LEDs. The design stood out at the show for its sophisticated combination of colours and materials, and well-thought-out details such as the grooved base that holds pens or business cards.
Tobias Pitcher and Craig Lucas, classmates at University of Brighton, showed ambitions beyond the graduate show, presenting collaborative projects under the name of Aswego studio as well as their own projects. The collection included a desk, sofa, light and screen, all with a strong black and white visual identity. The screen, named Cube Curtain, comprised hexagonal modules that clip together to make a customisable room divider.
Scarlett San Martin (Nottingham Trent) designed the Angelo pendant light for Nottingham-based concrete manufacturers Lowinfo. The concrete is mixed with a glass aggregate that allows dappled light to filter through, softening the heavy aesthetic. Its simple form aims to celebrate the material's texture.
Jack Chivers from Buckinghamshire New University presented a cohesive range of products inspired by his experience of frequently moving house and living in small spaces. Sit on/Hang on is a stool made in ash, cork and steel that can be flipped upside down and hung on the wall to create a shelf. The Pegged Together hanging system is made using just wooden dowels and multi-coloured washing pegs, allowing different configurations and easy disassembly.
As opposed to polished final pieces, many graduate exhibits focused instead on developing new making processes. Mark Colliass (Nottingham Trent) showed Make Your Own Light, a rotational-moulding rig that fits to bicycle handlebars. Jesmonite (a bio resin) is poured into the mould, then after a 40-minute bike ride, out pops a cylindrical lampshade.