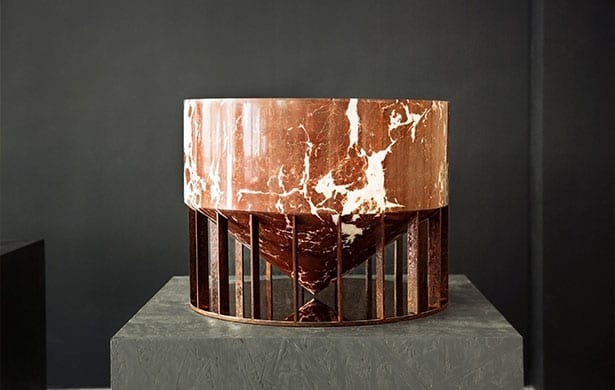 |||
Joyce Wang, president of her eponymous studio, says that in her design work she aims to create environments that reinvent traditions and sculpt narratives, all the while "begging the audience to question and interpret their surroundings". She's managed to do exactly that in her surreal and rather beautiful product series, the Rare Table Collection.
Debuting in 2013, this was Wang's first self-curated collection, created using marble. The sinuous patterns and rich tones of the material give a distinctly earthy, organic tone – her own descriptions of the pieces go even further, describing them as "resembling flesh, and the flesh of the earth".
Wang says the studio is currently developing another limited edition set of occasional tables, lighting and accessories, hoping to launch in London Design Festival 2018.
The Rare Table Collection pieces were created from two blocks of marble, cut into 33 pieces and hand-finished by artisanal masonry workers in south-west China, then set in Corten steel claws.
"The marble resembles beautiful slabs of raw meat, like slices of the earth's flesh," says Wang. "It was important to me to celebrate the material's natural, physical qualities – slicing through layers of veins, fat and pink or red blood hues."
Joyce Wang Studio is split between London and Hong Kong, and specialises in luxury hospitality and residential interiors, as well as bespoke furniture and fittings design.
Wang, who presides over both studios concurrently, draws inspiration from cinematic references and interdisciplinary starting points to create a
sense of drama and narrative within each project.
"I am especially excited to work on projects that have a heritage angle – whether it be the brand, site or client themselves," she says. "I design spaces that make people feel great. I want people to feel confident, to lose themselves and to have fun."
Among past projects are the Hollywood Roosevelt Hotel in Los Angeles, the Landmark Mandarin Oriental in Hong Kong, and Mott 32 in Hong Kong and Vancouver.
The studio has also overseen the redesign of the Mandarin Oriental Hyde Park, which uses art deco detailing that has been inspired by Hyde Park itself.
The work encompasses around 200 rooms and many of the hotel's public spaces, with the first phase set to launch in autumn 2017. The second phase, scheduled for summer 2018, adds two penthouse suites and an extended spa with a Mandarin Oriental Studio concept.
Subscribe to OnOffice for the December issue
Luxury hotel specialist Joyce Wang's sense of visual drama is seen in her richly marbled tables. And, working in London and Hong Kong, she's busy with more in the same vein