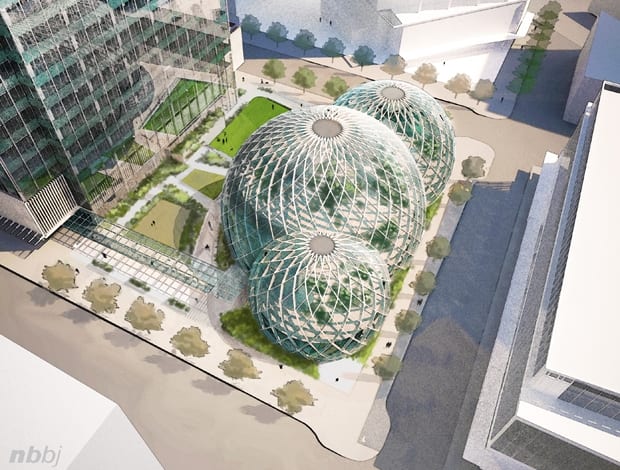 An updated render shows a more organic, cellular glass structure|||||||
NBBJ has submitted revised plans for Amazon's downtown Seattle headquarters that include three glass and steel bio-domes. The interconnecting spherical structures will house up to five storeys of office space surrounded by internal botanical gardens, hoping to provide, "a more natural, park-like setting," for employees.
Original plans were submitted in late 2012, comprising three 37-storey towers, two low-rise buildings, a new public park and a low, rectilinear, green-roofed building, which the domes have replaced in the updated renders. NBBJ intends for the domes to be LEED Gold certified, filled with natural light and ventilation, and accommodate diverse plant life from around the world. The open plan interior will allow for fully mature trees to stretch throughout the building's five storeys. As part of its proposal, NBBJ provided images that inspired the project, such as Wilkinson Eyre's Gardens by the Bay conservatories and Renzo Piano's La Bolla.
The entire campus development covers a three-block area, with the tri-sphere building jutting into the central park. As explained by NBBJ in its proposal to the city design board, the rounded, transparent structure of the revised design aims to reduce shadow as well as widen the entrance to the park, as well as improving the general landscape. Its biggest sphere will measure 40m in diameter and its smallest 25m, providing 6,000sq m of flexible workspace, meeting, dining and lounge space, anchored by retail units.
If given the go-ahead, the project is intended for completion by 2016.
Images courtesy of NBBJ
24 October update: The City Design Review Board has now approved the plans, which have been tweaked since this article was first published. The glass domes now comprise a more organic cellular structure, rather than the original gridded aesthetic. Also, in response to criticism, the new plans include more public spaces so members of the local community can see the spheres close up.