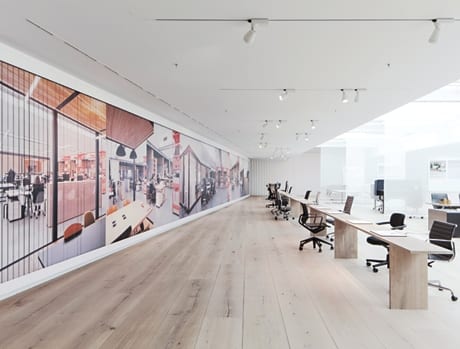 |||
Coco Chanel might have had haute couture rather than office furniture in mind when she famously said that "only those with no memory insist on their originality". However, in terms of workplace design specification, is there an argument to be made for us having come full circle, with a semblance of cellular working of the past informing the future?
Organisational behaviourist Monica Parker argues the case for office workers' conditions not having evolved that much at all. As she puts it, "If aliens dropped down they might think offices were the same as 30 years ago, and in many places they may be."
She argues that "Taylorist presenteesim still reigns supreme. I don't think we've come full circle so much as evolved. Much of the backlash against open plan is that it was bad design then and it's bad design now. It's bad design when it lacks the behavioural evidence."
By contrast, designer Jonathan Olivares, who also authored A Taxonomy of Office Chairs, argues that there's a good deal to be taken from the past that can, given the right mindset, inform the present. "Open offices date back to the early 20th century, combi-offices with private and open spaces were a 1970s creation and individual activity spaces came into being in the 1980s.
While these elements can be effective on their own, it's really the appropriate synthesis of them, and the knowledge of when and how to employ them, that makes a positive work environment today. Each of these types of office spaces are also evolving with social and technological change, and require some periodic updating or rethinking."
Olivares, together with London-based designer Pernilla Ohrstedt, has created the Vitra Workspace at the office furniture manufacturer's campus in the German town of Weil am Rhein, near the Swiss and French borders. Located on the second floor of a factory building designed by Frank Gehry and replacing a heavily partitioned floor, the new showroom space is intended to "define the spatial choreography" which is a nifty phrase to describe the evolution of strictly open-plan working.
Here, sales areas, work areas and supporting installations are separated but have an overall wayfinding flow and as Ohrstedt puts it, "are designed to provide moments to pause and for Vitra's clients to reflect." Everything from Eames classics to more contemporary game changers (such as the Alcove sofa which set the trend for high-backed products) to fresh-from-the-trade-fair launches, it's a product-by-product snapshot of the company.
To reinforce the concept of past, present and future, a visual timeline occupies the far wall of the space, and documents the history of the office landscape, decade by decade from the 1850s to the present day. Called "The Office Perspective", it pinpoints changes in workplace architecture, technology, products, ideology, politics and culture.
As Olivares explains, "It shows the dichotomy between open and private work areas doesn't need to be so rigid, and that these types of areas are able to coexist quite naturally, and enhance one another through proximity."
The Citizen Office, Vitra's own workplace on the campus that forms part of the Nicholas Grimshaw-designed factory building, is much lauded. Architect Ben Adams is one of its admirers: "It's set up as a giant living room, full of sofas, tables and different spaces and the way they inhabit it is fantastic," he says. "You immediately find 12 different ways to get comfortable and start to do some work. For me, that is more relevant than some of the things that come out of a tech business."
"Much of the backlash againstopen plan is that it was bad design then and it's bad design now"
Purely open plan, Adams says, is easier in a company of ten to 20 people but he favours breaking down a larger space to allow teams to thrive in smaller scale environments. "It's different in a firm of 100-200 people. It's much more difficult to scale it up in a more organic way and once you plan and measure it and you find the finance director who needs his own office and the HR team who insist everything needs to be locked."
In designing the new Trea chair for manufacturer Humanscale, American designer Todd Bracher is following in the design footsteps of the legendary modernist Niels Diffrient (cover star of onoffice 2). "Niels and I share the same view about design, and for that matter probably life. It's about efficiency and honesty."
In contrast to several years ago, when a task chair's launch was accompanied by a fanfare of how many widgets it could pack in, Bracher says: "In today's world, we don't want knobs, levers or springs, we want to sit in a chair and it works, period. It also needs to be flexible enough to be used in a host of spaces."
For his recently launched stacking chair, Nuno, produced for Allermuir, UK designer Mark Gabbertas turned to a traditional design profile. "You have to believe there is a fresh way of approaching this familiar typology," he says.
"We concentrated on how the two main elements, the lamination and the frame, could be simplified, especially the nature of the union between them. This is a new solution to a traditional problem that pushes manufacturing capabilities while keeping the design handwriting deceptively simple."
However, he argues that in terms of office furniture harking back to the past, the circle turns but never completely. "There are clearly fundamentals of workplace design that have shifted. The concept of collaboration has become overused and somewhat corrupted, but its essence is here
to stay."
Collaboration has brought its own inherent problems says Levent Caglar, an ergonomist at the Furniture Industry Research Association (FIRA). "Now that we spend more time working collaboratively in person or talking with remote workers, noise has increased." He cites acoustic products from brands such as BuzziSpace and Caimi Snowsound as the most innovative way to combat this issue. Although these are relatively new to market, they provide the same solutions afforded by a cellular approach, ie places for concentrated work.
"The concept of collaboration has become overused and somewhat corrupted, but its essence is here to stay"
"I think one of the most successful types of settings we see now is the American diner banquette," says Monica Parker. "If you provided no other alternative work setting but banquettes, you'd be off to a good start. Multi-functional, they can be private or collaborative, offering some acoustic privacy and a bit of fun."
Ben Adams concurs: "Producing ever more sophisticated chairs and desks is becoming less relevant in favour of creating flexible, clever, unusual spaces in which to be in."
As a counterpoint to a time when our lives weren't ruled by our digital devices, Imogen Privett, research associate at the RCA's Helen Hamlyn Centre for Design says: "There's much more of a focus on creating environments rather than standalone objects and on introducing comfortable, tactile materials such as wood and felt that reflect the domestic environment.
The recent collaboration between Haworth and Studio Urquiola reflects these changes; it's intimate and comfortable while remaining firmly rooted in functionality."
Todd Bracher definitely has a more homespun take on the office environment, adding finally: "Our needs have remained pretty much unchanged since the dawn of time. It's about human nature, not technology or trends: security, community, nutrition, love." One would be hard-pushed to argue with that idea of the circle of life.
How much are the workplaces of the past informing the present? onoffice asked some leading designers, architects and thinkers what's relevant now