IA's new London Studio at Harella House prioritises employee wellbeing and puts the concept of home at the heart of the design
When searching for a new London office space, IA Interior Architects knew they wanted one that could inspire creativity and innovation, support their work and their wellbeing. They wanted a space that promoted collaboration and social interaction –experiences that are created in-person­– but still managed to maintain the comfort, nurturing and welcoming feeling of home.
Harella House, a 1930's warehouse set in London's Clerkenwell, had undergone a sympathetic refurbishment by Architects Piercy & Company to reveal the building's history –managing to reduce carbon emissions by 47% and achieve a BREEAM rating of Excellent.
The 4th floor with its open floor plate, pitched timber ceiling, glazing along all 4-sides, mezzanine and terrace running the full length of the studio provided IA with a beautiful backdrop of natural light and materials from which to create their new home.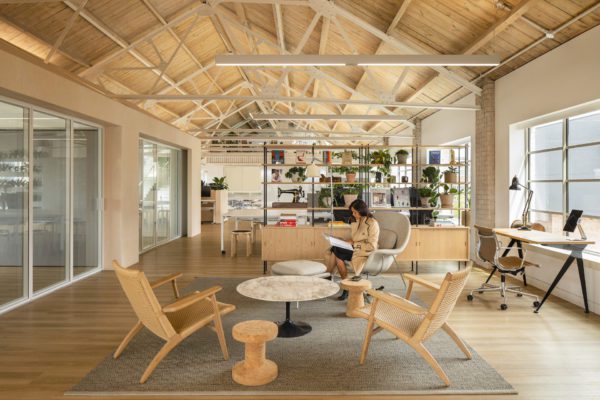 Following the last two years, areas of our lives have blended along with our spaces. Our lifestyles and ways of working have forever changed. For IA they now consider work as an activity rather than a specific place and they were keen to create a studio that left the concept of office behind and instead embraced one that flowed, catered to different needs and captured the ambience of home.
Our homes are sanctuaries and places to rejuvenate –environments where we can feel free to focus on our wellbeing and support our healthy habits. The team wanted to bring this sense of calm and wellbeing into their new studio, weaving it throughout their new space with the idea of home at the heart of their design.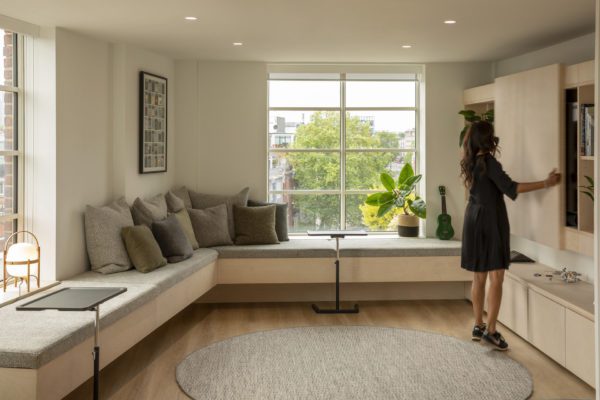 Starting with the kitchen which offers IA multiple seating options that support eating away from desks, then flows into the Den which is flexible in design to cater for social gatherings and space for rest throughout the day.
Behind the kitchen is a second breakout space aptly called the Haven, it serves not only as a mother's room, but also provides the entire team with a more private place to pause, meditate or simply to take a moment to prepare quietly for the day.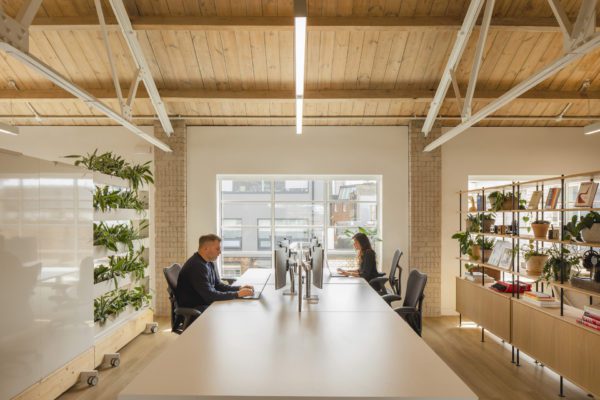 A paired back palette highlighting natural materials; desks that are sit stand, flexible furniture options and moveable screens promote flow and movement; plants throughout –their locations strategic in offering both acoustic and visual privacy– all help to further emphasise that this is a place where the team's wellbeing is a priority.
All which is furthered emphasised with Harella House currently pursuing a Fitwell rating through its materials, ventilation, acoustics, access to natural light and staircases designed to encourage movement.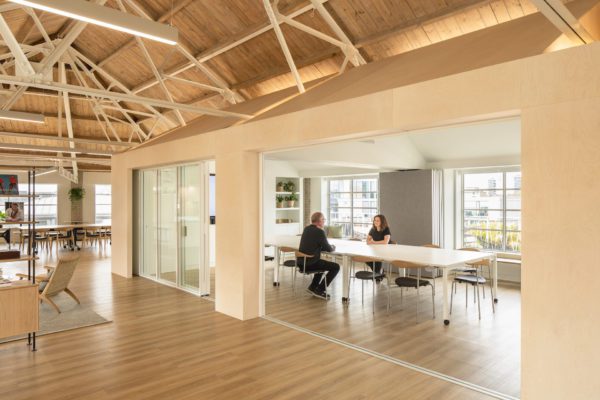 Flexibility is built into the studio to satisfy the ever changing needs of the entire team. The Sheds, a meeting room with glass walls, can be reconfigured into two smaller rooms when needed.
A variety of workspaces supporting focus and flexibility have been incorporated throughout –from the Workshop that offers hot-desking, to the open central R&D area that promotes innovation. The Library which stores drawers of materials houses another large work surface from which to create.
The Loft, found on the mezzanine level tucked away at the back of the studio, has been designed with the idea of a study in mind.  It serves for more focused work with a work lounge and desks.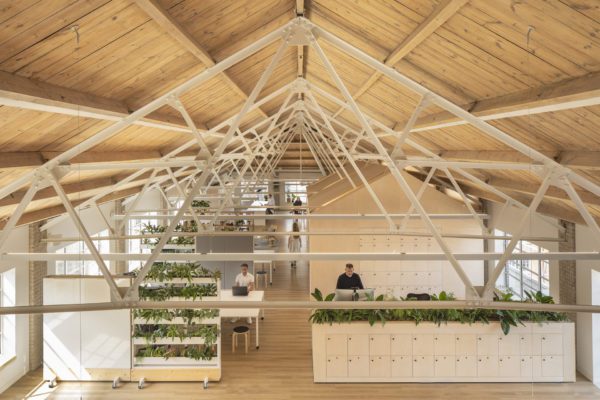 IA Interior Architects have designed a studio that blends work activities seamlessly with the comforts of home. Supporting their overall wellbeing and healthy habits throughout the day. They recognise and embraced the changes in their team's lifestyles and have created a space built with flexibility to support their team's needs for the foreseeable future.
"IA's new home at Harella House is a post-pandemic workplace built completely around our community in London. In an effort to promote organic, creative output, as well as the wellbeing and growth of the group, the space aims to propagate a greater degree of connection between people," says Prabha Jackson IA Interior Architects, Design Director .
Images by Ed Reeve and IA Interior Architects
Enjoyed this article? Read more: The Fabelhaft Group transforms Frankfurt office to feel like home