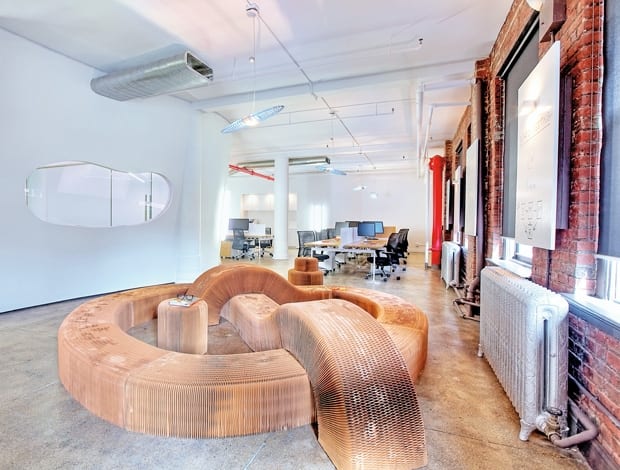 Curvy cardboard seating, intended to free the minds of creative workers|The "wall cocoon", perfect for a bit of light reading (or a kip)|The funnel-shaped central volume merges in places with the columns|Symmetrical rows of desks create a contrast with the bulbous walls behind|A private office. The shape of the window was drawn freehand on the wall|Valtech's home, a brownstone formerly belonging to General Electric||
Catnapping in a "wall cocoon"? This term is Miami-based interior designer Piret Johanson's name for a chaise longue built into a wall, where you can make a private phone call, read under a wall light or literally have a kip. Redolent of Verner Panton's iconic Living Tower seating system of 1969, on which people can lounge at different levels, it's hardly a form of seating you'd expect to find even in a relatively unconventional workplace. Yet this is one of several quirky features in Johanson's design for the office of US digital marketing agency Valtech in New York's Meatpacking District.
An internationally successful firm with offices in eight countries, including France, the UK, Germany, Denmark and India as well as the US, Valtech has a penchant for architecturally distinctive buildings. "It's a digital agency that's extremely efficient yet funky, and it prefers spaces with character that allow for a creative approach to office design," says Johanson.
"For this project, I was briefed to respect the existing features – exposed brick walls, rows of columns and windows," he continues. "Valtech also asked for a design with ecology in mind – the use of natural materials." The firm also stipulated that the 300sq m office, which has 28 employees, incorporate a reception area, private office, two meeting rooms and a rest area for one person, namely that wall cocoon.
Johanson's cocoon reference is crucial to her design for Valtech. In contrast to the ruggedly industrial-looking, brownstone building it occupies – once a factory for US multinational General Electric – and its sharply rectangular floorplan, Johanson's design is softly organic. She has inserted a curving, billowing, snowdrop-white structure sliced in two in the centre of the space between two rows of columns. The structure's two halves contain the reception, which has a built-in desk, a private office and two meeting rooms accommodating 12 and six people respectively. Its walls lean outwards as they rise up, forming a funnel shape that sometimes fuses with the columns, making the latter look as though they're disappearing into the structure. Another serpentine wall, echoing the central structure, has been erected along one perimeter of the space; this houses a kitchen-cum-bar where informal meetings are held, as well as wardrobes, a photocopier and printers. "All these walls are made of multiple layers of plasterboard that can be shaped into curves, then plastered to create a smooth finish," explains Johanson.
Elsewhere, the office's palette is similarly neutral. The floor is in a mottled beige concrete, and snaking furniture made from a concertina of recyclable cardboard (by Canadian firm Molo) can be found in a large, informal meeting area. "These pieces are flexible: they can be shaped into any curvy form you want, so they worked perfectly with my concept," says Johanson, who sourced all the other furniture, including Eero Saarinen side tables, the kitchen (from Ikea) and unobtrusive pendant lights by Luceplan.
"My overall aim was to create a free-form, organic volume," says Johanson. While the phrase "think outside the box" might be overused, it serves as the headline
for this office's project description because, she stresses, "it sums up this design so well. At first it initially came as a surprise to the client, but they were adventurous enough to go with it."
The aforementioned Verner Panton comparison is apt: the office's aesthetic is very 1960s pop, albeit all-white and space-agey, not psychedelic. Openings in biomorphic shapes have been carved into its pristine white partitions: one Emmental-cheese-like hole fronts the reception, while the apertures in the meeting rooms are glazed, ensuring the conversations there are kept private. The outer edges of these openings – as well as of the wall cocoon – were originally hand-drawn on to the walls before being cut open or hollowed out. Organic aesthetic aside, transparency is a another key feature here. "These openings allow employees to stay in visual contact with other parts of the interior," says Johanson. The structure in the middle of the office is also bisected by a passage fronted on either side by glass walls incorporating doors, which make the space feel even more transparent, and allow daylight to flood in.
The Knoll workstations – in two symmetrically arranged groups, each seating 10 – are divided by low-level partitions that allow staff to interact easily and encourage creative ideas to flow more freely. The office's predominantly open-plan layout, adds Johanson, is symptomatic of Valtech's non-hierarchical culture. "There are two offices, one occupied by chief operating officer Olivier Padiou. However, at one point, he suggested we reduce the size of his office to create space for an additional, small meeting room."
Before this Estonian-born architect became an interior designer and set up her practice, Johanson was a model who worked for Chanel and Yves Saint Laurent as well as glossies such as Vogue. She then studied design at Paris's École Camondo (Philippe Starck's alma mater) and lived in the city for 15 years. She now also creates swanky residential interiors in Florida. So – leaving aside the fact that Valtech's office doesn't resemble a runway – does she think her background has influenced its design? "Experiencing life in three countries – each with a distinctive design aesthetic – has taught me that there's no single, conventional way to look at the things that surround us," she replies. "With this project, I tried to relate to people who spend most of their time in front of computers, in a virtual world. This world is free of limits, angles, corners. It isn't linear. This inspired my free-form design which hopefully matches their free-thinking mindset."