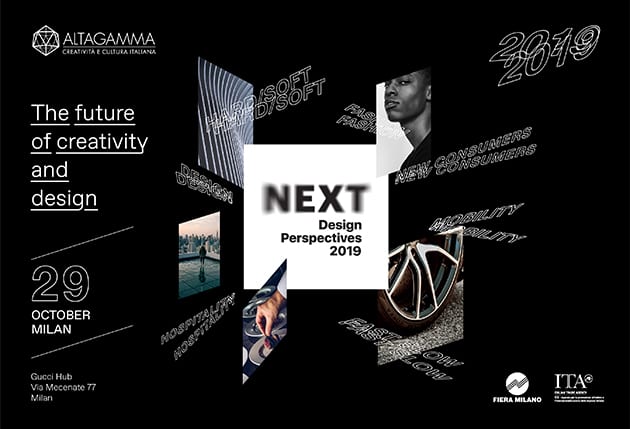 |||
During the second edition of Next Design Perspectives, held on 29th October at the Gucci Hub in Milan, the leading design conference looked towards the future. Conceived by Altagamma in partnership with ICE Agency and Fiera Milano, in a rapidly evolving and ever-changing world, the event unveiled six key trends that are set to impact both people's lifestyles and businesses in the coming year. Taking world trends within the creative and design industries into consideration, Next Design Perspectives examined the impact future design trends will have on consumption, lifestyle and businesses globally.
Now in its second year, Fondazione Altagamma celebrated some of Italy's most reputable cultural and creative companies, many of which are recognised worldwide as authentic ambassadors of Italian style. Encompassing a wide range of sectors, including fashion, design, jewellery, food, hospitality, automotive, yachts and wellness, Altagamma plays a significant role in the growing international luxury market.
Defined by style, an eye for detail, profound respect for its cultural and artistic heritage, as well as a sense of community, high quality of life and artistic flair, the creative excellence of Italian brands is underpinned by distinct features, which have made a vast majority of Altagamma's members, among them Gucci, Alessi and Lamborghini, recognised the world over.
Next Design Perspectives was held at Milan's Gucci Hub
"Made in Italy is a value: specifically it is the third best known brand in the world," says Carlo Ferro, President of the ICE Agency, "And design is the beating heart of this brand. Design means creativity, manufacturing and innovation. Also thanks to this, Italy is the second largest manufacturing country in Europe. ICE Agency supports Next Design Perspectives because it wants to be included in an important moment of reflection on these issues and, in harmony with our goal of promoting the excellence of Made in Italy, an aid in spreading awareness of the great potential and modernity of the international markets."
WGSN, the international trend forecasters and data scientists known for analysing and researching trends for over 20 years, were among the participating speakers. Lisa White, WGSN's Director of Lifestyle & Interiors and Future Innovations, presented six key trends that will define the new year as determined by WGSN below.
1. The age of systems
In an increasingly complex world, we will require a powerful combination of design thinking and systems thinking to address economic, political and societal challenges. Bringing these two areas together will see issues reframed as opportunities, where design and creativity can be used to develop long-term solutions for people, the environment, and business.
Designing better systems will become even more crucial than the design of the products themselves. We will move from product-focused design towards systemic design – for example, replacing linear supply chains with circular resource models. It is now time for brands to rethink internal systems to maximise long-term opportunities.
As a counter movement to the short-term gains that are currently being prioritised, long-term thinking has started to emerge in artistic and cultural fields, and this will ultimately influence business. Businesses are now experimenting with ways to make this type of thinking more commercial by emphasising innovation and making sure that the craft and time that goes into creating products is effectively communicated.
2. The end of more
In the future, people will want access over ownership; instead of having more things, they will simply want their desires fulfilled. This shift will take the form of an immaterial economy based on emotions, experience and knowledge. People will be looking for quality over quantity in their consumption, and they will be finding different ways to achieve this, such as through the rental economy and the purchase of resourceful essentials.
For new products, young designers and forward-thinking companies will be looking for ways to use bio-design and waste streams in innovative and compelling ways. As businesses adapt to appeal to more conscious consumers, they also will find that the opportunities will generate cost savings – estimated at $60bn by 2030 in Europe alone.
3. The home hub
Our concept of home is changing, and so is what we do in both personal and public spaces. Home is becoming a key space for innovation in the areas of comfort and community, as consumers bring more activities into their immediate surroundings. It is becoming a space for self-improvement and self-care, and it will continue to be a growing market in 2021, driven by the need for peace and solace.
Overwhelmed and seeking calm, consumers will be bringing more than just food delivery into their personal spaces in 2021, with the rise of at-home activities such as live virtual workout classes. Millennials are fuelling this shift (one study found that in the US, Millennials spent 70% more time at home than the general population), but it is about more than just retreating; it is also about optimising the home as a system, in order to make time for meaningful experiences outside the home.
Staying home is becoming easier and more aspirational, and – more importantly – feeling "at home" with a brand, whether in store and online, is becoming an increasingly important consideration.
For businesses there is an opportunity to become champions of increasing the longevity dividend for ageing individuals
4. The age gap
Income polarisation between the old and the young is playing out against a wider macro trend. In many parts of the world, the population is living longer at a time of falling birth rates. This scenario is starting to cause intergenerational friction as younger people are faced with picking up the increased tax bill for the cost of long-term elderly care. Governments will be looking to keep older people healthy for as long as possible to avoid excessive tax burdens. For businesses and brands, there is an opportunity to become champions and facilitators of increasing the longevity dividend for ageing individuals.
In other parts of the world, especially in Asia and Africa's emerging economies, the population is growing younger and brands need to know how to address the exciting opportunities that these generations represent.
In this era of demographic polarisation, brands will need to speak to both sides, and tech, social media and retail spaces can provide the necessary solutions.
5. Inclusive networks
Design for all will ramp up in 2021, with governments, institutes and brands all adopting universal design strategies. As consumer demand for inclusive design grows, diversity will be recognised and celebrated across a fuller spectrum:
• 'Pluriversal' thinking and design: this direction decolonises design and brings diverse viewpoints into the thinking and design process by including practitioners from a variety of backgrounds. We will also see a focus on co-creating solutions that leave space for underrepresented groups to participate in the design process.
• Respectful design: respectful design removes humans from the centre of the universe to embrace a more holistic vision that concentrates on the connections between all living forms, such as plants and animals.
• Local luxury: international brands and cross-border e-commerce purchases have dominated retail in recent years, but youth around the world will be looking for brands that celebrate local heritage in the coming years, driven by the improved quality of domestic goods.
6. Digital craftsmanship
Today's shoppers increasingly interact across both physical and digital realms, and forward-thinking fashion brands and retailers are adopting XR technology to address this shift. Going forward, product-less stores will provide a more immersive and engaging shopping journey, and digital-only clothing and interiors will be used for social media, working and gaming, and unlock limitless creativity among the next generation of designers.
Purpose-driven Gen Z and Millennial consumers will also embrace the idea of digital design as an opportunity to satisfy a desire for newness while also mitigating the environmental drain caused by physical production.
Businesses will need to think about how they can optimise the digital experience of their brand, their product, and their customer experience.
"The second edition of Next Design Perspectives confirms itself as a moment of reflection on how to interpret necessary change in design thinking and strategy", said Chairman of Altagamma, Andrea Illy of the conference.
Exploring the impact of the changes we face globally, Next Design Perspectives proposes solutions to environmental and social issues in a world of accelerating pace. As we look into the future and technological progress continues to advance, the trends that are set to dominate the future will undoubtedly impact the way we live and work forever. Curator Deyan Sudjic, Director of the Museum of Design in London, adds his thoughts.
"In the last decade, we have all had to rethink the way the way in which we understand the world around us. The pace of technological and social change has never been faster, and its impact has never been more far reaching. Privacy has been redefined, if not actually abolished. The workplace has been transformed by WeWork, which offers just 8m2 of space per person, and a kitchen table, rather than the 20m2 of a conventional office. The way that we navigate social media to meet each other, to fall in love, and how we experience the city have transformed everything from transport to retailing, dating to politics."
Inclusivity, sustainability, generational confrontation in a tech world, self-care and a new concept of home. These are the trends set to dominate 2020 and beyond