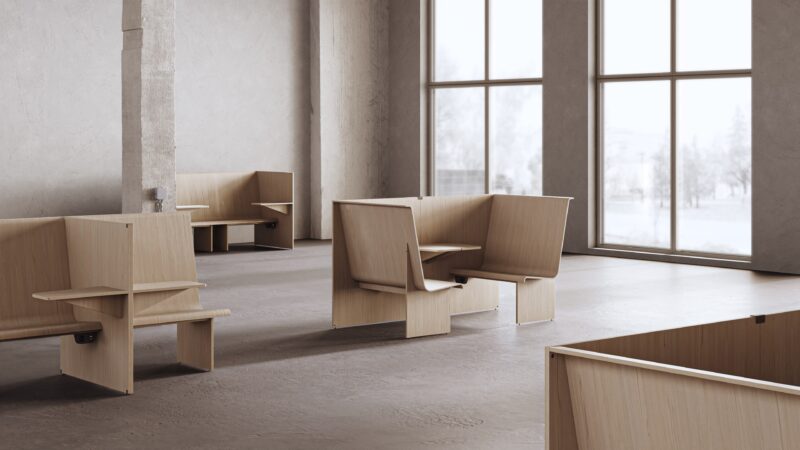 Inspired by the +Halle Annual Briefing, Form Us With Love has reimagined the cubicle for the flexible and remote work practices of today
The idea of an office cubicle might seem dated in today's world of hot desking and flexible break-out spaces. There might, however, be something in the idea of a comfortable compartment that allows you to retreat, relax, or escape despite being a part of the public landscape – think a cosy seat on a train or a library nook.
This is the idea behind the appropriately named Cubicle, a new bench and wall system by Form Us With Love for +Halle that launched at the recent 3DaysofDesign event in Copenhagen.
"At first, we looked back: everyone had their own room like in the 1967 Jacques Tati film Playtime," says John Löfgren, Creative Director at Form Us With Love, referencing the iconic scene in which the main character Monsieur Hulot gazes out over a sea of office workers in cubicles.
"As we began to plan the space for today, however, the flexibility needed meant that we were left with a series of multiple bench-table-wall structures, still delivering on that same 'my own space' notion but living openly in a network, where pieces appear together through multiple constellations."
The result is certainly much more elegant – and suited to today's workplace – than the cubicles of yesteryear. Crafted from planes of intersecting timber that form a cube shape, Cubicle has all the elements needed for focused work: a seat, a wall, a table, and integrated electricity.
These elements can then be arranged in various configurations to suit different needs in public spaces and respond to the rise in remote working, from individual work and one-to-one meetings, to bench seating. Each configuration offers the comfort and functionality needed to work, whilst maintaining a connection to the wider context.
The initial idea for Cubicle was a response to +Halle's Annual Briefing, an initiative developed together with Form Us With Love to explore a specific theme – this year's theme was 'producing'. "During the annual briefing, we had long discussions of emerging behaviours in spatial comfort," explains Martin Halle, Creative Director of +Halle.
He cites the work of architectural Ph.D. candidate Andrew Khoudi, for example, who conducted studies into which seats visitors to the Dokk1 public library in Aarhus, Denmark, prefer to sit in. He found that the most popular seats were those that face outwards with the back of the seat against the wall. "By looking at this kind of insight," Halle continues, "we can debate the impact of architectural installations and hopefully enhance them."
Images by +Halle
Enjoy this article?  Read more: Form Us With Love launches Opus collection in collaboration with Danish design brand +Halle