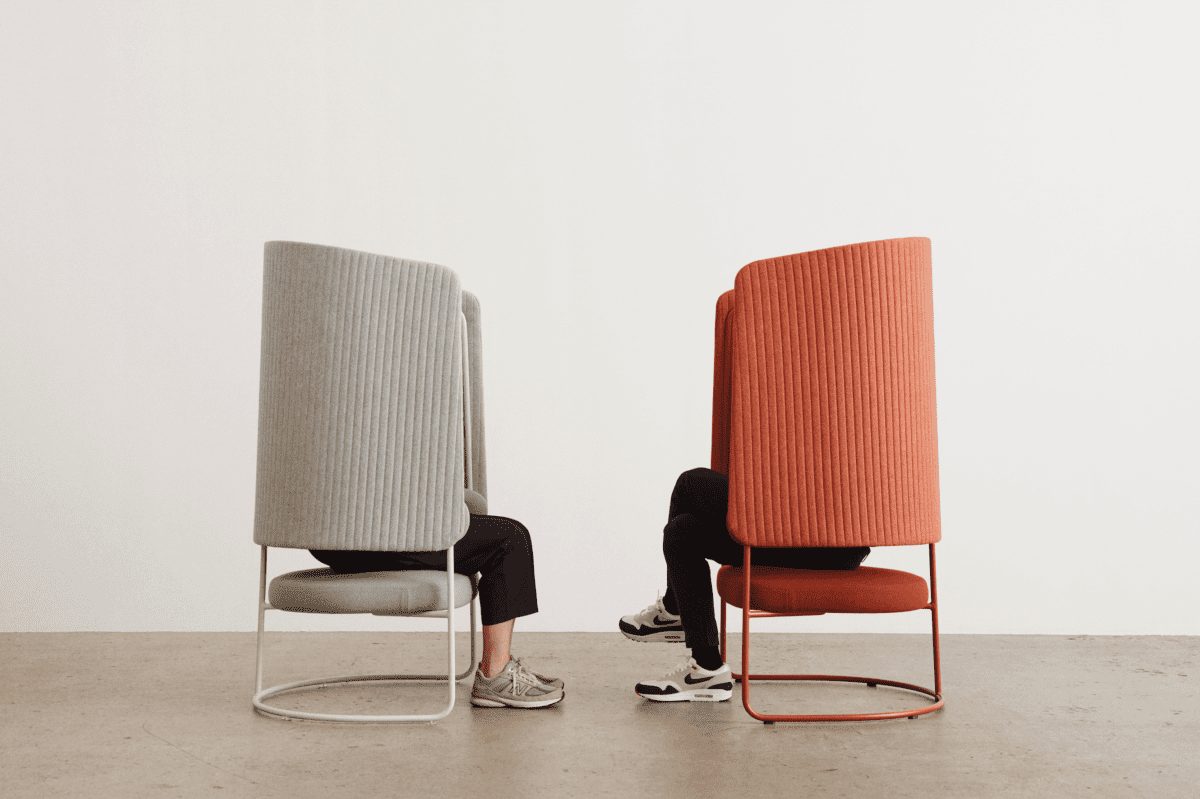 The pared-back club chair is designed for the modern, hybrid workplaces of tomorrow
Stockholm-based design studio Form Us With Love has collaborated with Danish design manufacturer +Halle on the launch of Opus, a hybrid seating system that brings comfort and privacy to workspaces.
Founded in 2005, Form Us With Love aims to unlock the democratic potential of design ever since its founding, with the belief that everyone has the right to meaningful design. At the studio's core lies a strategy-driven approach that blends traditional creative practices with strategic application.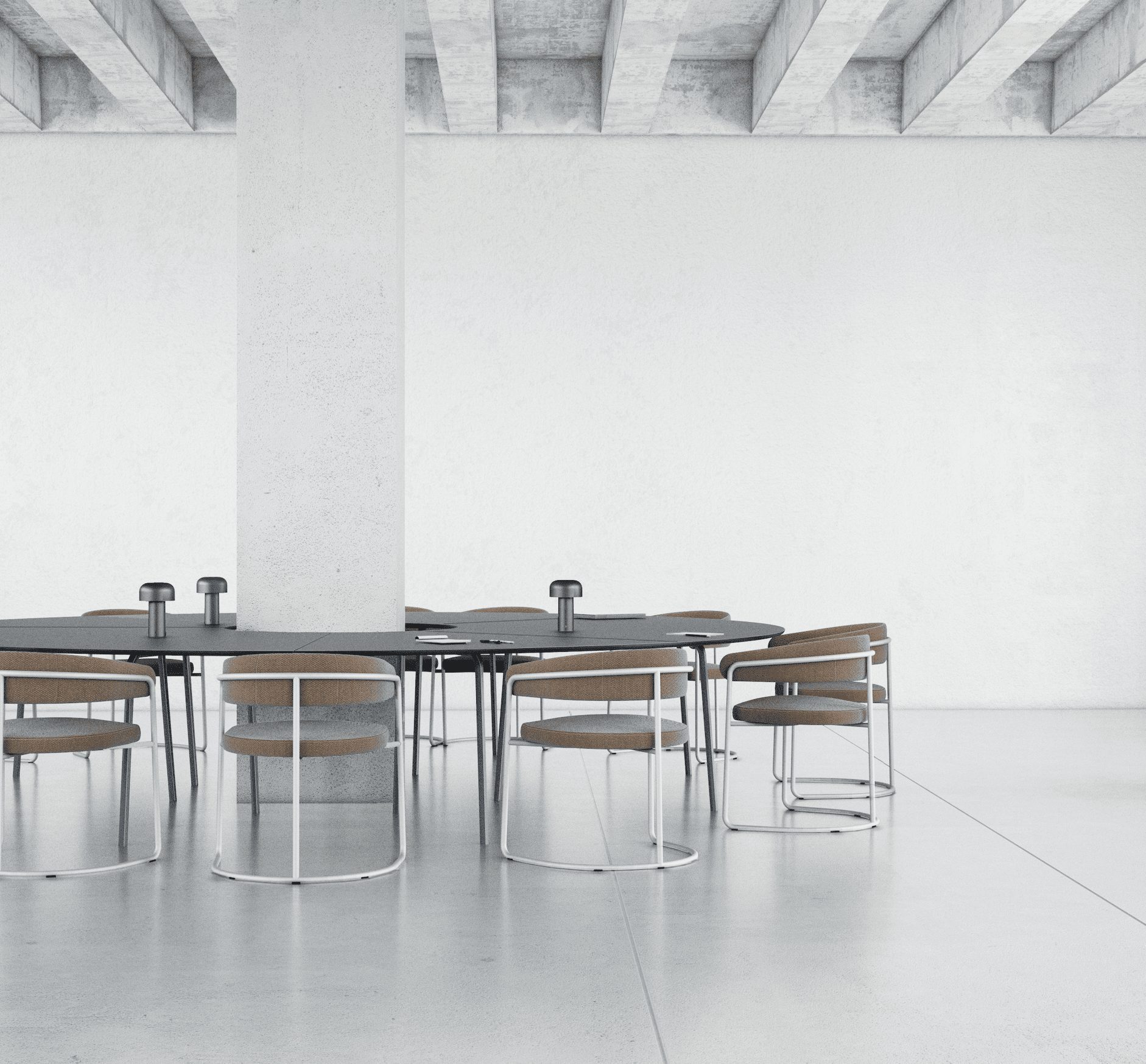 On the other hand, +Halle represents a new generation of design brands. Attentive and human-centric, the Danish brand has previously collaborated with urban planners, sociologists, architects, psychologists and economists, and acts as a platform to analyse, encourage and engage.
By monitoring and understanding new behaviours and the dynamic processes that shape our urban experience, +Halle believes furniture can be designed and built to impact performance and function in order to improve our daily life.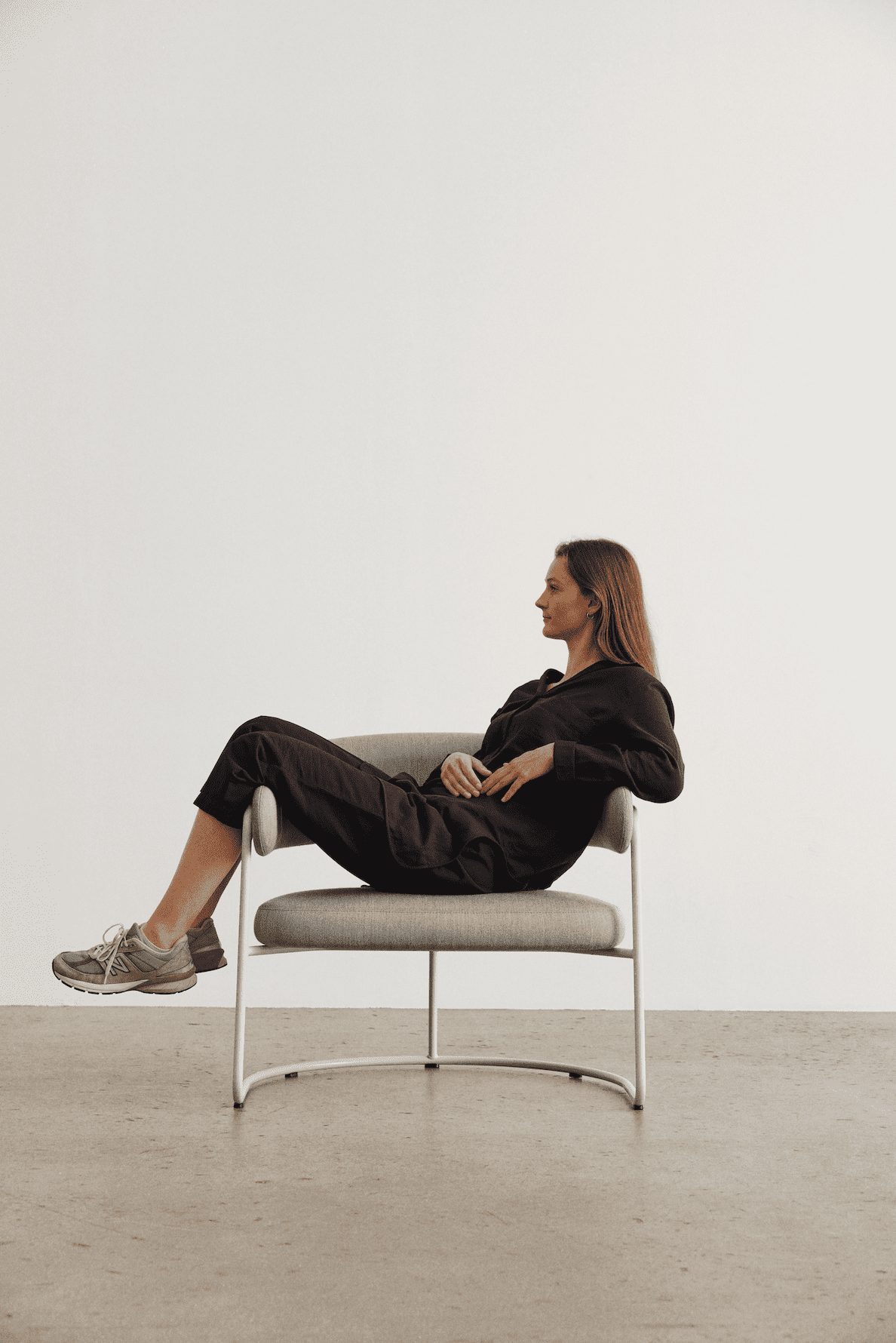 On what inspired Opus, Martin Halle, Creative Director at +Halle shared, "We asked ourselves: 'how do we create a personal space with the smallest means possible?' And we discovered that the challenges we faced were partly due to old proportions. Traditionally—if we are talking sound absorption, isolation, and phone booths—more is more. But in the case of Opus, we stepped away from that mindset. Together, we pinned up a semi-transparent mesh around a structure and then gradually added the least amount of material that the chairs could hold."
Creative Director at Form Us With Love, John Löfgren, adds, "Over the last three years, we tried and tested the limits of personal space with our design. The experiments were made with 1:1 prototype seats and blinds which aimed to interfere with the environment as little as possible. By using a stool as a base, a metal rod and a felt band at the top, we were mimicking the blinkers on a horse. That was our starting point."
The purpose of Opus was born out of the first Annual Briefing, a behavioural-led design forum held in Stockholm back in 2018. In its infantry, the mesh and the blinders felt like a radical take on a more traditional approach. With its main potential being softness and craft, Opus is available in two sizes, a dining and armchair which both come with a high backrest, thus providing seclusion, acoustic management and a place of refuge in today's fast-paced offices.
"Today, we see a lot of heavy seats trying to provide privacy. With Opus, we are using thin screens and bent steel, striving for lightness," Löfgren continues. "The idea of using lightweight metal frames to hold the seat and backrest gives you a sense of seclusion yet provides an open interior. We saw the need for a club chair that is easy to place, sturdy, hygienic, with a spacious silhouette and a dwelling quality," Löfgren explains.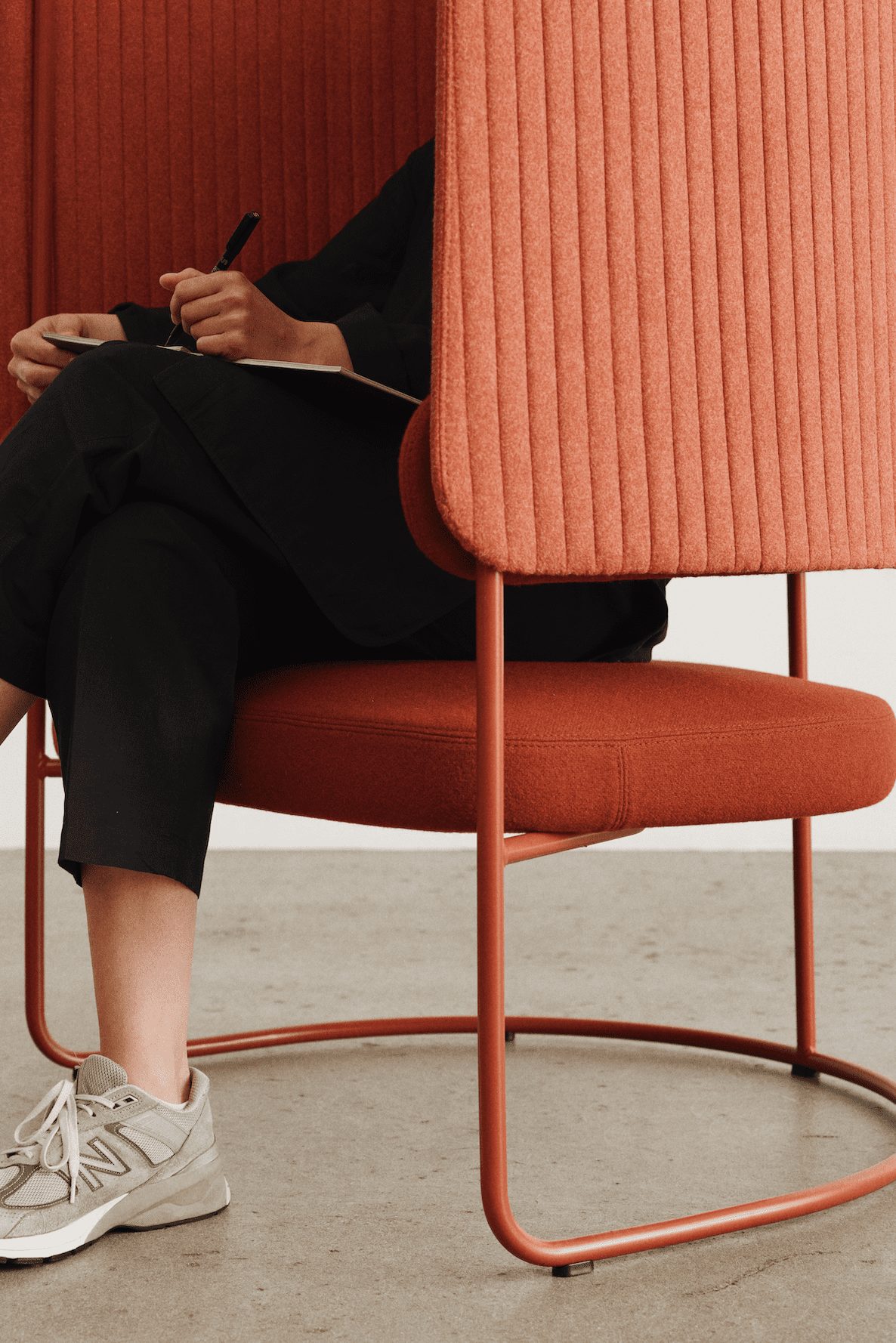 Offering a kind of 'third space', an area that is away from the workstation and meeting rooms, acoustic seating like Opus adds a new level of comfort and privacy to offices and breakout settings by providing employees with a place to sit and relax, whether alone or in a team.
"We were wondering, why the category of self-seclusion has not seen a minimum version made yet? Instead, it seems the maximum has been heavily explored", says Halle. "When you start reducing, in the realm of sound-absorbing qualities the category becomes very interesting. I think the industry at large has been ambivalent towards the cry for personal space, which has resulted in thick and bulky solutions. With Opus we are challenging that status quo."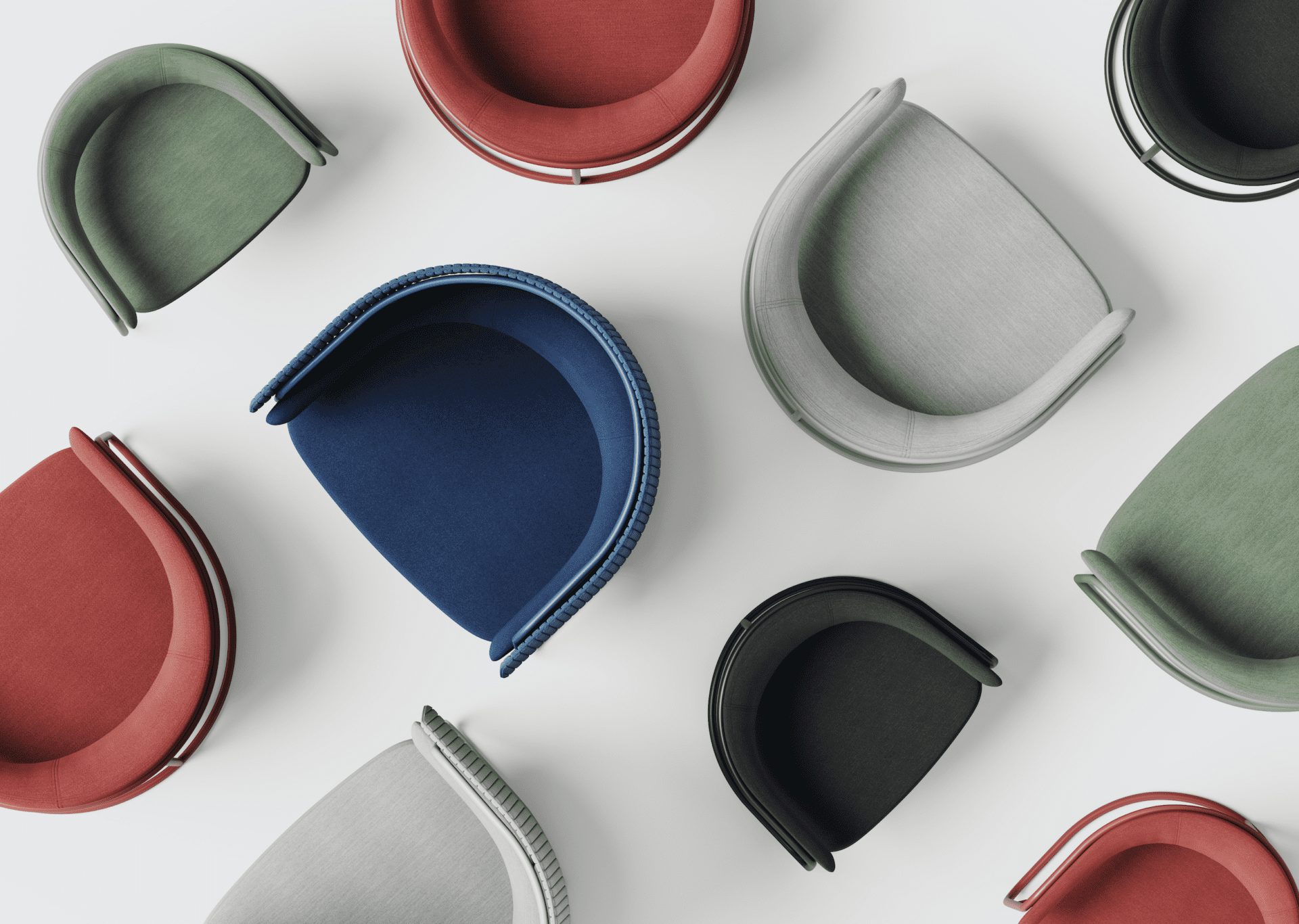 With an ambition to create spaces that feel both secluded yet part of the surrounding environment, Form Us With Love and +Halle created an inviting piece of furniture that offers a place of comfort to get away from the buzz of open-plan offices.
"Throughout the Annual Briefing, we kept asking 'how do we stay within the constraints of lightness?' Löfgren recalls. 'The result is a collection that can be placed in many different rooms thanks to a slim frame. We strive for Opus to be transparent and multifunctional, solving challenges of co-habiting interaction and privacy in a dynamic space." Halle concludes.
Images courtesy of Form Us With Love and +Halle