French designer Jean Prouvé is best known for his industrial-based approach to architecture and also for his classic, pared-back furniture designs, some of which have now been reissued by Vitra
The furniture of French architect and designer Jean Prouvé has long been desirable in domestic settings, particularly since the turn of the new millennium. Many examples of his furniture are now regarded as mid-century design classics, thanks largely to a long-standing collaboration between his daughter, Catherine, who was eager to see her father's classic designs produced again, and Vitra, the Swiss furniture manufacturer famous also for the Vitra Design Museum at Weil am Rhein, Germany.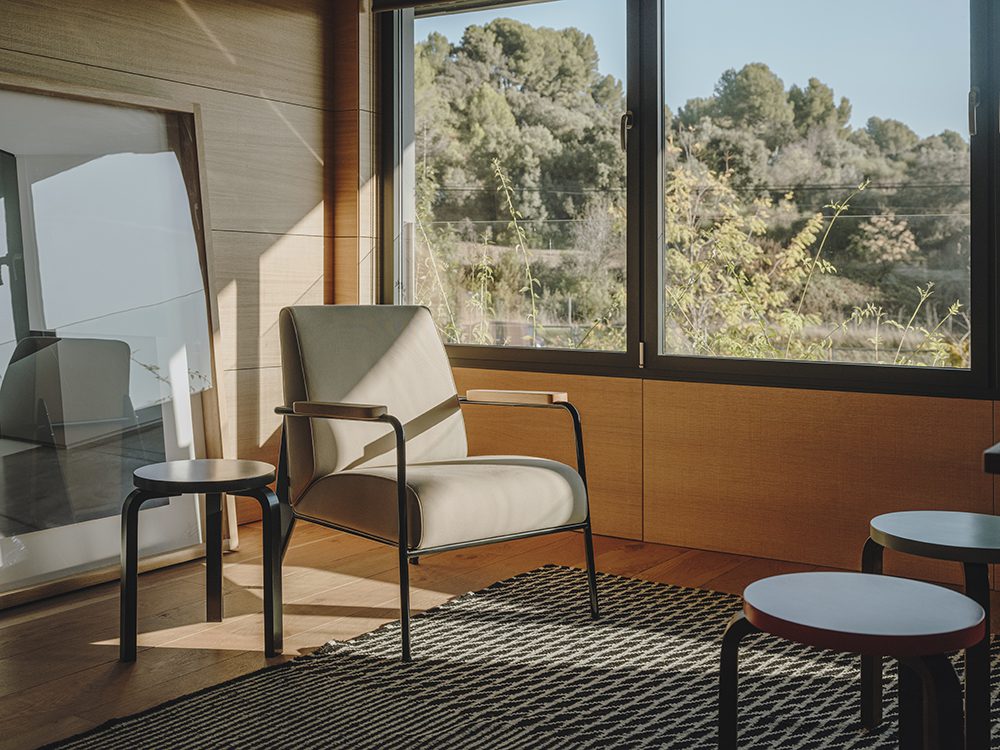 The partnership has its origins in the passion felt by Rolf Fehlbaum, chairman emeritus of Vitra, for Prouvé's designs. The most famous of these is his Standard chair of 1934, which demonstrates the designer's concern for functionality. Prouvé surmised that the weight on a chair's back legs, which support the sitter's upper body, is greater than on the front legs, and created thicker back legs for this chair. Prouvé saw himself as an engineer not a designer; according to Catherine, he liked to describe himself as a "factory man".
In the early 1980s, Fehlbaum bought Prouvé's Antony chair of 1954 during a trip to Paris. At the time, Prouvé, whose company, Ateliers Jean Prouvé, in Nancy, north-eastern France, closed in 1953, was relatively obscure, chiefly known to a clutch of collectors, connoisseurs and such starchitects as Norman Foster and Jean Nouvel. Fehlbaum went on to buy other Prouvé pieces and the Vitra Design Museum now holds the world's largest collection of his work.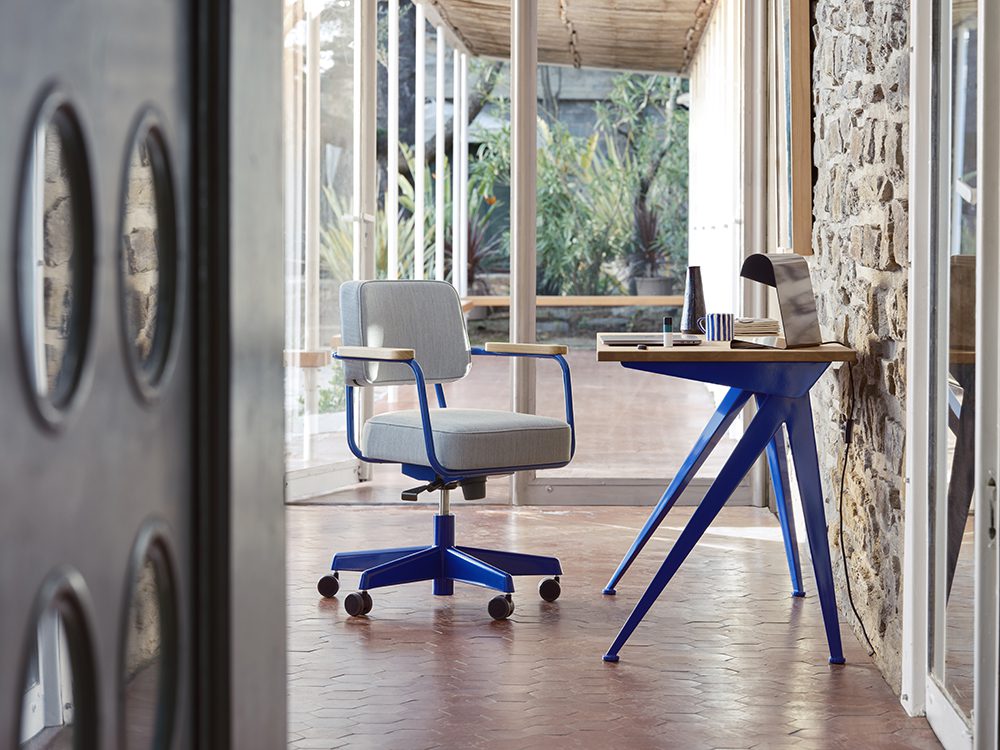 Prouvé, originally a metalworker and a self-taught architect, mainly designed furniture for the public sector – offices, schools, universities and hospitals – but also for his modernist home in Nancy. While bent on creating well-constructed, pared-down furniture, he wasn't opposed to aesthetics. His father, Victor, an artist, devised colours for Prouvé's furniture, which add a seductive, decorative quality to its rather austere forms.
Now Vitra has augmented its Prouvé range by reviving several other designs – the Tabouret No 307 and Tabouret Métallique stools (also used as side tables); the wall-mounted Rayonnage Mural bookcase, and the Abat-Jour Conique, a conical lampshade developed in 1947 for his Potence wall lamp. All these are showcased at Vitra's new showroom at The Tramshed in east London (open by appointment only).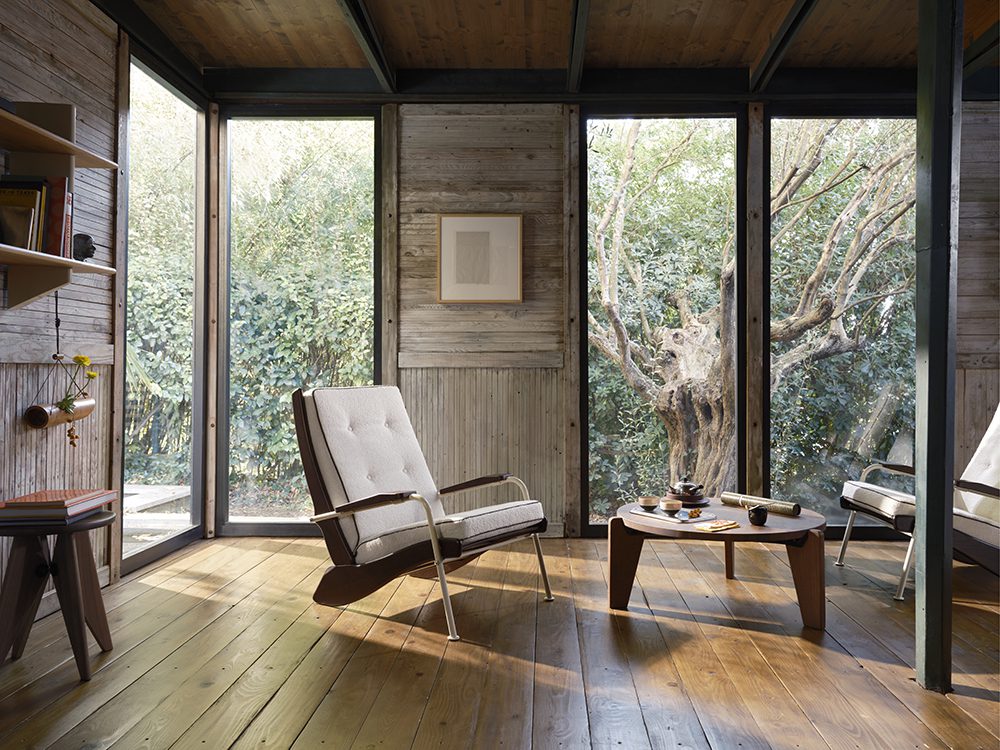 These designs are now available in several additional original Prouvé colours. To the existing palette of black, Japanese red and Blanc Colombe, a cream tone, have been added Gris Vermeer (which alludes to grey tones in paintings by Vermeer), Blé Vert (which mimics the colour of young wheat), Bleu Dynastie, Bleu Marcoule and Métal Brut, which resembles unpainted steel.
"These colours suit both homes and offices," says Christian Grosen, Vitra's chief design officer. "Their diversity makes the collection more adaptable to any office." Vitra also reissued Prouvé's armchair, the Fauteuil Kangourou of 1948, which was never mass-produced. These quickly sold out.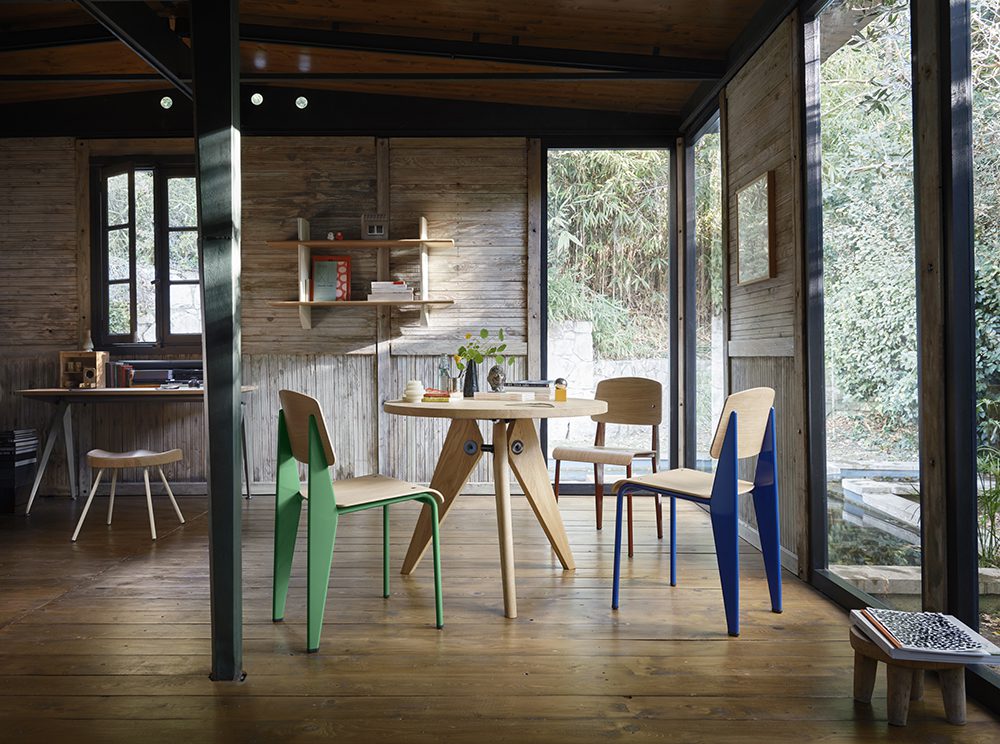 According to Grosen, these pieces, which combine durability and good looks, are eminently suitable for today's offices: "The workplace post-Covid is still being reinvented after long periods of remote working and as companies struggle to recruit and retain staff. Some companies want to bring as many employees back to their offices as possible.
This impacts on workspaces which now need to look different from average workplaces. We need spaces that bring people together and promote spontaneous exchanges of knowledge and insights. Prouvé's simple, robust, comfortable furniture was often designed for collective spaces and remains relevant. It brings a warm, domestic feel to offices, especially those with an industrial style."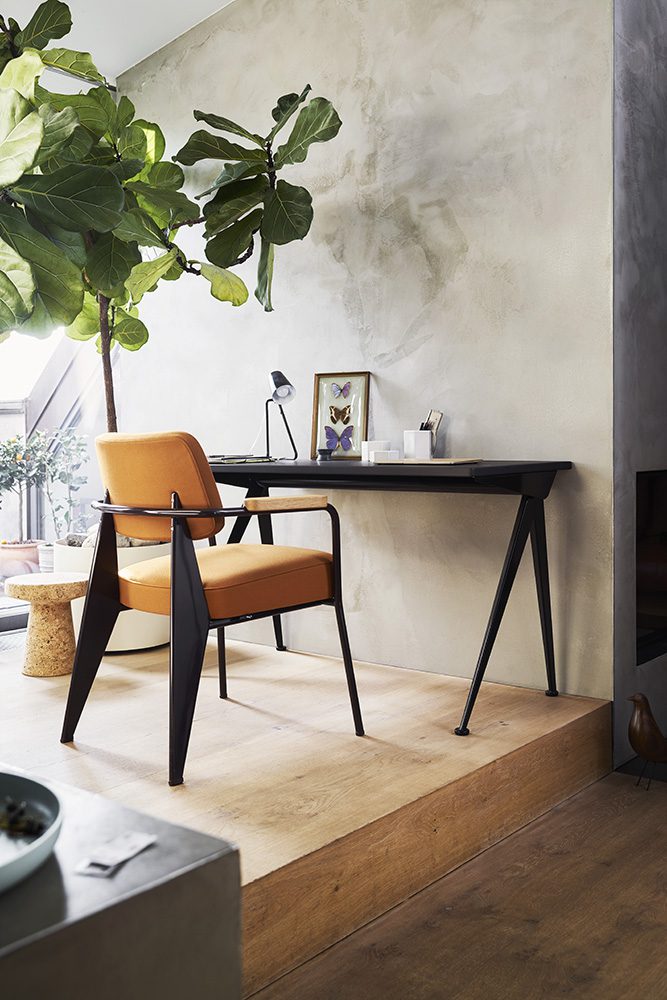 Vitra itself recently launched its Club Office, a physical workplace geared towards improving office design in a post-Covid world. Open to employees of Vitra and of closely affiliated business partners, this is based at Vitra's HQ near Basel and at The Tramshed. Club Office comprises three zones – a public area conducive to spontaneous meetings and informal collaborations, a semi-public one for more formal collaborations and a private one for individual tasks, akin to a home-working environment. Club Office incorporates Prouvé's 1930 Lampe de Bureau, a table lamp originally designed for the Cité Universitaire in Nancy.
Prouvé furniture graces a number of offices, such as the HQs of Spanish lighting manufacturer Marset in Barcelona and of Swiss running-shoe brand On in Zurich. "The great advantage of Prouvé pieces is that they suit practically any space because of the honesty of their design," concludes Grosen. "They can be easily combined with existing furniture."
Images by Vitra and Florian Böhm
Enjoyed this article?  Read more: Q&A: Christian Grosen, Vitra's Chief Design Officer, shares his insights on the classic Jean Prouvé collection