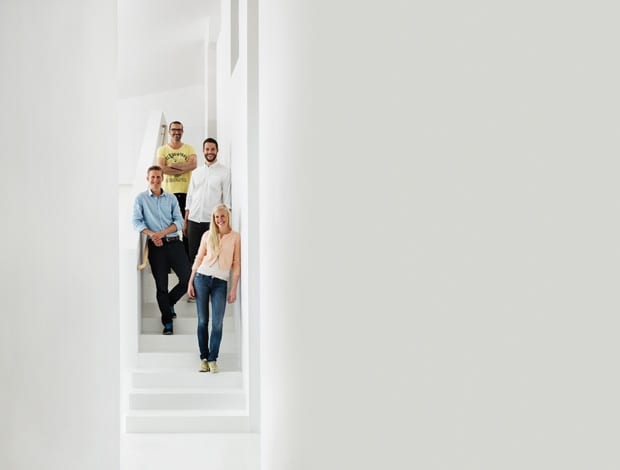 Note, clockwise from top: Cristiano Pigazzini, Johannes Carlstrom, Susanna Wahlin and Kristoffer Fagerstrom (fifth Notester Alexis Holmqvist was away)|Dezibel, an acoustic panel, makes a virtue of the product's thickness|MCE lamp, a glass orb sitting in a jointed wooden cradle|Marginal Notes, the experimental collection that began the firm's rebirth|Suburbia, a wall organiser for Seletti inspired by Vitra's Uten.Silo|Cork-topped Boet stools (Boet means "nest" in Swedish), for Mitab|The Fuse lamp harnesses maker Ex-t's expertise with porcelain|Office accessories range Kopiad; its coloured interiors make it glow|Rondell reimagines an office mail-sorting hub as a circular piece of furniture|An aerial view of the Telluria candelabra, inspired by an astrological model|The Soot desk: black on the outside, it opens to reveal a pine interior|Svensk Travsport's HQ features Note's pleasingly chunky Boop armchairs|The IT department at bookmakers ATG; staff grew to love it (eventually)|Avanza Bank's head office: the brief was for something non-bank-like||
Swedish collective Note Design Studio were once booed by the office workers for whom they had designed an open-plan workplace – but their mixture of charm and design nous means that they're now moving mainstream
Not for the first time, onoffice is in the wrong place. Although the slighty tatty sign nailed adjacent to the front door clearly said Note Design Studio, there is no sign of the Stockholm-based collective we have jetted in to meet. What's more, a steady stream of young pram-pushing mothers continually come and go from the warehouse, imbuing the whole scene with a feeling of comic mystery. "Must be a baby audition," says onoffice's art director Edgar, immediately making sense of things. Amazingly, he turns out to be right.
Still, unlike other occasions when we have wound up knocking on the wrong door, this time it isn't our fault. The warehouse, south of the city centre in Södra Hammarbyhamnen, was Note's home up until two weeks ago. In the chaos of the move, Cristiano Pigazzini, the firm's strategic director, forgot to tell us.
To our immense relief, the studio has only shifted about 300 yards. Pigazzini arrives five minutes later, apologetic, and with two more colleagues in tow, Susanna Wåhlin and Johannes Carlström. All have an easy charm, greeting us with hugs and smiles rather than the formal handshake sometimes preferred by their country folk.
Before we press on to the serious business of interviews and photoshoots, which later turns out to be not so serious at all, we head for lunch at an artisan cafe down by the waterside.
Södra Hammarbyhamnen is a working-class dominion of docks, warehouses and factories, but like many post-industrial economies it has felt the purging hand of gentrification. Here, young creative types tap away at laptops in the glorious sunshine, but elsewhere in the city all is not well. The northern suburbs are ablaze with the kind of civil unrest recently witnessed in Paris or London, and Wåhlin is surprised at the troubles: "We are not used to that kind of thing here."
Another brief stroll takes us toward the studio's new headquarters – an unprepossessing pitched-roof building constructed from yellow bricks.
Wåhlin reveals it was previously home to the kingpin of a lightbulb company. The factory, a splendid essay in Swedish modernism, rests silently opposite. The inside presents a radically different countenance – all white walls and nooks, it has more in common with a modern art gallery than an industry captain's digs.
There are five members of Note: Pigazzini, Wåhlin and Carlström, plus Kristoffer Fagerström and Alexis Holmqvist, but only four of the collective are present. Graphic designer Holmqvist, I am beginning to realise, is more elusive than the Scarlet Pimpernel. He was absent when I first encountered Note in Milan, and this time he is in Barcelona for a month. After some gentle cajoling we eventually settle into a corner of the studio surrounded by Note's recent works.
For most people (outside the Stockholm design bubble at least), the company first penetrated their consciousness with its Marginal Notes collection (above) in 2011. The story, however, actually begins in 2008. "It was me, Cristiano and two other guys that started it back in 2008," says Carlström. "We started as a basic interior design office, making branded interiors; that was our thing. We were ten people, and we were doing quite well."
"But we were not doing anything for ourselves, we were just, you know sending an invoice," interjects Pigazzini, who is Italian and the one member who is neither a designer nor Swedish. Frustrated with boring briefs and the pedestrian nature of the work, they aimed for loftier ideals. "We said we wanted to be the best design company in the world. What we really meant is that we want to be free," says Pigazzini.
Unfortunately, this renewed sense of purpose rattled original founding member Jon Eliason whose ambitions ended at Stockholm's city limits. In 2010, the company split. Eliason left and others quickly followed. The exodus coincided with the arrival of interior designer Wåhlin, who immediately seized on the new direction. "I remember the first week everyone was talking about this vision to try and do something for ourselves, something we enjoy. To find out who we are, and that journey," she says. "Before that there was no personal expression, just the clients."
Note unveiled its exuberant new aesthetic at the Stockholm Furniture Fair in February 2011 with its Marginal Notes series. Freed from the restrictions of a brief, the studio turned to the doodles and sketches it had built up over the years and set them loose in an explosion of colour and materials.
"We said we wanted to be the world's best design company. What we meant was, we want to be free"
The collection, which had more than a faint echo of the Memphis movement about it, was incredibly well received. But for the studio it was as much a cathartic exercise as anything else. "We said OK, let's forget everything and have some fun. We don't have to sell these products," says Pigazzini. Such was the profile of the studio; many of those visiting from outside of Stockholm simply assumed this was the launch of a completely new company. In a way, it was, and with that came nervousness. After three years of grinding away behind the scenes, would anyone even notice?
"We really had no idea how it would work out. We were looking at the blogs and wondering are they going to show it, or would there be complete silence?" says Wåhlin.
They needn't have worried. The genius of the collection is its noise: Tembo, for example, a table and stool, is a cocktail of materials – steel, MDF and cork – that looks fantastical and is perfect fodder for the blogosphere. French manufacturer La Chance now produces a slightly more refined version of it. Marginal Notes 2 soon followed, but by now the ambitious studio experiments were matched by work for small, cool Swedish manufacturers such as Zero, Mitab and Klong.
Note is not afraid of colour or acknowledging its importance to a product's overall feel. "The colour is an equally important part of the product as the shape," says Fagerström. "It can sell something just as well as the shape or the function." Colour is also the main source of argument in the studio. Not that Note's protagonists are a particularly querulous bunch: on the contrary, the studio has a carnival atmosphere, as if everyone knows they are surfing a wave and are determined to enjoy it. Carlström in particular enjoys larking about.
His colleagues reveal he is an accomplished martial artist, though he singularly fails to demonstrate any cat-like agility expected when he jumps/slides down the wall during the photoshoot. His foil is Wåhlin, a soulful character who seems happy to observe the goings on. Fagerström is drier and more reserved, as is Pigazzini. They are a tight unit who are happy to chat and joke. "We don't socialise with each other, but we work a lot," explains Fagerström. The products themselves are equally friendly, but manage to steer clear of anything too twee or cutesie.
So far, Note's portfolio has focused on classic materials – wood, glass and metal. "We are quite far from studios like Front in that sense. We are not looking for the latest polymer or something. That is not us at all," says Carlström.
That said, Note has proved pretty adept at helping companies use time-honoured skills to open up new markets. With Italian bathroom company Ex-t, Note explored the manufacturer's expertise with ceramics to produce a pendant light series called Fuse.
The mutual benefits of these arrangements are a definite boon, but by the same token can lead to reluctance to experiment with new materials. Fagerström expresses a little frustration with what he believes is the conservative nature of Swedish manufacturing: "I think maybe they are a little bit stubborn. They only want to do what they do best." One notable difference between the industry in Sweden and the UK is that, despite some fogeyish leanings, there is still a willingness to engage with designers. The old factory owner who makes umbrellas has realised the impossibility of competing on price with the far east and so is looking to designers to save the day. What is interesting about Note – and it is no doubt why companies from across Europe are queuing up to work with them – is the studio's acute awareness of marketing strategy as well as its design chops.
"We are not looking for the latest polymer or something. That is not us at all"
For struggling acoustic panel company ZilenZio, Note shrewdly made a virtue out of a perceived failing. "They make thick sound absorbers, but their competitors make them as thin as possible, because the architects want that. But they miss the point: those sound absorbers don't absorb sound," Pigazzini explains. "They panicked and lost their market because they did not want to make those kind of products." Note encouraged ZilenZio to emphasise the products' thickness, producing the beautifully calm Dezibel collection. "We said, don't be ashamed of what you have, be proud. Our goal was to make their rival companies think, 'oh God, they are telling the truth.'"
It was a similar story (although not anywhere as straightforward) at bookmakers ATG, Sweden's equivalent of the Tote.
Note was charged with redesigning the company's office (the studio began life in interiors and continues to work in that sphere), transforming the IT department's cellular office space into a dynamic open-plan ideas incubator. The 50 staff were not happy. "They even wrote a letter and signed it saying how much they hated the place," laughs Carlström. "Every time we went there they booed us." After the initial shitstorm, things began to calm down and the company, hitherto tagged as stable but boring, is now attracting young graduates.
Whereas Note eventually won over ATG, its next project is sure to test the studio's ability to the utmost. Through a contact of Pigazzi, the young practice was drafted in to design a centre for psychoanalysis in Zurich with a view to rolling out the format across Europe.
On the day we meet, the studio had just submitted its final concept. "The centres follow a Jungian-based therapy, which sees illness as part of your personal development. They wanted the space to reflect that," says Carlström.
The institution is specifically targeting educated immigrants in a bid to heal not just the patients but create a more cohesive city. Given our earlier conversations it is an apt and noble cause, and with Zurich's varied demographic, the Swiss city is an obvious jumping-off point. The client is top secret at the moment, but Note explains that the motivation behind the design was to move decisively away from the institutionalised nature of psychoanalysis.
For this reason, design classics were certainly not an option and neither were closed-off spaces. "One of the main features is a custom-made shelf, which you interact with. It is a way of activating the session. For us, the shelf is what the couch was for Freud." On first impressions, Note's non-confrontational sensibility makes for a logical fit for the project, but it will certainly need some serious self-criticism if the studio is to prove successful. As Note ventures to wider pastures, the serious work starts now.