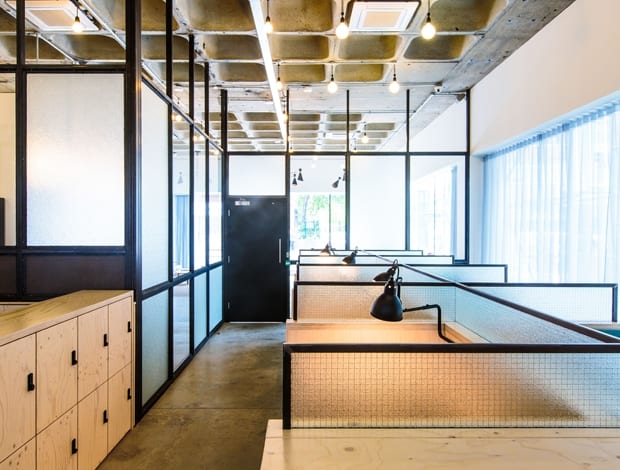 ||||||

On top of its 20 existing locations, The Office Group is opening eight more in the next nine months, including one in The Shard. Prior to this explosion in co-working, momentum has developed more gradually since the company's founding in 2003 by Charlie Green and Olly Olsen, when it was a ahead of the curve in providing design-led serviced offices.
Its latest in Borough is its first south of the river, designed by Stiff + Trevillion, and offers the usual range of shared space plus a basement bike park, gym (with personal training and fitness classes), and a soon-to-open roof terrace.
The look of the place, Green says, is based around the inadvertent discovery of the building's "wonderful" original coffered concrete soffit. "That hooked us," he says, "so the design intention was very much focused on revealing this and the volume of space it came with."
Architects Stiff + Trevillion kept it simple, using heavy concrete features and dark metalwork with pale timber finishes, plus sheer fabric and lots of glass panels allowing light to permeate the furthest corners. The outside is painted black with floor-to-ceiling glazing on the first two floors, to give a "striking and impactful" entrance, says Green, and an "almost a retail presence" at ground floor.
Depending on their level of membership, workers can use the ground-floor lounge, kitchen and more secluded hotdesking space, or lease a private office upstairs. These vary in size up to a 50-person room, and can be custom designed – one member is hiring a graffiti artist to spruce up a room, another has installed an executive office and kitchen. All members can hire one of ten meeting rooms by the hour, or use one of the many breakout meeting areas or phone booths.
Like every Office Group location, it has its own unique style, and attracts its own eclectic mix of members; there's an architecture practice, an IT support firm, a finance company and a psychic hotline, all based on one floor. Networking events bring them all together (though presumably the latter already knows who they all are).
Read more from our co-working takeover series:
Pt 1. The co-working takeover series: The Den Bedford Sq
Pt 2. The co-working takeover series: Danish firm Spaces
Pt 4. The co-working takeover: WeWork Devonshire Sq