ARC Club has opened a new hub in south London, expanding the reach of its laid-back high-street concept for local co-working
Now, more than ever, people want to work closer to home. The pandemic has made us reflect on our lengthy commutes into the office and long for workspaces in our local area. As a result, we are increasingly seeing humble-sized co-working spaces pop up across London away from the city centre.
Overlooked high-street units are now being transformed into imaginative workplaces as people search for nearby working environments. One interesting example of this is ARC Club's recently opened co-working hub in Camberwell, south London.
Founded by Hannah Philp and Caro Lundin, ARC Club is a neighbourhood workplace where people can escape the confines of their homes and feel inspired. Philp and Lundin have spent considerable time contemplating how offices can be reimagined to be more inclusive and provide productive environments for freelancers, working parents and people with multiple careers.
"I really enjoy working with Hannah and the rest of the team. We work in such different ways. I'm the only architect, but we all share the same goal," explains creative director Lundin. "Working with ARC Club, I get to evaluate the space and see how people are using it. This is something that is usually quite rare for architects to do," she adds.
Their new south-east London branch builds on the foundation set by the first outpost in Homerton, east London, but looks to the future as working needs continue to change. Here ARC Club aimed to create a welcoming and motivating environment close to workers' homes. Being in a residential neighbourhood means that Londoners do not have to venture into the city to use the space and members can live locally.
The brief for the project was to cleverly divide the 223sq m ground floor unit into three distinctive sections. "In ARC Club, there is a focused area, team collab zone and a social space where you can sit and have a coffee," says Lundin. Near the front, a small cafe provides members with an area where they can chat and socialise, while the collaborative space features group desks and high counters for work to be completed collectively.
To the right of the floor plan sits a quiet area for individuals to put their heads down and concentrate. In the first building in Homerton, Lundin designed two-person meeting rooms. However, these spaces are now mainly used as solo places for online conference calls. So, for the Camberwell workspace, ARC Club created six single-person rooms instead, where people can privately take their calls.
Inside, the workplace isn't separated by partitions, which allows ARC Club to host a wide range of activities for its members. The venue can be used for event hire, homework clubs and exhibitions by local artists. "People are so starved of social interactions that the office has become a powerful meeting point," says Lundin.
According to the architect, offices need to work harder to pull people in. By being more hospitality-focused she believes that workspaces can bring individuals together. For this new outpost, both Lundin and Philp want to celebrate the local community and allow the space to be a place for them to showcase their talents. "We would also love to invite local artists and creators to exhibit their work here," adds Lundin.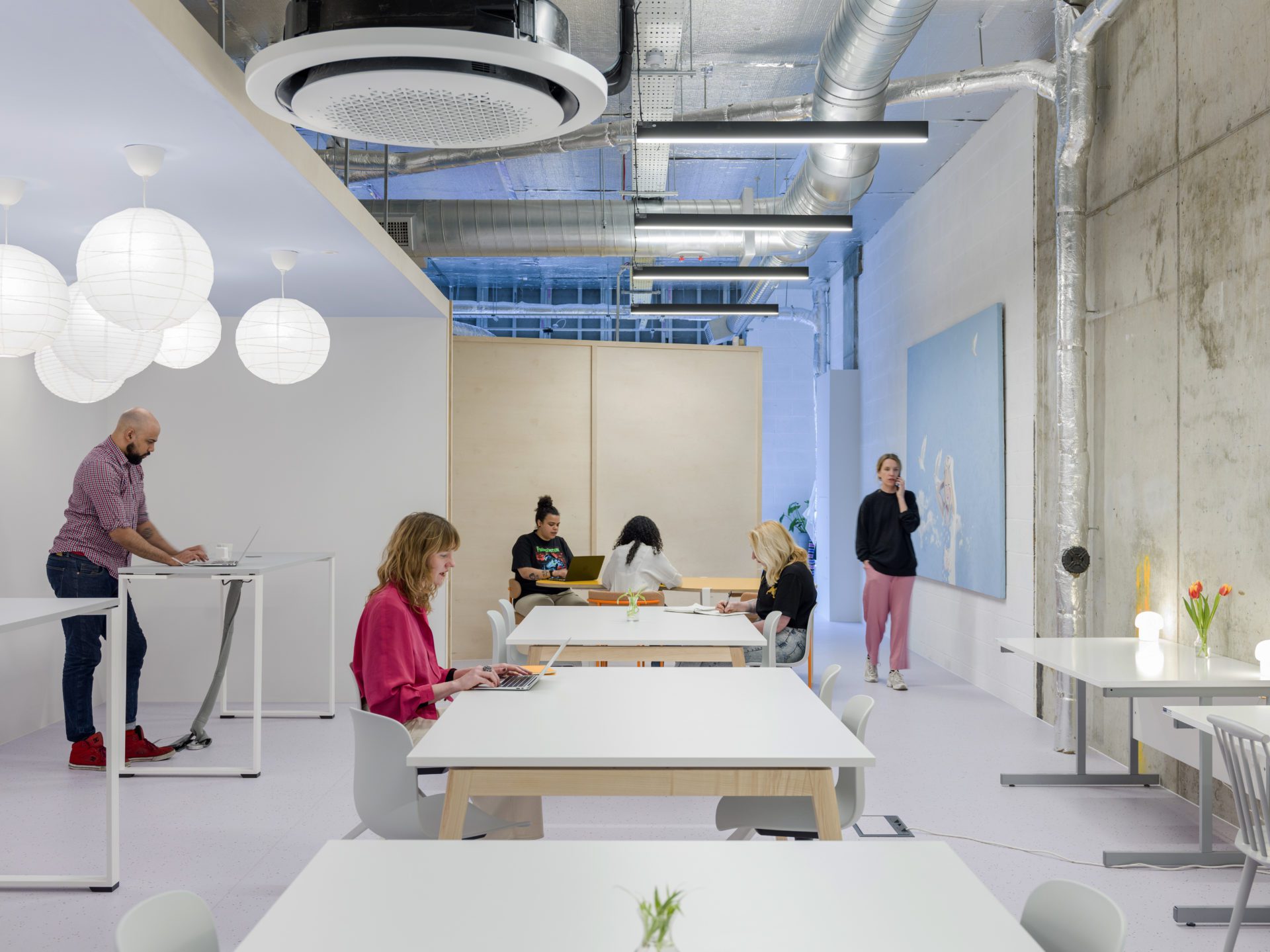 The site was vacant for three years before it was eventually fitted out, then opened in January 2022. The complete shell and core took a mere seven weeks – a week more than its Homerton counterpart. Meanwhile, the interior is a pared- down collection of vibrant fixings and furniture. An exercise in restraint, the workplace smartly employs colour to help change the atmosphere as you meander through the space.
Blushing shades of pink are complemented by tranquil blues, while bold yellow hues can be seen contrasting subtle grey tones. "I have always been intrigued by colour so for this project I wanted to use it to accentuate key elements," says Lundin. Here colours brighten into the raw and exposed concrete and plywood surfaces and bring a sense of calmness into the space.
Both Lundin and Philp believe that co-working spaces should be accessible. In Camberwell, they have opted for an affordable working environment that caters to various needs. "We didn't want to create an expensive high-end members' club," explains Lundin. ARC Club prides itself on being professional but never corporate. Its workplaces are inclusive zones where workers have opportunities to meet and interact with others.
Here, members can drop in and out without having to book a desk. Both the new south-east and east London offices can be likened to a cafe or library with a central focus on work and productivity. Boasting zoom booths, superfast wi-fi, along with a series of different type desks, ARC Club's latest project provides a simple and straightforward workplace away from the city centre.
ARC Club's new Camberwell office is an inviting, flexible and accessible workspace where freelancers can feel part of a vibrant community. Nestled in south-east London, it is the perfect venue for anyone struggling to work from home that doesn't want to venture back into the city centre just yet. With the nature of the high street changing, there are many empty retail units and ARC Club continues to capitalise on this.
By repurposing vacant sites, Lundin and Philp are unlocking local potential and providing workers with low-cost alternatives to high-priced members' clubs. Creative director Caro Lundin has added to her impressive portfolio of interiors with this new co-working space, having previously worked on Nokia's London HQ.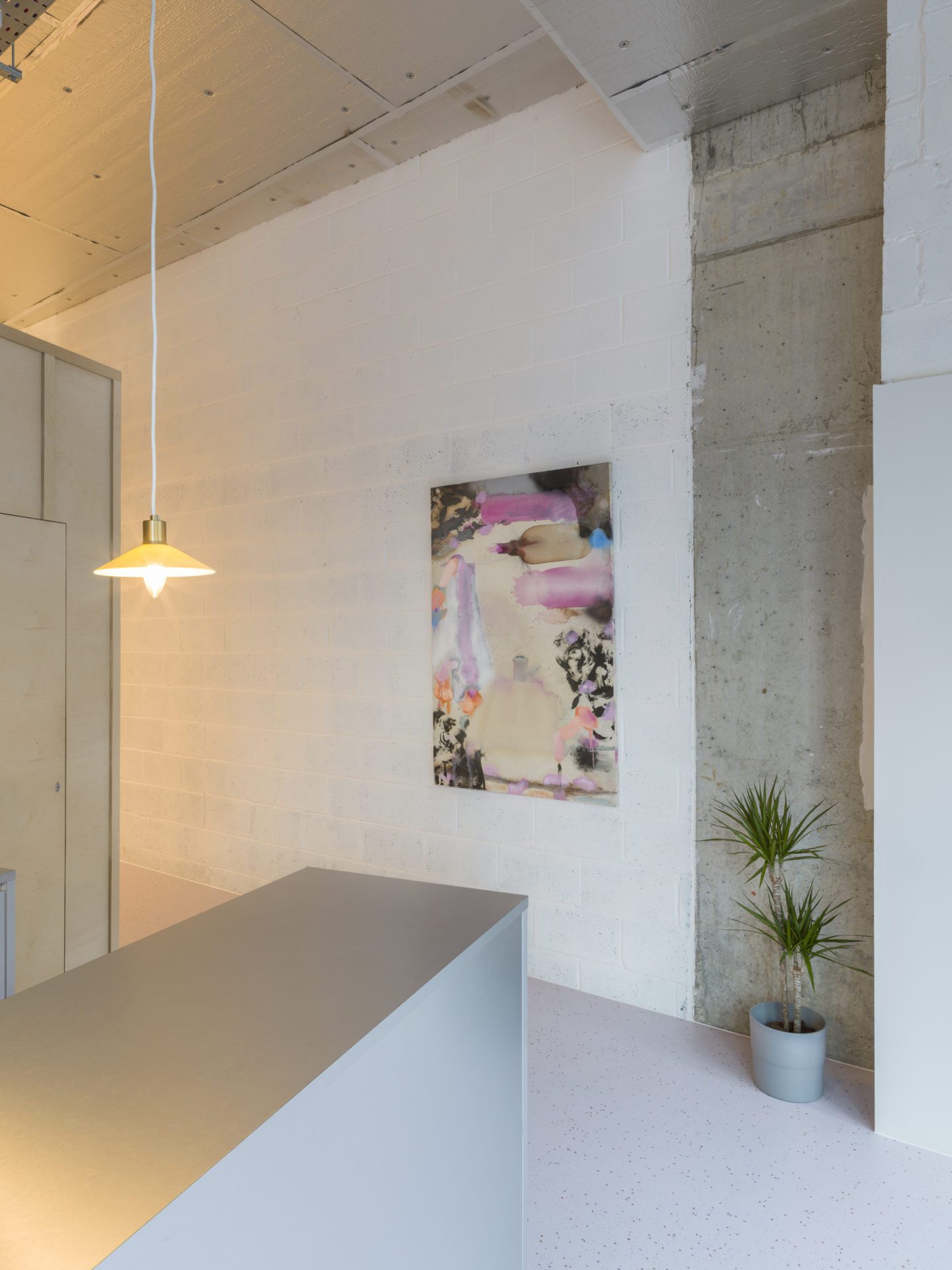 Currently, her eponymous practice, Studio Caro Lundin, is working on projects in Sweden that focus on the neighbourhood and creating interesting places to meet.
Using her creative flair, it is clear that Lundin is challenging the way we work while providing well-needed substitutes to conventional office buildings.
Images by Andrew Meredith and Jermaine Francis
As featured in OnOffice 159, Summer 2022. Read a digital version of the issue for free here