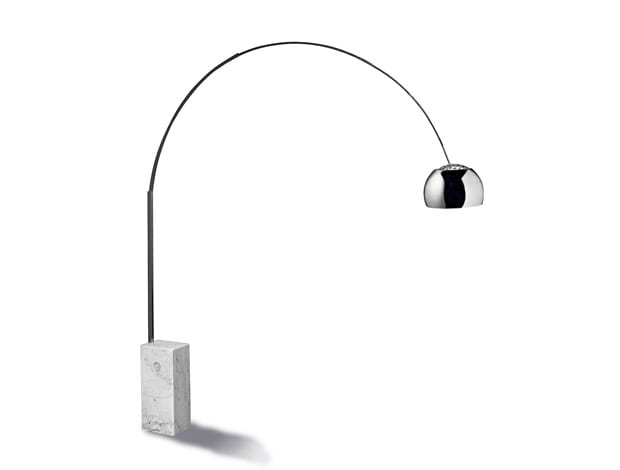 Arco lamp: is this a replica or the real thing?||
One man's fake is another man's replica. As the furore of over UK copyright laws has morphed into tangible reform, are designers about to get an even playing field with other creatives?
For many designers, UK copyright law has never been fit for purpose. Unsurprising, when you consider it was never drawn up with them in mind in the first place. The Copyright, Designs and Patents Act 1988 was formulated to prevent car manufacturers wielding a monopoly on spare parts and thus ensure the industry remained competitive. Sadly, the car industry spluttered and died not long after, hoisted by a petard of head-gasket failures and rusty bodywork, but the law remained alive and well.
As it stands, registered designs in the UK are protected for a maximum of 25 years, whereas unregistered designs are covered for 15. Now, after 25 years of inertia, the government is proposing to reform key elements with the Enterprise and Regulatory Reform Bill 2012-13. If passed, the Bill will abolish section 52, which effectively limits the copyright protection available to "artistic works exploited by an industrial process" to 25 years. This is the same protection offered to songwriters, artists and the like.
So this is good news, right? The days of small studios been copied and ripped off are over. Well, not quite. While this new-found interest should be welcomed by an industry that Whitehall has largely ignored, the new legislation is, according to some, far from the panacea designers feel they deserve. Adrian Heath-Saunders, a lawyer at Wedlake Bell LLP who specialises in Intellectual Property contracts. "The types of 3D designs which are going to benefit from this are sculptures and works of artistic craftsmanship – and the latter term has been interpreted fairly narrowly by the courts," he says. "The problem for most designers is that their work would not fall within the definition of 'artistic work' or work of 'artistic craftsmanship'. The reform is not therefore of any assistance to the vast majority of product designers." So if someone designs a sculpture that can be transformed into a lamp, it will be protected for the life of the designer plus 70 years; but any other lamp won't be. The question is how to convince government to re-examine its stance.
Never far from the headlines in the design press, the fakes debate was reignited earlier this year when Samantha Cameron bought a fake Arco lamp, rather than the Flos original. The vituperous backlash forced a PR-conscious government to re-examine the antiquated copyright laws. Until recently, the UK was seen as a haven for copies. "I believe that is quite stunning that an evolved country such as UK is not yet in harmony with the most relevant legal framework of EU," says Flos's CEO Piero Gandini. "To limit to only 25 years the protection of a industrial design product recognised as an 'icon' is an approach totally inconsistent with respect for the creativity and the investments made by companies for the design, and designers themselves."
A measure of how out of step from our northern European cousins we had become came when Fritz Hansen CEO Jacob Holm pursued a UK-based company, Voga, through the Danish courts for selling designs protected by Danish law. In a landmark ruling, Voga was banned from selling or even advertising copies in Denmark. Sweet revenge for Holm, but sadly a plaintiff's financial muscle or lack thereof is often the reason why smaller studios baulk at taking action.
"It's pretty crap behaviour," says Luke Pearson, one half of UK studio PearsonLloyd, whose own work has been "interpreted" by a multitude of spivvy manufacturers. "But I think you have also got to realise that the gains of taking action may not be worth it." Getting rid of section 52 will finally put the UK on an equal footing with northern Europe when it comes to so called design icons.
Figures from Anti-Copying in Design (ACID) estimate there are 350,000 people involved in the design industry, with nearly 90% employing fewer than four employees. These small businesses are easy prey for copiers, according to CEO Dids Macdonald, who founded ACID after the fakes market stymied her own career. A veteran 15-year campaigner, Macdonald agrees with Heath-Saunders that the proposed changes do not go far enough. Macdonald is urging designers to take part in the two-month consultation announced by the Department for Business, Innovation and Skills (BIS), which closes on 2 October 2012. It will be sent to IPO stakeholders and tackle issues such as simplifying the scope of protection, enforcement and, crucially, the possibility of equal protection for designers for their lifetime plus 70 years.
Having worked hard to appear on the government's radar, MacDonald is determined not to fall at the final hurdle. "It has been a long and arduous campaign and we are finally seeing it ripple to the surface. To me, it couldn't be more simple. Why shouldn't a designer have parity of rights?"
Of course, the elephant in the room is China. Thanks to the globalised marketplace, replicas can be made in the Far East leaving designers with virtually no recourse, but the proposed reforms here will at least restore the UK's reputation as a place where creativity is to be admired rather than imitated.
To have your say in the government consultation, visit /www.ipo.gov.uk/pro-policy/consult/consult-live/consult-2012-designs.htm