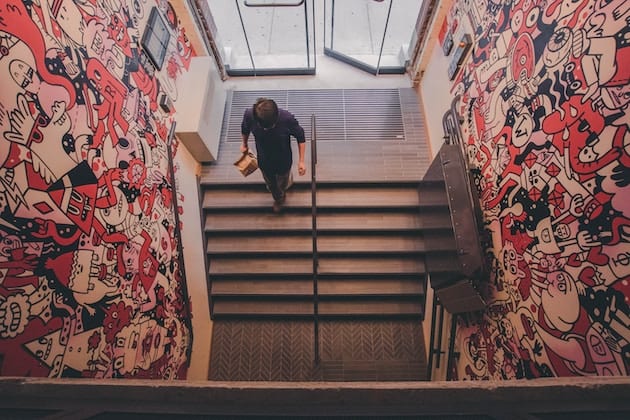 |||
The impact of your workplace decision-making is far reaching and can often have substantial financial implications. Getting your workspace right can be a gamechanger for any business, no matter the scale. But how do you know what style will stand the test of time? What will the workplace of the future look like? And how can you ensure you stay ahead of the design curve?
Workspaces, like life and business itself, naturally evolve over time. Just think back to the Mad Men era (1960s) where office workers could expect teak veneers, Knoll-style couches, ashtrays, and old-fashioned telephones. If you were the boss, you could also expect a large office to yourself complete with geometric wallpaper, a drinks trolley and blinds to shut out the rest of the office.
Fast forward, through the grey cubical farms of the 80s and 90s, to today, and it's clear that office design has shifted much more towards user-friendliness. Advances in technology have precipitated a new, more flexible way of working, which design is increasingly accommodating with spaces to suit different needs, such as coworking and collaboration.
So, what's next for the future of the office? Have we taken user-friendly design as far as it can go? Far from it. In fact, one thing we can certainly expect to see is science playing a bigger role in influencing design decisions, as savvy companies increasingly harness the power of technology to help them make more intelligent, user-friendly use of space.
Evidence-based design, where decisions are made using a data-driven approach, looks set to become the next big influential factor and is likely to change the face of office design for good.
An evidence-based office design scheme takes data from an organisation's working styles and patterns and converts it into a tangible workspace design scheme. The data, often gathered via an app, can give insights into how employees feel about their current workspace, provide a "heat map" of what areas are being used the most and when, and detail precisely what activities each space is being used for.
By giving decision makers a comprehensive picture of how their workspace is used, data-driven design allows any new design and space plan to integrate seamlessly with employee requirements. This could mean creating special workstations or even removing them altogether for a more flexible approach. Alternatively, it could mean the introduction of innovative furniture, specially designed break-out areas, or new technology. Crucially, data-driven design takes the guess work out of office decoration, instead allowing decisions to be made based on facts.
The benefits of such an approach are legion; from a financial point of view, it allows a workspace to be leaner, potentially reducing real estate costs by identifying and eliminating space wastage. It also helps to create a unique, attractive environment that employees want to work in, so the business is better able to retain talent and maintain a positive atmosphere.
The future workspace will be smart, taking into account usage and culture. Crucially, its design will be inspired by data insight, rather than emotions and individual opinion, and will be very much led by the diverse and continuously changing needs of the 21st century worker.
By using a data-driven research approach, businesses can get a better understanding of how well their processes suit the space in which they work, which could prove invaluable for the future. Is it time to embrace a fact-based approach to office redesign? Our experience suggests it could make a real difference.
Murray Hibbert is the client relations director of Habit Action, an office design and build company that creates workplaces using data
Murray Hibbert of design and build firm Habit Action delves into how data-driven design looks set to change the face of the office.