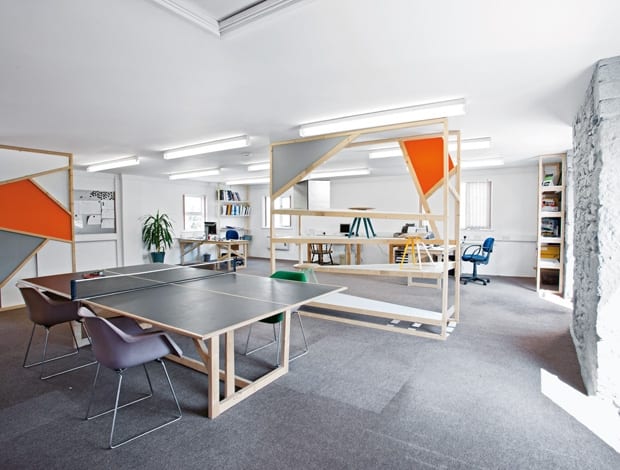 The twins constructed a meeting/ping pong table out of pine from a local building centre|The Boex brand colours are used in the reception area and painted onto 8mm ply planks inset into the joinery|The Boex boys play a game of ping pong beside a new square of blackboard paint used for schedules and ideas|A quaint scene in Porthleven|Sam and Will are avid surfers, which is one of the perks of an office 50 yards from the sea||
By using simple materials, identical twins Sam and Will Boex take their Cornwall-based design business to the next level
Along with pasties and ice cream, Cornwall is perhaps most treasured for its sun-soaked fishing villages and attendant laidback atmosphere. Tourists happily overlook the patchy train service and stag dos in Newquay for a chance to indulge in that lovely, unhurried Cornish pace.
It's a feeling that Sam and Will Boex, the identical twins who make up Boex 3D Creative Solutions, have managed to infuse into their first office in Porthleven, a seaside village in the southern end of Cornwall where the pair grew up.
Sam, who is apparently the "creative" Boex, set up his own design business in 2004 before Will, the business minded of the two, joined him in 2006.
"We're mirror twins, we work well as a team," says Will. "Basically whatever I'm shit at, he's good at," Sam adds.
The move was a long time coming, they both agree. The pair was working in cramped conditions out of Sam's home until February this year, when they took over a space from the West Cornwall Pasty Company and fitted it out in three days.
"It was put together in a fairly spontaneous way with the help of a few friends," explains Sam. "We haven't got a lot of drawings because we did it ad hoc on site, which is quite a nice way of working compared to how we usually deal with clients, which is a bit more formulaic and controlled."
As well as a groovy rock wall, the new Boex office is noteworthy for its teeny tiny budget (£1,000) and the simplicity of the result. The office, 15 metres by 10 metres in "quite an old building" on the seafront, has had no structural work done to it. Instead, the twins and their pals subdivided the space with basic elements of pine studwork timber from a local building centre. It was a super cheap solution to mould the office into zones for reception, meetings and solo work. In all, the internal materials cost was just £400."
"I like the idea that when you go into building sites, all the studwork is transparent. All the rooms are subdivided, and that was the inspiration behind this project," says Sam. "It was the fact that simple joinery is usually done knowing that it's going to be covered up, and we liked the idea of keeping it all exposed."
Plus, it would seem that the skeletal nature of the joinery helps to ensure that all areas of the office get light, which streams in from windows on four sides of the building. "We wanted a sort of screening effect but then we've also put these coloured panels in between the studwork to break the space up and help with dampening sound."
"I like the idea that when you go into building sites, all the studwork is transparent. That was the inspiration behind the project"
The 8mm ply panels were painted orange and grey, giving visitors a blast of Boex branding when they enter the space. The reception has been fitted out with a medley of Boex's products, including the Easy Willow chair and the now infamous Pencil Bench, and a bespoke couch frame topped with customised grey and orange upholstered cushions.
The pine was also fashioned into desks and the ping pong-cum-meeting table, which is paired with four Robin Day chairs Sam found in the local dump for £1 each. Between ping pong and the temptation of having the sea 50 yards away (Sam and Will both have wetsuits and surfboards at the ready for lunch-time surfs), it's a wonder they do any work at all.
"We're basically ping-ponging our business into the ground," quips Will.
In actual fact, it has been a boon for their business.
"It's nice to have the space so when clients come around they can see our products and see the quality of work, which reflects on our larger projects," Sam says. "Subconsciously we try to keep things quite bold and quite simple. Instead of designing stuff unnecessarily, we keep things quite functional."
A quick trawl through the Boex website shows that there is indeed a correlation between the office and some of their interiors projects, which are primarily in healthcare and retail.
"To be able to have a larger office makes it a more creative space. We can throw ideas around without getting irritated," Will says.
A small office at the front of the building is used for prototyping, and furniture can be shifted easily to mess about with technical ideas.
"It's good for clients but also for our inspiration," he adds. "Because we have this larger space we can get more hands on and start thinking not only about the idea but get also excited about the whole process. It also gives us a stronger basis to go out and say who we are and what we do."