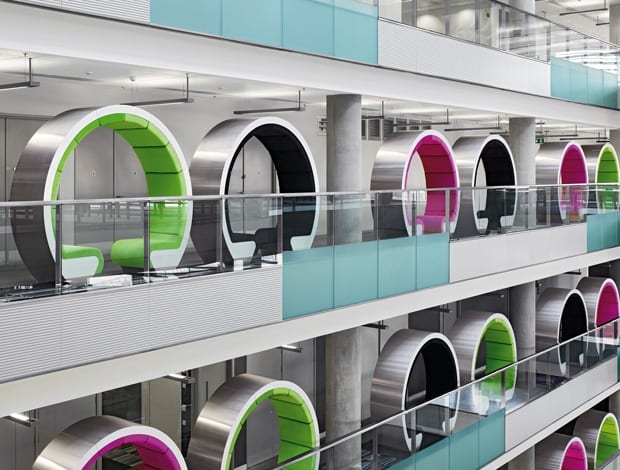 Quay House's rows of circular seating signal a move away from formal spaces|A cartoon approach to colour and scale makes for an energetic place to work|Storage inspired by the digital pixel, with clashing colours taken from a TV test card|ID:SR's "activity-driven design" means lots of non-workstation areas for meetings|MediaCityUK: uneasy in its surroundings, it hides a much more thought-through interior|A different coloured timber (here stained black) distinguishes each building|The textile used on the stools is the result of a student design competition|ID:SR targeted British furniture brands like James Burleigh and naughtone||
Bringing readers the story of this BBC North project in Salford has been a long time coming. onoffice visited way back in May, when, to be fair, a lot of the interior was quite literally under wraps. Designers ID:SR only felt ready to talk about it after the summer when, explains its head Helen Berresford, "the majority of those designated to be in are in."
The interiors arm of Sheppard Robson architects clinched this highly significant scheme in 2008, which sees areas of operation including children's programming, sport, Radio 3 and 5 Live move from London to a new purpose-built home in the north west. Although it was an open competition, ID:SR's work with the Beeb at its W1 project (the extension to Broadcasting House at Langham Place) proved useful experience. "They needed something new and different for BBC North and our challenge was to provide something appropriate," says Berresford.
Bridge House, Dock House and Quay House, plus the Studio Block, are part of the MediaCityUK development, which won the dubious honour of Building Design's Carbuncle Cup this year. Outside, they look fairly bleak, and even on the temperate spring day of onoffice's visit, the piazza looked uninviting. Those are not fair descriptions of the interior, however, which is colourful, warm and engaging.
There are many echoes here of ID:SR's work on Newham Council's local government building. The accent colours of magenta and lime green in Quay House are particularly evident. There are stripes aplenty too, on the sofas and in the carpet design, which are intended to invoke the old BBC test card.
The colour of the timber used is a key differentiator between buildings. While at Quay House, it's black, Bridge House uses a light grey almost reminiscent of a summerhouse, and over at Dock House a more charcoal colour was chosen. Berresford says that "it is more autumnal in feel; there's a softer palette of materials such as Melin Tregwynt's tapestry in purple heather colours." This wallcovering is inspired by the digital pixel – something of a recurring theme throughout the project.
The implication is this is not just a physical move, but a functional one too. Whether it's 6Music or iPlayer or web content, the corporation has had to keep pace with the times. Hence the focus on what ID:SR terms "activity-driven design", which means getting up, around and into the wealth of non-workstation areas dotted about the 35,500sq m complex. From domestic-inspired chairs and tables to bench seating to phone booths to breakfast bars, it's all here. The circular pods in Quay House are among the most eye-catching designs. "They are comfortable enough for two people or one on their own," says Berresford. "You are on centre stage sitting there and you have the permission to be there. Those pods represent an awful lot of challenges in terms of reducing the amount of formal meeting space."
This sea change from desk-centric to amenity-centric working wasn't achieved overnight. ID:SR's consultation included a day session with key stakeholders at London's Hoxton Hotel, where the foyer – a hip masterstroke as a contemporary "third place" to live and work – provided food for thought. ID:SR had to get over the territorial feelings of about 30 different user groups who had their own individual concerns and preferences for how their part of the office scheme should look and work. "In the end, we just said 'have faith in us'," says Berresford. "It was about creating an urban approach, making desirable space for everyone, rather than a suburban one, where you're just concerned about your own bit."
Engendering a creative workplace was one consideration but so was creating "a real feeling of Britishness". From naughtone's furniture to Bisley's colourful storage, ID:SR worked hard to have 85% of suppliers within the UK. But at what price does this shift in workplace design come? Well, we don't know. The BBC didn't come back to us with a figure for the cost of this fitout, despite our requests, because the information is "commercially sensitive" (although The Guardian earlier this year reported the cost of design and fitout as £40m). Given that at least some public money went on this scheme, it's disappointing that we can't bring you the full financial picture. Costs are of course a thorny issue for the BBC – any sniff of an overspend and the Daily Mail would be on it like a shot. But with onoffice's workplace design expertise, it would have been great to give an expert comparison between this and your average corporate fitout – and maybe it would have come out as considered and unfrivolous in budgetary terms as it feels.
I asked media journalist Stephen Armstrong just how significant the move north is in the corporation's history. "The BBC feels it ought to reflect regional diversity and this is part of that. Independent firms that are commissioned by the BBC are concerned enough to start setting up there, which I suppose means the move is having the desired effect." On the other hand, he argues, it could be viewed as "this Blairite vision of imposing metropolitan media values on a regional city; this London bubble that is in no way representative of the area, where the only people born and bred in Salford to get a job there are security." Of the 2,300 staff this project was originally intended for, at least a third are expected to come from the Manchester area, so you can see his point.
Much in the same way that Canary Wharf looms large physically over the Isle of Dogs, yet has little connection with its local area, so MediaCityUK doesn't feel part of its neighbourhood yet. But then, Docklands managed to attract Trinity Mirror, the Telegraph and Reuters, so maybe meedja types aren't bothered by that sort of thing. And anyway, only the most curmudgeonly Manchester refusenik couldn't be impressed by what ID:SR has done with BBC North's interior.