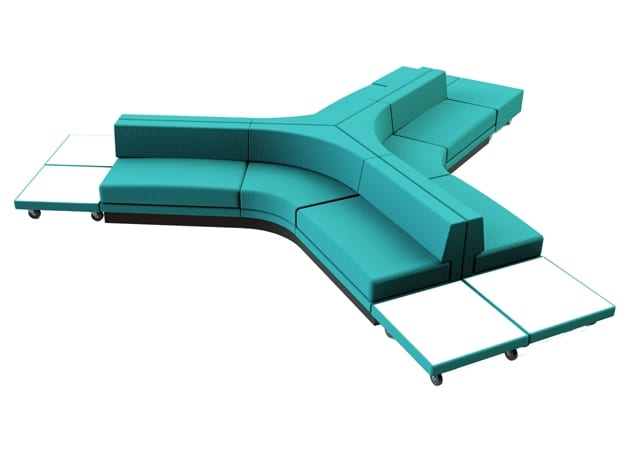 The new Studio modular-seating system|Arc – designed with specifiability in mind|The Mylar tub chair (right) forms a trio with the Mycroft (left) and the Mylo|The Universal trestle table by Anna Hart and John Millar|The Verso by Tomoko Azumi for MARK Products|MARK co-founder John Miller (Image: Halina Hickford)||
When MARK Product exhibited at the first Clerkenwell Design Week in 2010, the practice was still in its infancy, having been set up by John Miller and Anna Hart just two years prior. Back then, it was a bit of an anomaly to the contract-design industry in its choice to manufacture its products locally.
In the intervening years, a number of other small furniture businesses, based on a similar model, have sprung up. However, Miller is keen to put a positive spin on this increase in competition, insisting that it's good to be part of a growing market.
"Seven years ago, we were quite niche, but now [interior designers and specifiers] are able to do whole schemes just using British manufacturers, and that's fantastic," says Miller. "It puts our furniture industry in a stronger position as a whole."
MARK produces its entire range in England, predominantly in Cornwall where its design studio is based. Offshore manufacturing remains the norm for big businesses, providing cost savings and economies of scale, but Miller says there are advantages in MARK's set up. Having all its operations in close proximity allows the company to offer bespoke products and be more agile in responding to specific requests.
The buzz word that unifies MARK's latest products, according to Miller, is "specifiability". This, he says, is something clients are increasingly looking for. At Clerkenwell Design Week, MARK will be launching two modular seating systems – Arc and Studio – that exemplify this concept.
Arc is a concourse-style seating system composed of flowing curves that can be configured in an assortment of layouts. Available in an upholstered indoor version and timber slats for outdoors, it is made using a single rolled piece of sheet steel that is shaped into transects of a cone. Once it is locked into place by the plane of the seat, an incredibly strong and rigid structure is formed that belies its ribbon-like appearance.
The more traditional-looking system Studio combines informal sofa and table elements, which can be set on castors for a flexible seating configuration or built into schemes as a fixed banquette. Bespoke elements can be integrated with Studio's standard components to fit with clients' needs.
"We can offer this system with 20 standard components, but if you need one of them to be customised so the system fits your space, we can do this," Miller says.
"With digital designs, we can produce to order and make adjustments, and this disrupts the whole idea that you need to mass produce to be competitive. It costs no more to make one than it does to make 100 of certain elements. And there's real savings because you're not holding stock."
Scale models and other interactive tools will be available at MARK's stand at Clerkenwell Design Week so visitors can play around with the system and experience its versatility.
MARK is also expanding three existing ranges with the launch of the Mylar tub chair to accompany its Mylo and Mycroft chairs, and two new tables: the Verso by Tomoko Azumi, and the Universal, which is available in a wide range of sizes.
Having made its name using wood as its core material, these new products see MARK turning its attention to upholstered products for 'soft-office' environments.
"There's a growing focus on acoustics and softer elements help with that," Miller says. "There's been a mainstreaming of third spaces and a move towards a more domestic feel in the workplace.
"The introduction of different kinds of meeting areas and mobile technology mean people don't have to be chained to their desks anymore. All our products have that kind of workplace interaction in mind."
Miller says Clerkenwell Design Week is the most important date on the company calendar.
"It is the key show for us because of its focus on the contract industry," he says. "We look forward to meeting our existing customer base and it's always a really good opportunity for all the British companies to get together and catch up.
"Despite being commercially based, Clerkenwell has a kind of festival feel to it, and it's always fun."