Dark Matter: When a Hertfordshire client wanted a sustainable structure to work from in his garden, architect HyperSpace went above and beyond – devising a unique garden studio that also acts as a shelter for insects
It was one of those slow-burning projects that seemed to happen by happy accident," says award-winning architect Oliver Andrew about Dark Matter, a garden studio he designed for a client in Tring, a market town in Hertfordshire. Initially creative design recruiter Wayne Euston-Moore approached Andrew to work on a kitchen extension but then settled on a home office instead, which replaced an old garage at the back of his property. Euston-Moore wanted a cosy yet modern space that would serve as a clean backdrop for client calls – but importantly he wanted something that left a minimal carbon footprint.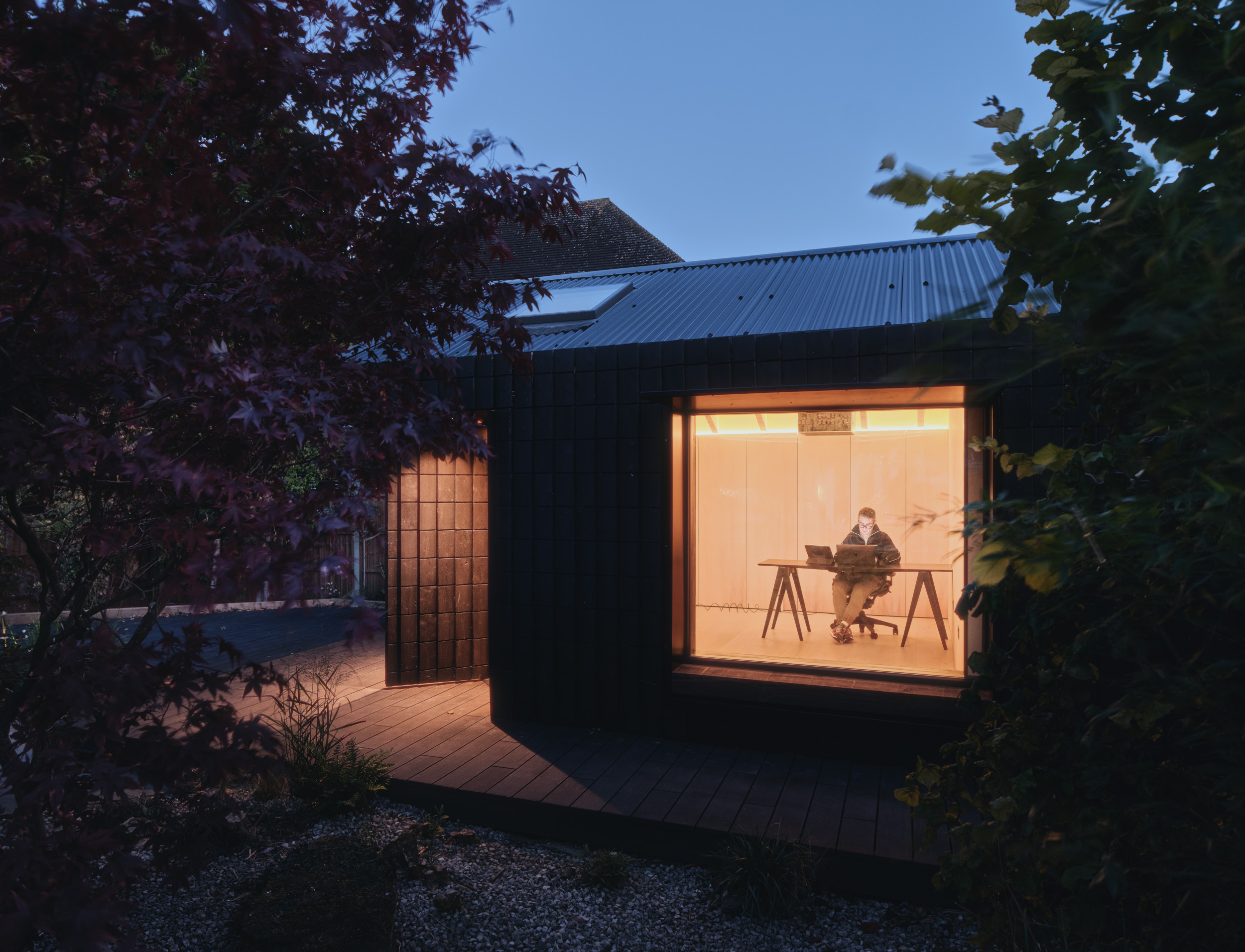 Andrew's young architecture firm, HyperSpace, answered the brief with a simple yet striking structure that has a charred outer shell, comprising 850 scales made from larch. The Japanese process, shou sugi ban, endows each square with a subtle charred pattern, which differs depending on the intensity of the heat used to treat the wood. The gaps between the chamfered scales were designed to foster biodiversity in the garden, and the whole structure acts as a giant 'bug hotel' for insects (which have since happily moved in). "I am very interested in pine cones," explains Andrew, "so the idea for the exterior and thinking how we can create crevices and cracks for insects to inhabit came from that."
The studio has a simple rectangular plan, with one corner cut away to form the entrance, and a pivoting door to create the feeling of a threshold that is crossed to enter a workspace. There are window stoops to work from and interiors – made from white oiled timber rafters and pale poplar plywood panels – are light and warm. Natural light pours in through two ingenious 'light chimneys'. "There's no artificial light [in the chimneys], they are connected to a skylight," explains the architect. "The perforations are based on a pattern we created that mimics a tree canopy. So there's a dappled light that changes throughout the day."
The project, which was completed on a tight budget, made use of almost all the materials found on the site, and sourced the rest locally to keep the carbon footprint low. Steel lintels, block work and roof timbers were carefully dismantled and reused, both in the garden studio and in another Hyperspace project, and the use of concrete and steel was kept to a bare minimum.
New timber was sustainably sourced, and the studio is insulated with sheep's wool, wood fibre and recyclable foil-based blankets teamed with triple-glazed windows. "I believe that building should have secondary and tertiary functionality in terms of helping mitigate our presence on the climate," says Andrew. "Dark Matter is a very small building. But it was a sort of a testbed, looking at how we can work within the circular economy and really boost biodiversity."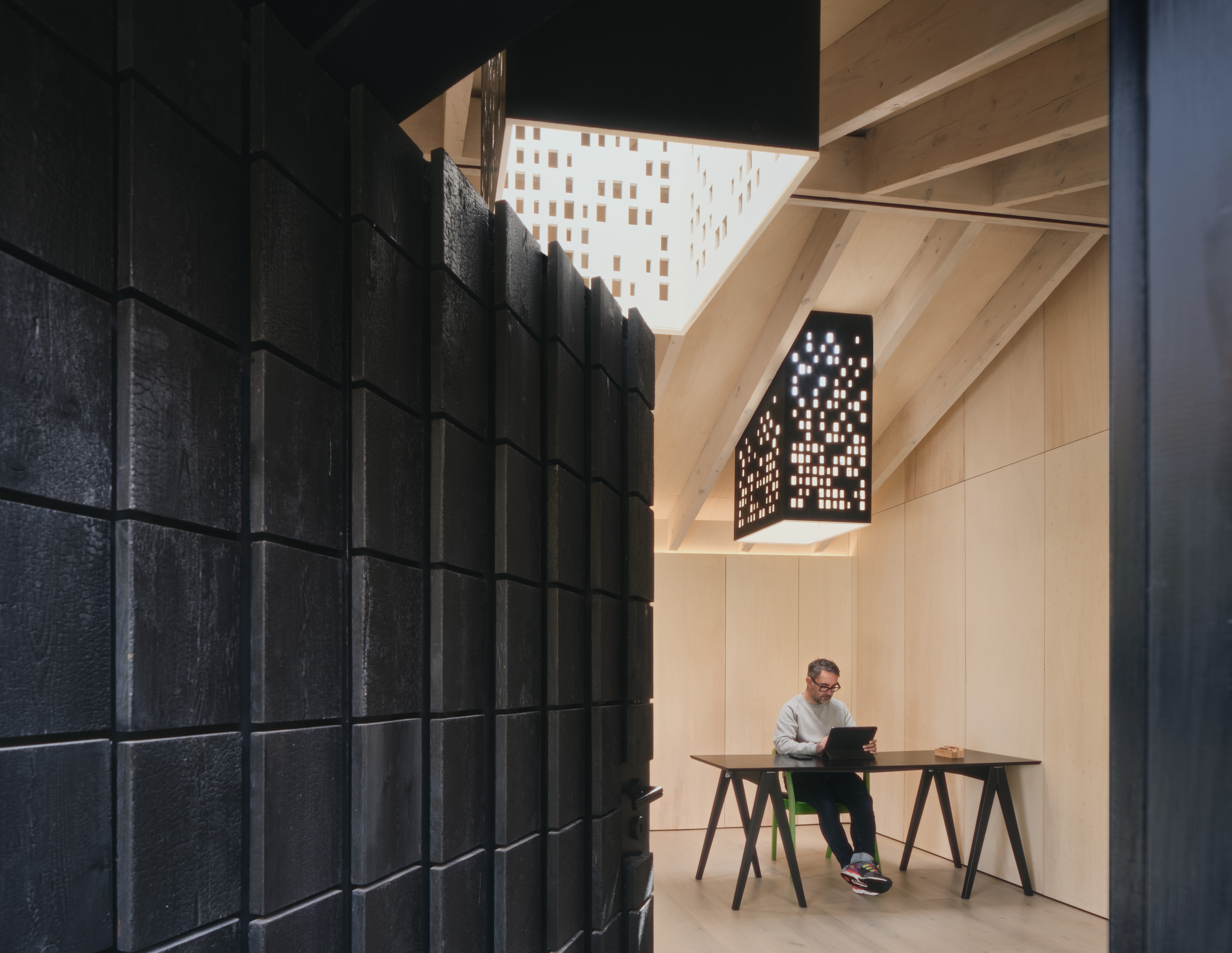 Although the project's client had wanted a really clean, contemporary look, Andrew managed to convince him that garden studios can be so much more than a boring box. "It's nice to have a little bit of character as well, a little bit of grain and texture, a uniqueness to it. I think that what we ended up with is very clean cut, but there are stylised elements and architectural interventions here too."
Euston-Moore wasn't disappointed. "This home studio provides an amazing headspace, which is inspiring yet calm, and it feels like you're in a perfectly insulated space yet connected to the outside with ample natural light," he says. "Sustainability is very important to me, and the building is a great example of clever design, creativity and problem-solving to reuse materials and source locally."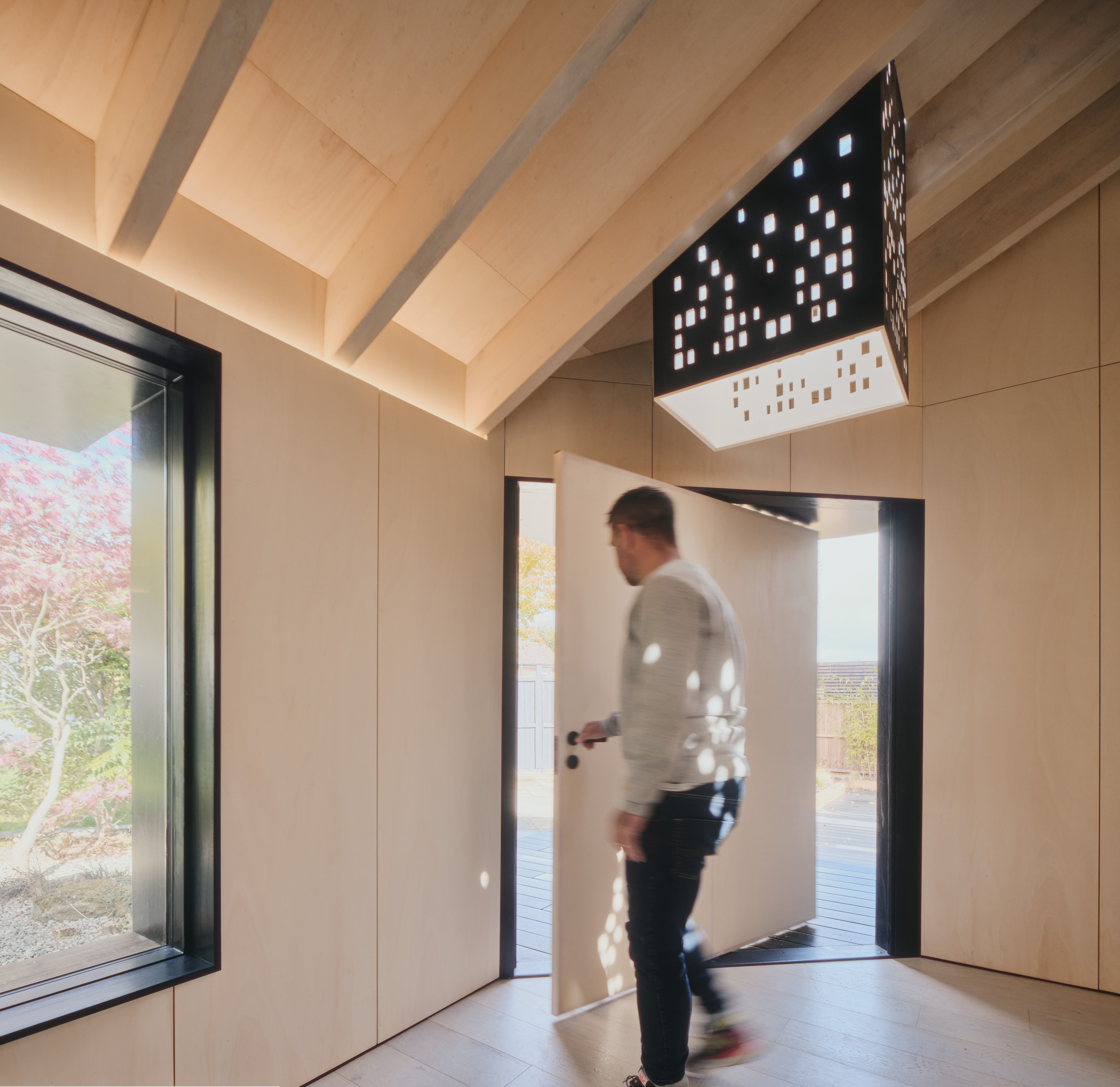 For Andrew, who had worked for large practices in the past, the garden studio is a signature project for HyperSpace. "It proves that we can create a unique building, even at a small scale. But also that we can specify things locally, get them to site and work with local contractors and craftsmen," he says.
Dark Matter might have a small footprint but it's big on design ambition and is thoughtful about the future of the built environment. Andrew adds: "I think, at the moment, there are opportunities for young architects – and not just in London – to push the boundaries of what is possible in terms of sustainability, and actually be honest with themselves and be transparent about how they build." And if in doubt, they could always turn to this smart project for inspiration.
Images by Simon Kennedy
Enjoyed this article? Read more: Prefab home office My Room in the Garden addresses the need for affordable remote workspaces