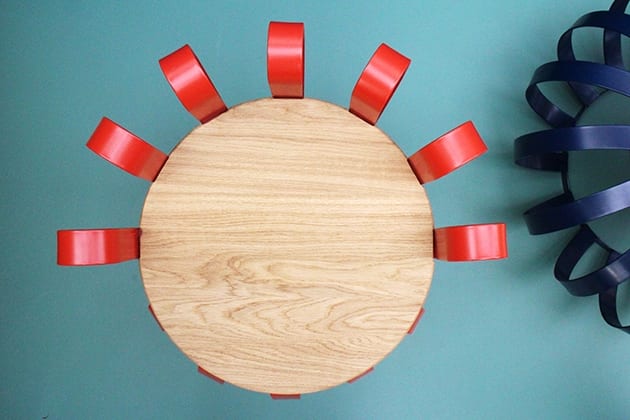 Studio Nuup|||
For three days in May the sun shone and design once again took centre stage within the EC1 post-code but with more of a social conscience rather than just a churn of products.
This year marks a decade in existence for Clerkenwell Design Week and in those ten years, the event has gone from an emerging gathering, featuring local furniture showrooms, to steadily establishing itself year-on-year as a show on the international design calendar.
Chiming appropriately with 2019, taking care of oneself and each other in terms of wellness in the workplace and a greater focus on mental health and wellbeing generally was a major talking point, as was taking care of the planet. Just as Generation Z is an undeniable force in Extinction Rebellion, so teenagers and students provided a force for the future of Clerkenwell Design Week to underpin the event's past.
In celebration of this month's Green Issue, we pick the top 5 sustainable designs from the show.
ChatPod
Flying the flag for clever, sustainable design is Swiss company ChatPod. Filipino designer Jeffrey Ibañez founded the business, which produces isolation pods to beat the open-plan working blues, providing a place for private phone calls and smaller meetings of up to four people. The ChatPods are green too, being composed out of cardboard. Chosen for its pressure resistance, PET bottles are used for the acoustic cladding, sawdust used for the frames and recycled tyres for the acoustic membrane. An impressive 97% of the materials had a life elsewhere and when the ChatPod is no longer of use, its components are 100% recyclable.
Luum
The Bangle light installation by Luum was one of the most talked-about pieces in Fabric. The legendary London club was the perfect backdrop for this series of interlocking pyramids arranged as a geometric sculpture. This site-specific creation showcased the updated version of the design, with diffused LED strips within a triangle shape – a striking con- trast of light and shade. Luum's Samsara collection of disc shapes containing a thin LED panel, inspired by seeds that fly from maple, ash and elm trees, also impressed. Expect to see either gracing an office atrium soon.
ChatBoard
This Danish firm launched 15 years ago and has been providing a writable surface to record inspiration from collaboration ever since. Chat Board has extended its classic design with a magnetic glass surface to now offer ranges with a matt finish or a magnetic felt pinboard, plus a movable version for maximum brainstorming potential. New for 2019, were Cave and Sketch Board by designers Salto and Sigsgaard which combine the best of individual and group work: everyone can write down their thoughts on a personal board that is clipped on to a larger team board. Also proving popular was the Chat Board Wardrobe, which is intended for reception areas or lobbies and, with its mirror finish, provides a place for coats, to check you look on point for meetings and somewhere to write ideas down. We adore it for its social angle and how it encourages collaboration among team members.
Store Projects
Store Projects' 'Textured Tumblers' is the result of an initiative whereby state school pupils taking part in an after-school club, working together with product designers Stine Keinicke and Kevin Smeeing and glassblower Jochen Holz, develop patterns and textures using various 2D techniques in order to design and manufacture a series of glassware and jugs. In keeping with one of the event's major themes, social sustainability and how we can use design to create a better world, the glassware is being sold at Coal Drops Yard in King's Cross with the royalties going to a charity of the students' choosing.
Studio Nuup
Studio Nuup is a trio of designers who met while studying together at Central Saint Martins. They can turn their hand to interiors, product design as well as art and public installations but it was the Capti furniture collection, particularly the Granada stool, that caught the eye. Inspired by the botanical elements of seed capsules and flowers, it was intended to combine playfulness and utility. The powder-coated steel elements, chosen for their strength and bendiness, are contrasted with the natural wood grain of solid oak timber, which is laminated and CNC-machined in Studio Nuup's workshop in Hackney.
As originally featured in the July 2019 Green Issue of OnOffice (145).
Among the parties and product launches, Clerkenwell Design Week also had sustainability and social enterprise on the agenda this year