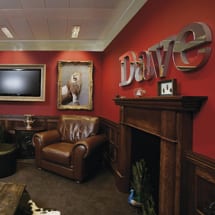 When you go to a meeting at UKTV's offices in London, don't be too surprised if you have a "Mr Benn" moment – rather than walking into a bland meeting room, you might find yourself inside a beach hut by the sea or transported to an extravagant gentlemen's club.
This gigantic step beyond the boundaries of the conventional office is an example of inspired and limitless design, with fun ideas extending throughout the workspace. UKTV has grabbed its brands with two hands and breathed life into them to create an office that is like a 3D version of the channels it broadcasts.
UKTV was set up in 1997 as a joint venture between Virgin Media and BBC Worldwide. Eleven years on, the station broadcasts nine channels, which has made office space tight and well overdue for a refit. This project is part of a wider strategy to remarket the company as a whole.
Ben Hine, head of technology and broadcast operations, and also project director of the office refit, says the main objective was to create a working environment that would "encourage staff to be proud of the creative work we do". He adds:
"We didn't want to bring clients to an office that didn't reflect our brands and ethos, so it was important that the office refurb gave us something to shout about."
Since making an impact was essential, it made sense to take inspiration from the TV station's stronger brands, and weave elements of those ideas into the core parts of the office. Hence, the kitchens are in the style of UKTV Food, while the meeting rooms embody the brand personalities of UKTV Style and Dave.
Rather than go to an office design company for help, UKTV took the unusual step of inviting Momentum Events, which handles its channel launches and brand promotion, to come up with concepts.
"We have worked with Momentum Events for a long time, so they know our brands well," says Hine. "For example, they created a fantastic setting for the Dave launch. So we got them in and said: 'Please can you make this meeting room look like Dave's lounge.'"
The brand is based on the idea that Dave is a rock star living in a country mansion, but he is still down to earth enough to "be your mate". This was why a meeting room in the style of a private gentlemen's club was spot on for the brand.
The Dave room has its own fireplace and is clad in traditional wood panelling, with a colour scheme of rich burgundy and gold trimmings. There is a worn Chesterfield sofa, leather chairs and a chunky wooden table, while an old cabinet stores the AV equipment.
Gilt-framed animal pictures (like the idents on the channel) line the walls, but also hide the whiteboard and frame the plasma TV screen. Other knick-knacks, such as a chandelier, a buffalo-skin rug and a peacock, complete the oddball setting.
Next door, the meeting room is based on UKTV Style, a lifestyle channel that broadcasts property and factual entertainment shows. One such programme is Fantasy Homes by the Sea, which was the catalyst for creating a room that makes you feel as if you have just stepped inside a beach hut.
Timber-panelled walls are painted white and a muted blue for a bright coastal feel. The "eaves" of the beach hut have been created with limewashed wooden panels, while the meeting room table has been adapted so that white shells are pressed underneath a glass surface.
Battered but original antique French shutters on one wall open on to a fake view of the beach and other beach huts, while a similar pair on the opposite wall hides the AV equipment. Chairs are stripped and limewashed, a seagull dangles from the ceiling, a rope ball props open the door and a large sand-timer serves as an amusing reminder for when meetings overrun.
Channel branding also extends to the kitchens where, unsurprisingly, UKTV Food is the theme. TVs broadcast the channel's cooking programmes, while the larger of the two kitchens has a breakfast bar, which can double up as an informal meeting space. White cabinets and black granite worktops have made the kitchens much more appealing to use, while large graphic wallpaper depicting organic food adds a sense of relevance to the space.
These kind of bold graphics, with a literal expressiveness, are scattered throughout the floor, and play an important role in emphasising the full repertoire of UKTV's channels to staff and visitors. In some places, images stretch six metres across the wall and reach from the floor to the ceiling.
For example, staff working on the lifestyle shows have a "view" of the white cliffs of Dover, while the legal team is in the shadow of gigantic pillars reminiscent of courthouse architecture. For the team that is working on the new crime channel, Alibi, the chalked outline of a corpse is marked on the floor where they work. The graphics also act as visual markers to help people find different departments, as do table lamps on desks.
The idea of using decorative lampshades to separate and define the teams was prompted during a discussion about lighting between Momentum Events and office designers Four-by-Two.
"Each department has its own style of lampshade with its name on and an image to represent what it does," explains Fiona Sutton, managing director of Momentum Events. "For example, lampshades printed with green lightbulbs indicate 'planning and research', so it just means that when anyone walks into that area, they know where they are."
Although the office is bursting with creative ideas and a sense of fun, Momentum Events and Four-by-Two still found ways to address the practical problems inherent in any office design.
According to Bob Thwaites, director of Four-by-Two, the new colour scheme has helped lift the atmosphere. "Previously, the walls were mid-tone and the lighting uniform, so there was no drama," he explains. "We beefed up the lighting and introduced a two-tone mushroom colour to the walls, a dark-brown carpet and white desks to add crispness and contrast."
The smaller desks and revised layout have created much-needed desk space, and a more interactive working environment. The chief executive and controller sit with staff on the open-plan floor in informal lounge areas; directors are seated so that they can see their teams, and colleagues are positioned so they can talk to one another easily.
There are also more meeting points now: the "comfy area" doubles as space for the weekly company meeting; breakout areas are used for smaller less formal gatherings; and the lounge areas can also be used when the chief executive and controller are out.
The office is an enviable place in which to work and has injected a renewed sense of pride and enthusiasm into the staff, claims Hine. But it doesn't end here.
"We don't plan to stand still," he adds. "The office will gradually evolve as our brands evolve. This will be particularly obvious in the meeting rooms because it didn't cost us a lot of money to make them look really inspiring, yet they have made a big difference to how staff and clients feel about coming here."
An office that feels as if you are channel-hopping every time you turn a corner? Certainly, no one at UKTV can ever complain that they've got nothing on.