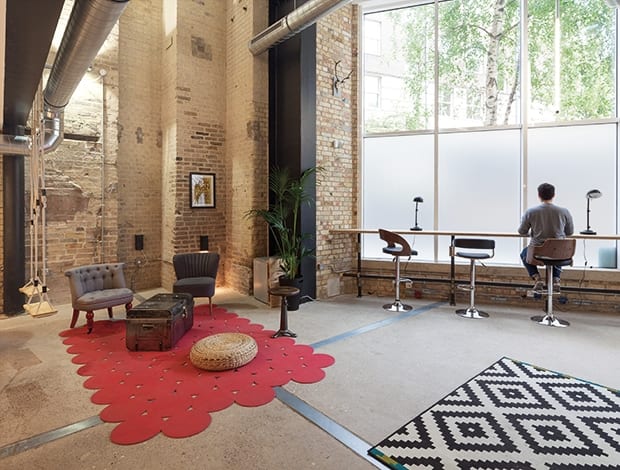 |||
People think that the tech industry is this industrial look but really it's born out of necessity," says Dara Huang, founder of Design Haus Liberty. We're on a tour of AnalogFolk, a digital creative agency in Clerkenwell and the necessity Huang refers to harks back to the firm's beginnings in one room, when a distressed Chesterfield was all the soft seating it needed and could afford. These days, as well as mismatched, pre-loved furniture, there are antique trunks and rugs that fall just the right side of shabby chic and, crucially for the client, the budget was kept extremely tight, just £20 per sq ft.
It's difficult to get one's bearings in this workplace at first, it's up some stairs here, a few steps there, but lift the metaphorical rock and one glimpses the worker ants. These laptop-wielding execs seem to like it that way in their mission to "use digital to make the analog world better" for the likes of Dulux, Sainsbury's and Nike; they can hunker down in various work settings to concentrate solo or brainstorm together as they wish.
A series of OSB mail slots are positioned by the reception desk
Design Haus Liberty has form in designing creative environments that employees identify with and thrive in, having worked previously with online hospitality provider One Fine Stay on its HQ and The Collective's Bedford Square offices (featured in OnOffice 100, September 2015). Huang sums up this scheme: "The project became an experiment in how to use traditional materials from the past to transform the agency's working environment."
Cheap and cheerful oriented strand board (OSB) forms the mainstay of the reception on Rosebery Avenue. "We used computational working to create a faceted form," Huang explains, and the end result is, if not Hadid parametric, then a really bold bit of geometric form. Because of the amount of mail the agency receives, the OSB next to the reception desk has been sculpted into a long series of mail slots.
Repurposed scaffolding acts as both divider and display area
Opposite that, staff and visitors can pause on some surprisingly comfortable OSB seating. The reception is also where you can see "Finding Nemo" – a sculpture made from recycled old glass bottles and intended to remind employees about teamwork through this fishy metaphor. Making every space work as hard as it can, there's also a kitchen here with seating for informal working.
As you walk through the project, there are examples of inventive repurposing everywhere you look. Down on one of the lower levels, in what was part of the first phase of this goalpost-shifting workplace scheme (there were three phases in total, such is the rapid growth of the company). Antique French barn doors are used as a conference table in the large boardroom (where some bright neon chairs are hard to miss) while disused scaffolding has been turned into shelving on one side and phone booths on another, complete with old-fashioned dial phones on the outside. On one end there is bench seating. "They had M&E there and we thought just box in that," Huang says casually of the scaffolding.
Finding Nemo, made from recycled bottles, hangs by the stairs
A table made from a water tank sits in the phase three atrium
There are a lot more inventive structural solutions to this scheme than initially meets the eye, no surprise really when you take a brief look at Huang's CV: Harvard graduate in architecture and employment at Herzog & de Meuron and Foster + Partners before striking out on her own in 2013. She told Marie Claire last year: "I made sure I had some savings built up and at least one client who wanted to work with me before saying my 'goodbyes' from my old firm. It all started quite small and grew from there." One of the founders of AnalogFolk was somebody she knew and that kickstarted this commission. There wasn't really much of a brief, she admits: "They allowed me to be really creative. I felt like there was a lot of trust in this project – everything flowed naturally."
Adjacent to the scaffolding, a brace of swings hang down from what she calls a loft area, and this is where more workstations are located.There are letters spelling out the company name on one scaffold shelf, cut out from a series of old doors, which you can find in the kitchen-cum-meeting space around the corner. A scaffolding board on the outside of a meeting room has been repurposed into a coat rack while in the toilet block here old magazine pages paper the walls. This is part of phase two, where a facade was built on to this former factory building and a new staircase was put in, to connect the lower space to the reception. "We busted holes through the floor and went up," says Huang, laying things out in layman's terms. The scheme is therefore a mix of this Cat A work and the Cat B business of desks, data, furniture, partitioning, AV and the like.
Faceted OSB gives a bold geometric effect in the reception area
Extra space had to be found as the scheme went along to accommodate the burgeoning workforce, which in London now totals 180. Since AnalogFolk's beginnings in that one room, eight years ago, it has grown into five offices across four continents, something the staff are reminded of through a series of clocks on the wall in reception and on the lower floor housing the scaffolding and swings. There are workstations to one, smaller side, and a large expanse of soft seating options – and, with its high ceilings, glimpses of the original brickwork, and natural light, it's the ideal away-from-one's-desk getaway – intentionally more private members' club than a generic place of work.
The third phase of what founder and chief executive Bill Brock describes as "an environment for our folks that encourages lateral thinking" is across the road. Here a glazed roof where light can pour in gives the feeling of the outdoors inside, reinforced by the plethora of plants dotted around. A metal table at the centre of this atrium space is made out of a water tank. "I like the story behind it, that of old and new," says Huang.
Niche areas offer flexible working and solo concentration
Plants and reused reused boxes create a homely kitchen area
There is another lighting installation, this time made of martini glasses, and on the summer's day of the site visit they twinkle in the sun, looking for all the world like expensive crystal rather than another bit of clever upcycling. More lighting comes courtesy of jam jars with keys in them, while elsewhere in phase two, pieces from the building's previous incarnation as a lighting showroom have simply been reused. Back in phase three, there are balconies and window boxes with plants, so colleagues can see into this central social space, promoting wellbeing, openness and connectivity.
The concept of giving old things new life could have been horribly contrived and probably if there had been a significant budget that necessity-is-the-mother-of-invention vibe would have been lost. As it is, the myriad objets trouvés and inexpensive or recycled materials in the reception open's workspace and social area feel entirely fitting.
Old French barn doors become a conference table
Design Haus Liberty's inventive interior for a London agency creatively reuses both space and materials