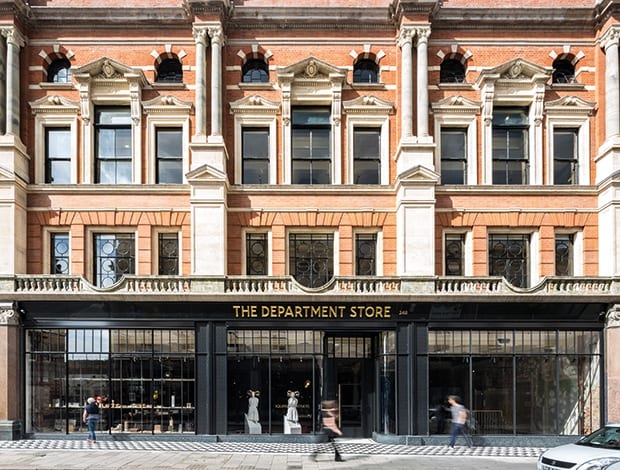 |||
Wellness is fast leapfrogging sustainability and flexibility as the hot topic du jour in the world of workplace design. The popularity of this topic was borne out by my chairing two talks at this year's 100% Design, each offering a different take on the subject. Read the results of one of these in the magazine.
The other featured a fascinating trio of viewpoints from service design specialist Francesca Allen, Gensler's Philip Tidd and Sophie Thomas of Thomas Matthews who brought that practice's experience in public realm and how that can be effective in keeping people happy and productive. One of the key points raised was not just maintaining and improving physical wellbeing but also mental wellness, and how as this is becoming a more prevalent conversational subject. Food for thought indeed.
Taking the idea of wellness and, er, running with it is AHMM's White Collar Factory. This heavily researched scheme (including a £1m prototype) is slap bang next to the Old Street roundabout and has its own athletic track on the top. Simon Allford relays all the details about why concrete is king and the user is more important than the tenant. Continuing our wellness theme, Laura Snoad investigates this trend in more depth.
For our cover story, we bring you a building that we've had our eye on for a long time and are delighted to finally be able to bring you details of. Squire and Partners' Department Store in Brixton looks the business, from its beautifully restored shopfront at the entrance to the roof terrace four floors above, with an enviable roster of collaborators from Eley Kishimoto patterns to special editions from Carl Hansen & Søn. The architectural narrative takes account of the building's history but not slavishly so, and is thoughtful without being braggart-like.
I joined the understandably proud workforce of the architects' practice plus a who's who of Brixton at a spectacular launch party on the Wednesday of London Design Festival, which provided a welcome south-of-the-river respite. While there will always be detractors of any kind of change in an area, the Department Store is a great example of considered redevelopment that, far from blowing in and pushing people out, takes the community on an exciting journey of true creative evolution.
Speaking of evolution, look out for a couple of new features this month. Katrina Larkin of Fora (the "pro-working" group Clare Dowdy wrote about in our June issue) gives us a dash of lifestyle, and turn to the back of the magazine for our new "Practice Playlist" – the perfect soundtrack for your working life.
OnGoing
From the editor OnOffice tackles the hot topic of wellness in office design
News TOG secures redevelopment of a King's Cross office
Grant Gibson on… An update on the Cauldron Ceramics' tabletop classic
On London Peter Murray tells us why we need creative copying
On Culture Katrina Larkin updates this season's workwear wardrobe
On Topic HOK's Joyce Chan addresses the WELL Building Standard
COVER STORY: The Department Store Squire and Partners' new Brixton workspace sets the tone for an exciting new era
Practice playlist The most perfect soundtrack to suit your working lifestyle
OnSite
White Collar factory Simon Allford designs a masterplan for wellness
Cafe society Hype Studio's new office is inspired by the community
Penson fun Offices with finesse for South Korea's tallest building
Slack operator A fresh office redesign to reflect its tech values
OnTop
Taking stock A former stock exchange becomes a hotel in Norway
OnStage
Wellness special Workspace wellbeing and how it affects our happiness
On the double Jeremy Myerson unravels the minefield of wellbeing
On co-working Clare Dowdy on co-working spaces and local regeneration
OnOffice
Workplace art Art as a powerful tool for boosting levels in creativity
Cat clinic Gort Scott's clean and compact home for the feline
LDF review: east The east London round-up of London Design Festival
LDF review: central Central London's highlights of this year's Design Festival
100% Design: talk The results of one of OnOffice's wellbeing talks
100% Design: products A selection of what we saw at Olympia this time around
Plus, highlights from London Design Festival and 100% Design