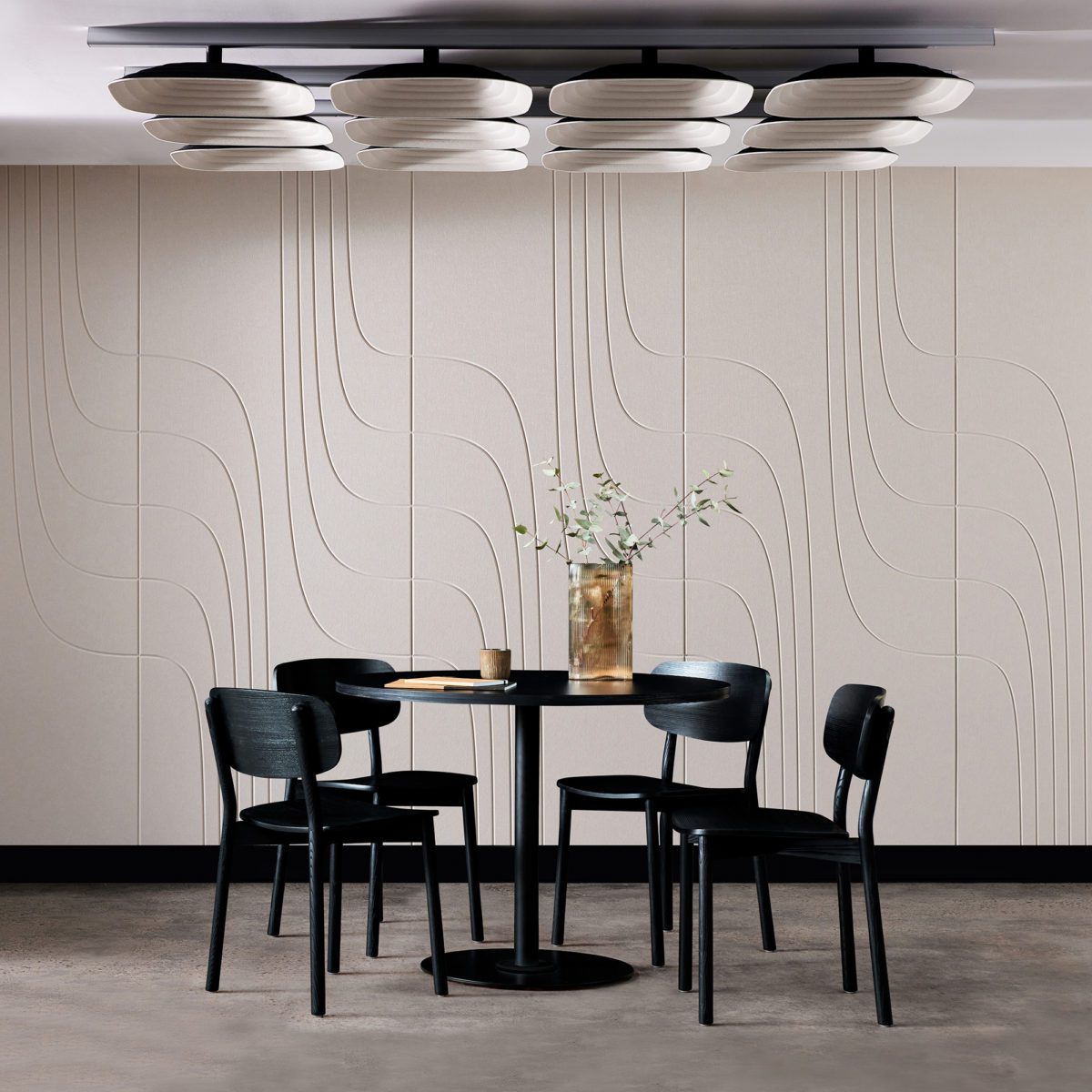 Woven Image's range of acoustic wall and ceiling finishes continues to evolve with the release of four new acoustic panel designs alongside acoustic ceiling solutions
Woven Image's portfolio of acoustic wall and ceiling finishes continues to evolve with the release of four new acoustic panel designs; Pico, Ion Duet, Palace and Ohm, alongside acoustic ceiling solutions; Array baffles and Fuji tiles. All are available in a range of colour-ways that coordinate with the company's signature EchoPanel® colour palette.
Woven Image's award-winning embossed wall finishes, including Ion, Gem and Zen, showcase beautiful design, tactile surfaces, sound absorbing properties and environmental certifications.
Pico extends this range with a design that follows the architectural trend towards detailed line work, flaunting narrow corrugated peaks and valleys. It provides a beautiful textural element to any vertical surface, with the added benefit of acoustic performance to combat reverberation from hard surfaces within busy office spaces.
Ion Duet has been developed with the new hybrid workspace, flexible floor plates and occupants' wellbeing front of mind. Utilising Ion's geometric design, Ion Duet is a multi-directional dual-sided panel for partitioning applications, including workstation screens and operable walls. Compressed from EchoPanel® 24mm, the colour is consistent throughout the thickness of the panel making it ideal for frameless applications.
Pendent Ion Duet is a suspended acoustic screen that floats graciously above the floor for a breathtaking sound absorbing experience. Pendent Ion Duet is ideal as a partitioning solution for flexible space dividing, privacy screening and way-finding applications. Like Ion Duet, its embossed design is featured on both sides, ensuring its aesthetic is enjoyed from all angles.
Joining their precision cut range of acoustic panels is EchoPanel® Palace, which unveils detailed line work reflecting the arcs and archways of architecture and art deco motifs to induces a serene peaceful environment.
Likewise, the contours of EchoPanel® Ohm reflects the ebb and flow of sound waves, a nod to their acoustic performance. Both designs feature a bevelled edge, creating a seamless panel-to-panel join.
EchoPanel® precision cuts are sustainably made using 60% post-consumer recycled PET plastic. Available in 33 colours that coordinate with other wall, ceiling, partitioning and upholstery products in the portfolio.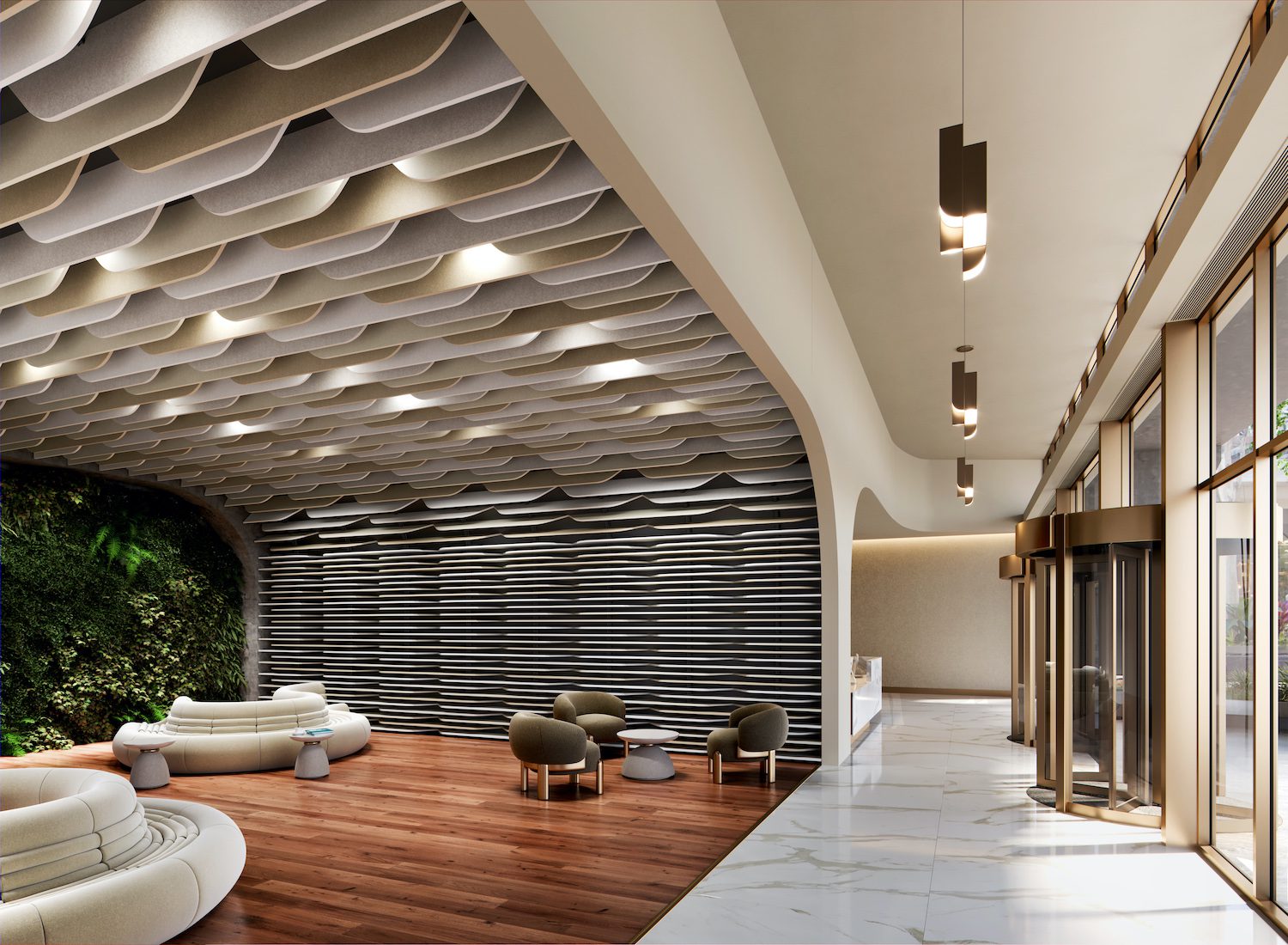 Array is a fully customisable acoustic ceiling baffle system, that helps to control reverberated noise in busy shared spaces. Baffles utilise EchoPanel® in both 12mm and 24mm thicknesses, and are available in a range of in-house designs, or their in-house studio can help create something truly unique. Array has been engineered for quick and easy installation and requires up to 60% less hardware compared to other acoustic baffle systems.
Fuji tiles are Woven Image's latest innovation in design-led acoustic ceiling finishes. Compatible with the Array ceiling mount hardware, Fuji tiles are quick and easy to install in both direct fix and suspended applications. These 3D formed tiles reduce reverberation times through a high sound absorption rating.
Fuji's design is inspired by the modern Japonisme alongside art deco trends. In three sizes, all Fuji tiles exhibit art deco curves alongside reinterpreted line work reflecting the design of the original embossed acoustic panel, Zen. Unique installations can be achieved through varying configurations of tile size, colour-way, hardware finish and suspension height.
Making a unique contribution to both ceiling aesthetics and acoustic control through its 3D design, they enhance a whole room, especially with coordinated wall finishes. Fuji applications include, but are not limited to, a suspended conference table feature, large scale acoustic ceiling solutions for offices and public spaces.
Woven Image offers a range of sustainable, design-driven acoustic solutions for a variety of commercial spaces. Products are easy to install, irresistible to touch and architecturally trending in design and colour. Visit their website for full specifications and to order free samples.
View Woven Image Embossed & 3D products here
View Woven Image Ceiling Acoustics here
For further information, visit wovenimage.com
Images courtesy of Woven Image