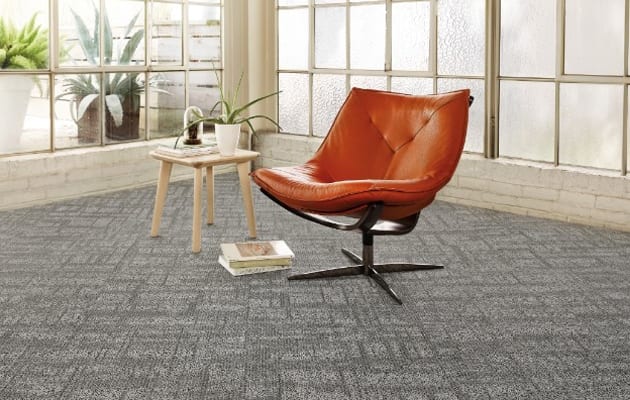 |||
Good flooring design is a fundamental part of creating interesting, impactful and comfortable commercial interiors. It is also central in helping to create a harmonious environment that suits a broad range of people and their working preferences. This has driven the trend for different functional zones in large open plan areas, as well as evolving office design aesthetics.
At Clerkenwell Design Week 2019, Shaw Contract chose the theme of FLOW to look at how good design can encourage people into a room and to move around spaces. It, importantly, addresses how people feel before and after experiencing a space.
In today's workplaces we spend more time indoors and with multiple generations now working side-by-side in one space, there is no 'one size fits all' solution when it comes to office design.
Responding to this, Shaw Contract has introduced a number of new product collections, Design flexibility makes carpet tiles a popular choice in a range of environments. New collection Kindred is designed around the idea of togetherness, recognising that modern offices value the impact collaboration and communication can have. Designed to evoke the feeling of personal connectivity, Kindred helps create spaces that encourage a feeling of identification, with a warmth to the design.
The Kindred collection has also been designed to resonate across a range of sectors, cultures and continents. Manufactured in the UK and at Shaw Contract's facilities in the US and China, this collection is made for designers across the world to create a cohesive space, wherever they are.
The trend for taking residential inspiration into commercial settings has also inspired designers to create rug effects which offer a more informal feel to office environments. Shaw Contract's colour foundation collection consists of two shapes – colour square (50 x 50 cm) and colour rectangle (25 x 100 cm). Designed to work in unison, the styles provide design flexibility for a huge variety of flooring layouts and looks. Together they offer designers options to breathe energy and personality into the workplace.
As well as carpet tiles, offices and hospitality spaces in particular, require resilient surfaces that stand up to high volume use.
Modern offices include spaces need to provide for different modes of activity, as in a home environment. Like a home, there are areas in which staff can casually interact – perhaps over a shared meal or a cup of tea. Larger offices might feature social zones such as breakout areas and coffee bars throughout.
All products mentioned are available direct in the UK from Shaw Contract. For more information contact [email protected]
New floor coverings bring the home to the office