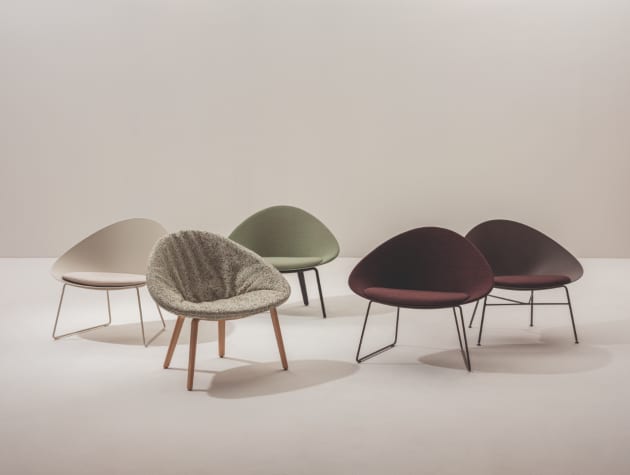 Sustainability marries with style and function in fresh ranges
PROMOTIONAL FEATURE
The 18th London Design Festival (LDF) took place from 12-20 September. Arper are a festival partner, and the design-led furniture company showcased two brand new collections.
Furniture that works
Arper specialise in versatile furniture that works in offices as well as at home, in restaurants and more. With a unique design ethos that shines through in their ranges, they successfully weld form with function, beauty with usability.
As a London Design Festival Partner, they be showcased two recently launched collections at their showroom for the first time in the UK.
The Adell collection
Adell by Lievore + Altherr Désile Park is a restful armchair with seductive curves that are ideal for breakout rooms, relaxation and waiting areas. With a wide palette of colours to choose from and fabrics designed and developed by Kvadrat and Raf Simons, it evokes a sense of a calm but has impeccable environmental credentials.
The shell is made from 80% post-industrial recycled polypropylene, turning plastic waste into elegant yet practical seating.
Join the Aston Club
A seat that tempts you to sink into it, the Aston Club takes the Aston design to another level. Designed by Jean-Marie Massaud, it's an instant classic that cushions and supports the sitter while making a statement.
The soft but defined lines and various finishes means it can adapt to different settings from casual to deluxe, while architects and designers will be able to draw on Kvadrat and Raf Simons' exclusive fabric range for a cohesive look. Importantly, each piece of furniture has been designed so it can be dismantled and recycled with ease after the furniture has reached the end of it life.
Arper at LDF
To see these stunning collections at Arper's Clerkenwell showroom in London, visit their website for further information.
For those further afield or unable to visit, you can experience both Adell and Aston Club at Arper Virtual Spaces, a 3D-rendered digital experience that allows you to see the collections in various office, residential and hospitality settings.
All photography courtesy of Arper.