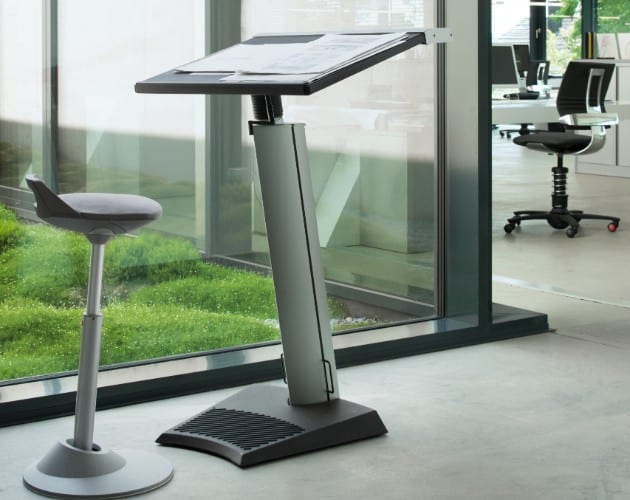 |||
The active sit-stand chair is designed to accompany height-adjustable desks, ensuring health and wellbeing at standing desks
We now know that sitting continuously isn't good for you. And increasingly, offices are starting to bring in height-adjustable or standing desks to make employees' everyday work healthier and more mobile. However, these desks aren't always proving as beneficial as they could be – many employees only rarely use the desks' height adjustment. Standing can be uncomfortable and in the long run no healthier than sitting for long periods of time. With the muvman active sit-stand chair, seating furniture manufacturer aeris offers comfortable sit-stand dynamics at different working heights, helping to increase people's motivation to use height-adjustable desks correctly.
"Height-adjustable desks are not about reducing the proportion of sitting in favour of standing. The aim is to enable dynamic changes between postures in order to free people from their rigid positions and make work more about moving," says Josef Gloeckl, founder and CEO of aeris GmbH.
muvman: Lots of movement plus comfort at any working height
The muvman active standing chair allows for the natural change of movement that a healthy person needs. With it you can flexibly alternate between sitting and standing and follow your natural instinct to move. Thanks to its extremely variable and unique non-incremental height adjustment range between 51 and 84 cm (or in high version between 60 and 93 cm), it can easily be used at all working heights – sitting and standing.
©aeris/Thomas Koller
Thanks to muvman's patented muvzone, a specially developed motion joint in the foot plate of the standing chair, the centre column automatically adapts to the user's posture and movement – the chair follows the user's movements. This keeps the muscles active while promoting concentration and performance through a better oxygen supply. Typical incorrect postures such as the "hunchback", which damages the intervertebral disc, are also prevented in this way.
In addition, muvman carries 70 percent of the body weight when standing and thus effectively relieves the strain on legs and feet. Standing becomes much more pleasant and comfortable in this way. Plus, the lumbar vertebrae area is spared during "standing sitting".
Another advantage: The standing chair does not take up much space and is very mobile due to its practical carrying handle and low weight. The standing aid is also designed to be a stylish, elegant and striking addition to the office.
©aeris/Giesela Schenker
muvman is an ideal addition to height-adjustable desks, motivating people to use the desks with healthy stand-sit dynamics, ensuring a healthier workplace.
For further information on muvman click here or email [email protected].