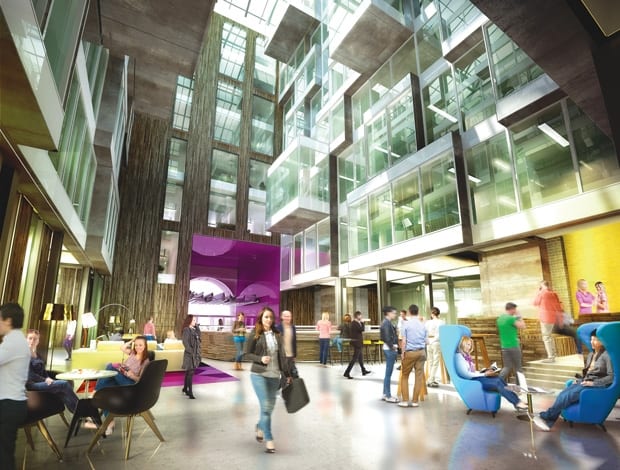 Alphabeta, Studio RHE's reworking of a prime City building into a hip office|Bold branding lets you know you're not hanging with the squares anymore|A bike ramp runs into Alphabeta's basement cycle storage and changing area|Meeting rooms cantilever over Alphabeta's nine-storey atrium|Exposed ceilings and an industrial feel hope to induce creative tenants|Built in the 1960s, Maple House will get a new facade and an extra storey|BuckleyGrayYeoman's proposed plans for Maple House, on City Road|Epworth House, BuckleyGrayYeoman"s second development in the area|Foster + Partners' Principal Place, sited where Shoreditch meets the City||
City types want grand, bland Cat A offices, while tech and creative workers crave concrete, exposed services and bike ramps. Right? Not quite. As the prosperous TMT sector spreads into the Square Mile, it has taken its aesthetic with it – a design evolution that traditional firms are happy to embrace
Amid the tired office blocks that line the City Road, the Alphabeta building's ebullient branding stands out like a beacon. Though its heavy masonry and rhythmic arches predate even Miesian corporate architecture by a long chalk, the building, formerly known as Triton Court, is being marketed as "the newest architectural expression of the 'new economy'". From the outside it seems a more likely home for some dusty financial institution, as indeed it was, until the financial crash. Currently, the building is undergoing a substantial renovation, but not in the way one might think.
Overlooking Finsbury Square, a few strides from Moorgate station, this is unquestionably a 'City' building. A quick glance at the new designs cooked up by architects Studio RHE, however, shows the new audience could not be more different to the suits of yesterday. The funky graphics are intended to seduce the rapidly expanding Telecommunications Media and Technology (TMT) sector massing around Shoreditch and Old Street. The changes are way beyond cosmetic. In effect, the architect has spun the building around by inserting the main entrance on Worship Street, thereby opening it up to face Shoreditch rather than the City. When it opens for business (expected to be around Christmas this year), the new occupiers will be able to cycle down a ramp directly into the basement, before parking up next to the basketball court and heading to one of the casual work areas. The workers of the new economy cycle, shoot hoops and, crucially, have bundles of cash.
It is a far cry from wood-panelled boardrooms and corner offices, so it is perhaps not surprising that Studio RHE's designs sparked some consternation among the City establishment. The small east London practice does not churn out office blocks in the manner of many that operate in the Square Mile, and came to the project with a cavalier spirit. "We've had corporate architects who work predominantly in the City saying, 'Is that you with that bike ramp? I knew it was you!'" says director Richard Hywel Evans. Despite appearances, Alphabeta is no gimmick. Aside from the unpicking and steady unification of what is in reality three buildings mashed into one, the practice has included restaurants, bars and shops into the concourse that runs through from Worship Street to Finsbury Square. There are a myriad of communal and events spaces, while sheets of blackened steel, charred ash, concrete and enamelled glass are all deployed to stave off what the architects see as the sterility of corporate architecture.
From the CGIs, the building is unrecognisable. In the language of property agents this is dubbed 'repositioning' – adapting a building's design to appeal to a different occupier. The symbolism is clear, however you choose to phrase it: Alphabeta represents a shifting balance of power in London. The decision to move the entrance was prompted by financial returns rather than some aching desire to join the in-crowd. "The only sector that is showing any growth is TMT and everyone is chasing it. Rents in Finsbury Square were £28 a square foot," says Hywel Evans. "In Shoreditch, it was £35. And that was 18 months ago. Now, they are up to £55 and the City has just not kept up with that."
We have been here before, of course. The tech company explosion at the tail end of the 1990s promised a future as bright as the primary colours that daubed the office walls. Computer programmers working out of a basement found they were stock-market millionaires virtually overnight. It didn't last. The dotcom boom quickly morphed into a bubble and then popped. But things are different this time around. According to a recent report in The Economist, the structures to create digital services and products have become so abundant, sophisticated, and most of all, cheap, that the tech-minded can quickly build a company from a kit of parts. Drooling with excitement, venture capitalists are investing billions in start-up IT companies. The World Startup Report, compiled by self-described "serial tech entrepreneur" Bowei Gai, pegged the UK third behind the US and Japan in a table of internet firms. In short, TMT is here for good.
Developers and property agents, the sharper ones, have watched all this with interest. Derwent London, the firm behind Shoreditch's Tea Building, was among the first to realise that next-generation entrepreneurs preferred working in studios, like real creatives, rather than offices. For its White Collar Factory, the developer drafted in regular collaborator AHMM (onoffice 81) to distil the ideas into a building type that combined the efficiencies of a new build with the character of a 19th-century warehouse. Large floor voids and suspended ceilings were out in favour of a stripped-down aesthetic. Technology has shrunk as it has grown more powerful and, when coupled with cloud computing, means the need for a gigantic on-site server room has lessened. The M&E-driven designs of the 1970s and 1980s are now looking prehistoric. "What people really want is a place where they can open a window," says Hywel Evans.
The plot thickens when you consider Alphabeta's first tenant is not a bunch of bearded, app-munching fixie riders, but an American hedge fund based in west London. "They were talking about how they dress down, and their art collection. They were actually trying to sell their cool to us," says Hywel Evans. However nauseating the image of a bunch of funked-up, art-acquiring bankers might be, it does suggest that although these offices are aimed at TMT, their appeal is far broader. One architect deeply immersed in workplace design is Matt Yeoman of BuckleyGrayYeoman. His practice recently completed the Buckley Building (onoffice 76) in Clerkenwell and has won planning for a comprehensive overhaul of Maple House, off the City Road, and Epworth House opposite. The designs will be suitably edgy, but Yeoman is sanguine when it comes to the potential occupiers.
"This whole thing might have begun with the TMT sector but now it is purely generational," says Yeoman. "What you are seeing is a young generation of lawyers, accountants and bankers that don't want to be seen as working in an office. The property agents are asking, "shall we aim for City or TMT?" but actually it doesn't matter as long as you are providing something that the next generation of workers want. The younger agents that get it are doing very, very well."
Exposed brickwork/and or services have already overrun most of our social interactions: high-street coffee outlets include pretend brickwork in their shop fit outs, in a hollow attempt at gritty urbanism. Typically, the large offices delivered by developers and let by established agents are the last building type to ring the changes. So does this amount to a hipster takeover of the mainstream? Well, possibly. Yeoman believes that when you account for much shorter leases, sometimes only three years, that office design will be driven by the mood of the moment, or even, whisper it, fashion. "I think it might be a case of creating a timeless building on the outside that can be quickly adapted internally."
More than ever before, a tenant's desire, as opposed to an institutional brief, drives office design. The changing landscape is partly owing to the recession and the entrepreneurs it has spawned. Although the cookie-cutter approach is far from obsolete in most areas of the country, in London it is failing to attract the tenants.
The sea change has caught some napping. As Duncan Walker of property agents Helical Bar puts it: "TMT moved the dial in office fit outs." Walker is currently working on a 4,000sq m new build on Shoreditch's Clifton Street bought from McLaren Property for £21m last November. The proposed scheme for the building had already secured planning but the generic steel and glass design was "totally unsuitable" for the area. Helical Bar called in new architects to replace the glass facade with bricks, expand the reception and common areas, and add a high-powered comms room and extensive bike parking. "A lot of traditional occupiers are adopting some of the new ways of working, but it's more the fit out and feel of the cutting-edge guys. Even five years ago you would not get funding trying to buy a raw building in Shoreditch. Now they are top of everyone's list."
The geographical middle ground is Norton Folgate, the stretch of land between Bishopsgate (where the City officially begins) and Shoreditch High Street. Its western side is currently a building site, the hoarding surrounding it declaring it "The Un Square Mile" with pictures of a besuited man wearing trainers. It heralds a mixed-use development, Principal Place, by Foster + Partners, which belonged to Hammerson before Brookfields bought its office portfolio. The plans, which originally involved demolishing much-loved drinking stalwart the Light Bar, crystallised fears that the City's eastward expansion would simply squash Shoreditch under a cavalcade of glass towers.
Instead, the opposite is true. Revised designs in 2009 spared the Light Bar from the wrecking ball, but the new owners went much further. "Hammerson was pedalling Principal Place as an extension of Broadgate," says Brookfield's head of leasing, Martin Wallace. "We have taken a look at what is happening in Shoreditch and redesigned it to reflect the character of the area." Aesthetically, this meant swapping the polished steel and glass for a rougher brown-waxed finish. More significant is the space for 600 bikes, shops that promise to target independents and a large plaza in front of the main entrance on Norton Folgate. The interior office spaces are intended as a blank canvas, which will allow inhabitants a degree of interpretation. As with Alphabeta, a variety of tenants are enquiring, with online retailer Amazon, banks, solicitors and even the odd financial services regulator expressing interest. "What is different from the dotcom boom is that these companies are now corporates," says Wallace. "They have quite a maturity about them even if they have only just taken on a surge in growth."
What projects like Principal Place and even the White Collar Factory lack is authenticity. No matter how much effort one expends, it is impossible to design in a history, which is where the Alphabeta, with its quirky original features, wins out. Though by definition TMT is a forward-thinking industry, heritage is a selling point these days. Then again, the success of the self-consciously cool Boxpark retail development made from shipping containers shows that perhaps authenticity counts for less than we think (unless of course the Shoreditch crowd is enjoying it in an ironic fashion).
What we might be witnessing is a meeting of minds. In some quarters, the TMT sector seems ready to enter the world of corporate new build, which all of the above are betting on, but is doing so on its own terms. Conversely, the collaborative working styles and the 'edgy' buildings that support them are assets that older professions are seemingly desperate to get a piece of. As a result, the rising demand for more characterful workplaces presents architects with tremendous opportunities. Office design needs to be far more nuanced than before. Those at the cutting edge saw which way the wind was blowing long before the big developers, and now that the BCO house style is losing its sheen, architects hold a far stronger hand. "There is no reason why we couldn't do a fit out like Alphabeta in the Gherkin or the Natwest tower," says Hywel Evans. A fascinating prospect indeed.