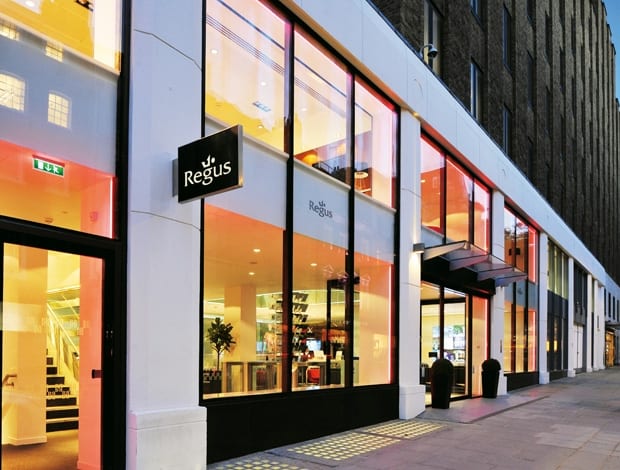 A meeting room with a view||
Serviced offices are bland, generic and uninspiring, right? It's time to think again…
It's easy to be snobby about serviced offices. For the most part they're synonomous with design and build desk factories concocted by large developers. The results have often been impersonal spaces that do little to inspire the workforce. But lately, there has been a shift towards creating more salubrious surroundings – Scott Brownrigg's rather spiffing revamp of Warnford Court highlighted in last month's issue being a strong case in point. Here are three recent fit outs that represent the best of the genre.
Face to face
Architect Ministry of Design
Client APBC Offices
Location London, UK
Cost Undisclosed
Duration July 2007 – October 2009
Floor space 500 sq m
Ministry of Design and APBC Offices should be natural bedfellows. Both pride themselves on their somewhat unconventional approach to their field of expertise: Ministry of Design to building interiors and APBC to the slightly less racy world of serviced offices. Now the two have come together to create Face to Face, a snazzy serviced office fit out sandwiched between Singapore's high-rise districts Raffles City and Raffles Place. In a cityscape dominated by skyscrapers, standing out is not so much an advantage but a necessity. Recognising this, Ministry of Design has attempted to create a serviced office and meeting environment a world away from the sleek but soulless affairs normally associated with grade A rented space. Spanning the genres of architecture, interiors and branding, it's a pretty comprehensive package. The showcase kicks off on the imposing black facade, which is broken up by branches of white light, motifs that continue inside reaching across the reception ceiling.
Internally, MOD breaks down conventional space and reinterprets not only the aesthetic, but the function. Exhibit A is the reception where the bog standard desk is transformed into a 10 metre sculptural bar, where people can eat, grab a drink, or simply kick back and shoot the shizzle. MOD is big on art. Very big. So it's no great revelation to see a full-length graphic wall adorn the reception, pantry, meeting rooms and even the fire escape. White silhouette figures depict children flying kites, and dudes wailing on guitars are set against an atmospherically lit black canvas of contrasting matte and reflective surfaces. Aimed at deconstructing stereotypical notions of what office space should be, tenants must feel like they've wandered into a Wilhelm Gross fairytale. The wall also houses mailboxes, encouraging interaction between the office staff and the clients renting the space. Embellishing this, the traditional receptionist has been dispensed with in favour of a concierge-style meeter and greeter. A spiral staircase connects the reception to the basement at the foot of which cluster breakout/informal meeting areas. Meanwhile, a brace of private suites sit at opposing ends of the floor and in-between a staff shop serves as a central point. According to MOD, the project aims to redefine the serviced office experience, thereby capturing the emerging need for more lifestyle-orientated workspaces. Whether they have managed that, only time will tell. One thing was always beyond doubt though – it was never going to be dull.
Breaking the mould
Architect Barr Gazetas
Client Regus
Location London, UK
Cost £3.9m
Duration September 2008 – April 2009
Floor space 2,800 sq m
Opening in June last year, Berkeley Square marked something of a new dawn for office provider behemoth Regus, both in terms of design and functionality. Historically, the company has been responsible for some pretty dire workspaces. Practical yet unimaginative was the usual prognosis. But the fallout from a massive upsurge in demand for flexible and mobile working areas resulted in Regus re-examining its priorities. The company turned to architects Barr Gazetas to design a flagship meeting lounge and generally inject some razzamatazz into the surroundings. "They wanted to show something of themselves that had not been seen before," explains Jon Eaglesham, director of Barr Gazetas and lead architect on the project.
Capitalising on the strong street presence, by creating a double-height glazed shopfront the practice aimed at cajoling casual visitors to drop in. "We wanted people to feel the building was available, not hidden away. You need that transparency." This openness is further enhanced by a series of colour changing LED lights around the window bays, which imbue the building with a night-time warmth.
Once inside, the space takes on a boutique hotel feel with informal business lounge areas, bar, internet and meeting rooms all decked out in a mixture of solid walnut panelling and leather cladding. Individual "think-pod" self-contained workstations are dotted about the lounge, while for the truly scholarly there is a library complete with encyclopedias. In these days of interactive tea trays, sorry iPads, the concept may sound hopelessly out of touch, but according to Eaglesham it's the building's most popular feature. "There's a leather arm-chair and writing desk. It's a space where people can do some old-fashioned research and Regus are now looking to do another three," he says. Without doubt the most arresting feature is a shimmering kinetic art installation by collective rAndom International, which dangles into the business lounge from the upper ground floor. Comprising a series of mirrors, the piece reflects the movement within the building to the outside world.
The Bruton Street end of the first floor is devoted to meeting spaces overlooking the street below. Further back simmer Regus' meat and potatoes – a series of open-planned offices, home to 622 workstations, plus 27 conference rooms, 26 meeting rooms and a training facility. Navigating the corridors reveals gentle splays at junctions and midway points adorned with art. So impressed were Regus with the results of Berkeley Square, they commissioned Barr Gazetas to perform similar design magic at their next major London venture in Broadgate. And with Eaglesham currently fleshing out a design code for Regus, it seems the bad old days of design and build maybe a thing of the past.
Mayfair set
Architect Executive Office Group
Client Grosvenor
Location London, UK
Cost £300,000
Duration October 2009 – December 2009
Floor space 975 sq m
"In the past, serviced offices were often seen as a way of making money from a building when it had reached the end of its shelf life," says Tim Giles, property and operations director for the Executive Offices Group (EOG). "We want to move away from the serviced office being seen as a temporary solution." So it goes with the latest addition to their portfolio, 67 Grosvenor Street, slap bang in the heart of highfalutin Mayfair. Owned by property group Grosvenor, the prestigious London address is home to six floors of fully furnished office space managed and operated by EOG.
With the economy still crawling out of recession, take up has been rather impressive, with 20 per cent of the space pre let, no doubt testament to the current reluctance to shell out large sums upfront or commit to long term contracts. Tapping into this conservatism, EOG's watchword has been flexibility. The 30 offices can be rented from as little as three months and can be tailored to fit anything from one-man bands to ten people – the ideal number, says Giles. 67 Grosvenor Street is a stereotypical building for EOG. Originally constructed in 1723, the gleaming white facade has the all-important "street presence" so beloved by the company. "We always look for buildings with architectural interest, but also natural light is very important," Giles explains. "This is why period buildings work so well for us." 67 Grosvenor is no exception.
Large French windows allow sunlight to penetrate well across the floor plate and provide views over the private garden at the back of the building. The main selling point though is the "club lounge", where a monthly fee allows members to drop in and meet informally. Giles likens the space to a hotel pool. "It provides a destination for people and it's something we are looking to roll out across the portfolio." The soft colours give the space a slightly muted feel and Giles admits they were deliberately trying to avoid anything overtly fashionable. Towards the rear are two touch-down desks furnished with telephones and computers, where clients on the move can check in with the information superhighway. The reception offers personalised telephone answering and mail handling and elsewhere all the usual suspects are present, with a brace of formal meeting rooms, kitchen facilities, showers and 24/7 access thrown in with the package. "We will provide as much or as little as the customer wants," explains Giles. "The idea is they come in, take the space and get on and run their business."