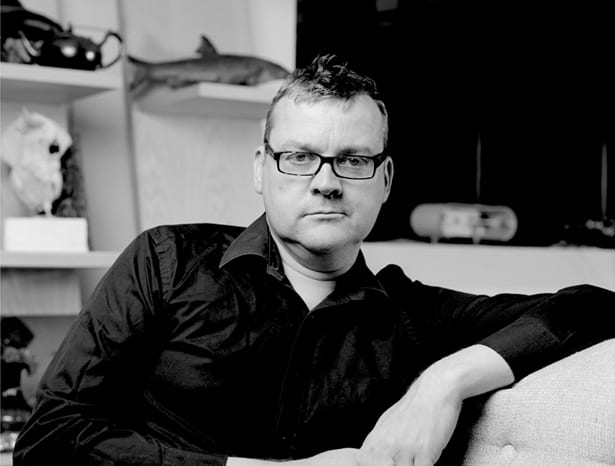 Master of luxury lodgings, designer Russell Sage|Treasure trove: Marylebone's new Zetter Townhouse|The Hospital Club's retro new bedrooms|Cognac brand Hine's colourful chateau home||
For the new Zetter Townhouse in Marylebone, interior designer Russell Sage spent most weekends for three years buying 10,000 objects to fill the hotel. "It was a labour of love," he says, describing the recently opened Georgian townhouse conversion, the second Zetter Townhouse after its sister in Clerkenwell – a tough act to follow. Like the original, the richly eclectic interior is designed as if it were the home of a fictional resident. Whereas the Clerkenwell outpost belongs to "eccentric and fabulous" great aunt Wilhelmina, Marylebone's belongs to wicked Uncle Seymour, "a gambler who loved his booze," describes Sage, and so these thousands of items collectively build this character's back story. "It's a crazy environment."
Sage drew inspiration from Sir John Soane's Museum, where he says the academics have focused on the 19th-century architect as a man of great culture and knowledgeable worldliness, but missed his showman side. "As much as he was a great collector, he was also a party animal and loved to surprise his guests." Pertinently, this statement could also be said of Sage, whose particular style of interior design blends opulent traditional decoration with modern pops of colour and pattern in such a way it is at once outrageous but classic, and uniquely memorable.
Having started designing hotel and pub interiors aged 17 in Bath, Sage moved away from the medium for his formal education, studying for a degree and master's in fashion design at Central Saint Martins. He also ran his own successful fashion brand for five years after graduation, but when asked if he'll ever return to the industry he quickly says no. "It's a young person's game," he says, "but it did teach me the ability to change gear quickly. We had to design three or four collections in a year, and them be completely different. Now, we can work on National Trust houses, St Paul's Cathedral and a nightclub at the same time. It takes a real schizophrenic attitude, but it works."
Since founding his interiors practice in 2004, Sage has worked on restaurants for Gordon Ramsay, such as the Savoy Grill; the acclaimed Dishoom in Shoreditch; the pupil-dilating chateau headquarters for cognac brand Hine; interiors for the RAC Club on Pall Mall and stately home Stapleford Park; and ongoing work for luxury Belgravia hotel The Goring. For the latter, Sage has been both indulged and challenged with creating an extravagant space that celebrates its 105-year heritage, but also continues its story.
"The grand tradition of a hotel is to create something that is talked about, remembered, loved and revered," he says, describing a recently installed bespoke Fromental wallpaper in the lobby, which depicts the story of the Goring family as animals. "You go into that lobby and your jaw hits the floor. And what I love is there's no reason it shouldn't be there in 50 years time. I love the fact we create interiors that will last much longer than me."
A much more contemporary addition to Sage's portfolio is the Hospital Club Bedrooms, which opened earlier this year. He had previously worked with the Covent Garden members' club to reimagine its second and fourth floors, which had been designed haphazardly over the years, and needed coalescence. It had to be a working environment in the day and a party environment at night, he explains, "so you have to think about how it will look and function at 2pm and 2am." The owners then invited him back to turn its offices into 17 hotel rooms on the third floor, which – due to being sandwiched between bars and public spaces – required building an acoustic box to keep it quiet. "Then it was about carving out the space into different types and sizes of rooms, which seems to be an increasing trend in hotel layouts," he says.
The aesthetic is "done-on-purpose retro" with a soothing material palette of natural brass and wood, and functionality, dotted with plenty of storage. Contrasting the calm scheme is a "slightly crazy" carpet, with swirling multicolour patterns, inspired by endpapers from old books. "I wanted to have a total visual [idea] that, once you've seen it, you'll always say 'that's the Hospital Club.' It has an identity." Like all his practice's interiors, it is filled with bespoke creations by the studio's in-house team, which often custom-designs fabrics, carpets, wallpaper, furniture and lighting for projects. Sage also has a warehouse full of antiques from which to cherry pick the perfect item.
At the time of printing, Sage's practice has just finished MGallery, an overhauled 1970s 80-bedroom hotel in Geneva that revives a large antiques collection. It's also working on a hotel in Braemar, Scotland, for a client who wants an 'extraordinary' hotel full of antiques and fine art. This will be the kind of space that everyone will want to see, says Sage, not necessarily because it makes you go 'wow', but because it makes you feel something." It also chimes with a general trend in the industry, that he says has been gaining primacy for years, away from generic hotels, and towards spaces with locality and history, that are "plugged in" to their surroundings.
With its vibrant eclecticism, there is something overtly British about Sage's designs; but is this how he would describe his own work?
"Yes definitely," he replies without hesitation. "If you go to any big country house in Britain, they'll have an Egyptian room, a chinoiserie room, an Italian hallway, a grand piece of furniture from an American country house. It's a world tour, an incredible cultural collection where everything comes together. That's why we're allowed to do these projects. You can almost do anything because that makes it British."
For more of the latest news from the hospitality industry, read our onhotel supplement in the November issue of onoffice, out now
The interior designer on the second Zetter, the new Hospital Club bedrooms, and why Britain does eclecticism so well