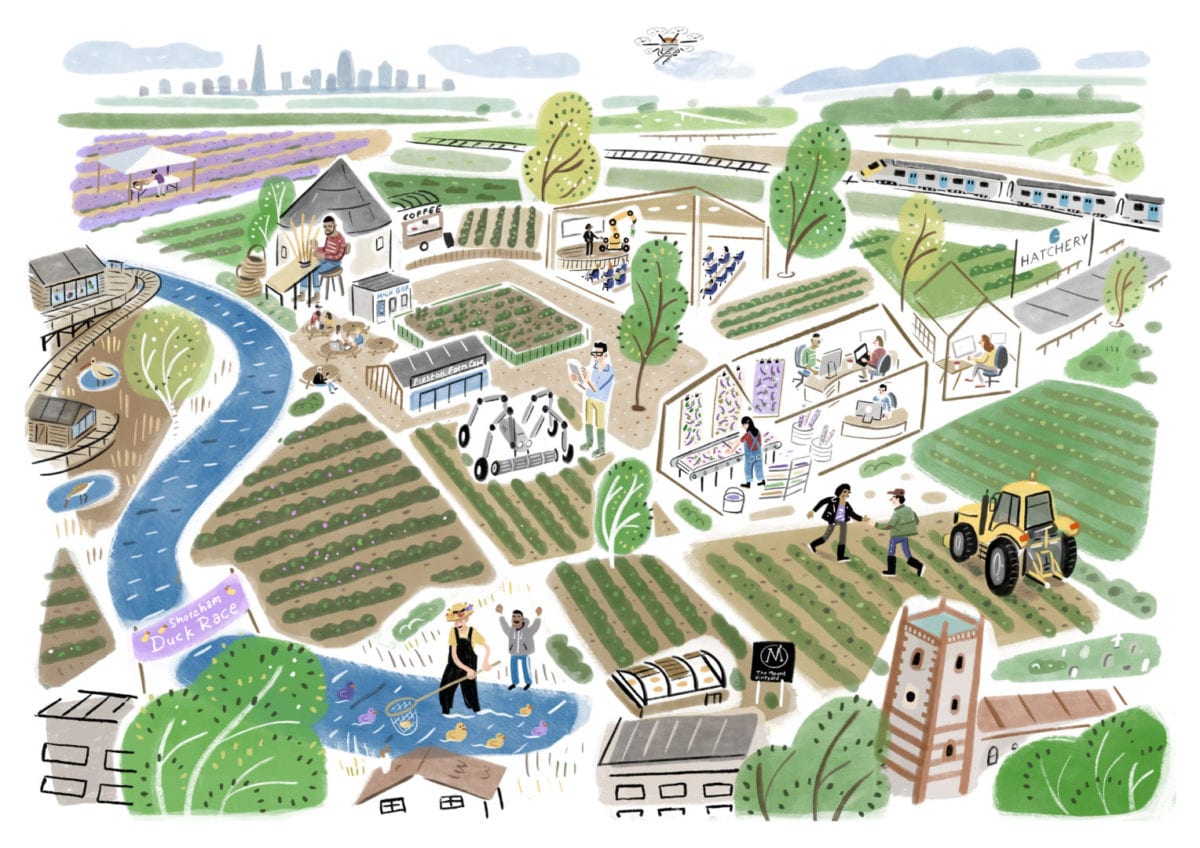 As the pandemic unravelled, we learned to quickly adapt our versions of 'normal' and reassess the meaning of work/life balance. This has recently resulted in a countryside property market boom
Last summer saw a 126% increase in people looking to buy properties in village locations. There was a 68% rise in people searching in towns. But this post-pandemic rural exodus doesn't stop with homes. It's also giving rise to a new breed of countryside workspace. Places that meet the needs of modern work while supporting the wellbeing of workers, the landscape and wider community.
My own experience of rural co-working began last year with a project called The Hatchery at Preston Farm. It is a former dairy farm near Sevenoaks in Kent that my studio is repurposing as a 'rural campus'. At its heart is a flexible mix of private, public and co-operative spaces designed to encourage entrepreneurs, farmers, makers and locals to come together to generate enterprise and community spirit.
While most urban offices are simply places to do business with worker-friendly facilities bolted on, a rural workspace requires a unique design approach. For a start, nature is your wallpaper. It shapes almost every design decision you make – especially in the Area of Outstanding Natural Beauty like the one Preston Farm calls home.
Read more: OnOffice Summer 2021 (155), The Home Issue
The challenge – and it's a positive one – is finding ways to connect people and nature to benefit them both. On a basic level, that can mean using architectural features to frame the landscape so people enjoy constantly-changing views as they go about their working day. It can also mean incorporating natural ventilation and good daylighting in tune with the natural surroundings, and using healthy materials that are low in VOCs to promote the wellbeing of humans and environment alike.
At a higher level, the challenge is to re-establish harmony between the natural and manmade worlds. For example, the River Darent flows through Preston Farm. We want to make it a focal point for workspace events – from fishing to festivals – so everyone becomes emotionally invested in, and protective of, the river's wellbeing.
Community is another distinguishing feature. If the new rural workspace is to succeed, it must be rooted in the life, economy, culture and heritage on its doorstep. A million miles from a soulless business park or city office block, it should be a place where the widest mix of people can gather, cross-fertilise ideas and build new rural futures. To do this, interior and exterior spaces must be flexible – like the layout of traditional farm buildings which were used for different functions as the seasons and economic needs changed.
Watch now: The Future of the Office: Will the workplace ever be the same again?
A modern example of this fluid approach is the Maker's Lab we've designed for Preston Farm. It will be a place where entrepreneurs can collaborate with farmers to develop contemporary solutions to agricultural challenges. We love to imagine a tech start-up using robotics to make micro-farming more productive and profitable.
Another element that sets rural workspaces apart from their urban counterparts is sustainability. In the countryside, this goes much deeper than an 'Outstanding' BREEAM rating. It means designing a place that is cost-effective and environmentally friendly to build and maintain, and which actively supports the prosperity of the local area for decades to come. To achieve this goal, everything at Preston Farm is designed with our 'Eco Thrifty' ethos – our own take on Circular Economy principles.
Our 'Eco Thrifty' approach includes reusing materials onsite and using modular construction to reduce environmental and construction costs whilst maximising the flexibility of interior spaces. It also involves repurposing existing farm buildings. Why not turn barns and outbuildings into workshops and training studios?
Read more: 5 tips to improve work-life balance when working from home
We hope businesses will use them to teach young locals new work skills that will lead to secure, well-paid employment in everything from agri-tech and renewables to graphic design and Artificial Intelligence. These spaces will also benefit traditional skills as entrepreneurs and crafts people work side by side to find innovative uses for centuries-old practices.
Heritage underpins the new workplace revolution. Our concept for Preston Farm evolves out of our deep understanding of its agricultural past. We want to build on its entrepreneurial and hard-working tradition to create a new hub of productivity, wellbeing and community that will support a diverse mix of thriving rural futures.
Finally, a word about lunch. The average office worker takes a six-minute lunch break. Most, dine at their desk. I hope the arrival of places like Preston Farm will kickstart another workspace revolution: The rise of the power picnic.
Andrew Mcmullan is the founder of Mcmullan Studio mcmullanstudio.com
Image courtesy of Mcmullan Studio