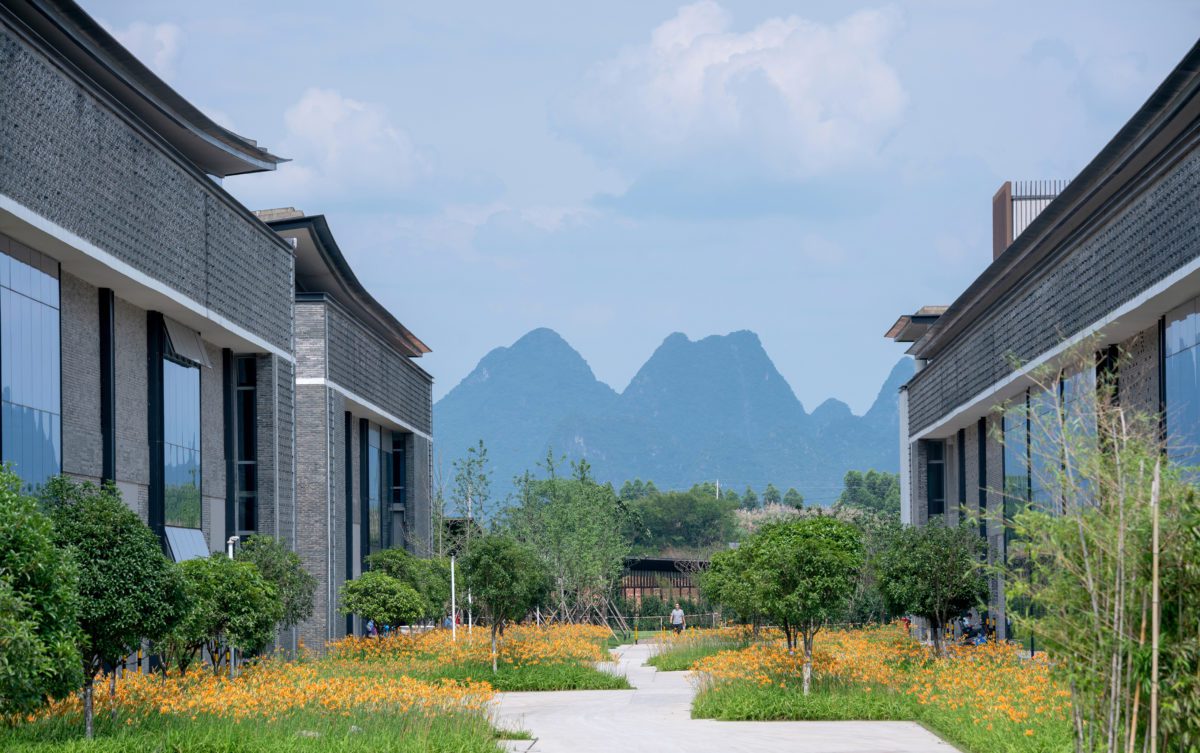 Director of Sustainable Design of Ronald Lu & Partners, MK Leung, discusses biophilic design in high-density urban environments
First popularised by Edward O. Wilson, the Harvard biologist and conservationist, the word 'biophilia' ­– the love of life and life forms – defines a holistic approach to ecological and social sciences which seeks to balance humanity and nature.
Wilson thinks that to be healthy and productive, humans need daily contact with nature – partly because we co-evolved with nature. Research over the past few decades bears this out, showing that contact with the natural world enhances human wellbeing in a multitude of ways: By reducing stress, improving mood and self-esteem, speeding recovery from illness, and enhancing cognitive skills and work performance.
In architecture, biophilic design embeds nature into the built environment – on façades, walls, roofs, roads, and structures. But simply adding a natural object, if it conflicts with the main characteristics of a space, does not produce noticeable impacts on users.
Read more: 5 ways houseplants support health and wellbeing at work
To be effective, its elements must be connected, complementary and integrated with the overall environment. Meaningful biophilic design is applied in the urban spaces around us through natural shapes, forms and materials used in building design, and by daylighting, natural ventilation, greening, and inward and outward views.
In the high-density sustainable built environment, my firm's specialty, we have several core biophilic design concepts. First, the built form, disposition and orientation should embrace natural scenes or elements within or surrounding a site – a harbour, a river, a mountain range, mature trees, the prevailing wind or whatever the nearby geography provides.
Next, the design should integrate biophilic components into communal areas – water features, green walls, planting, and so on. There should also be multi-level greening in parts of the building that are easily accessible and frequently experienced by occupants.
Such designs should also include naturally ventilated and daylit spaces, mitigate urban heat island effects and create a microclimate around the building that is conducive to natural ventilation and lighting.
Read more: How interior plants create healthy, thriving offices in the post-Covid era
Finally, the design should sustain urban biodiversity. Microclimates in high-density cities are greatly affected by the amount of urban greenery and the orientation, forms, heights, and dispositions of buildings. This 'urban geometry' and the resulting complex wind and shading considerations need to inform multi-level greening plans in high-rise structures.
This is not something that is just 'nice to have'. The need to re-wild the megacities of the world, with their near-identical, high glass towers surrounded by asphalt and concrete, is urgent – especially in Asia, where biodiversity is in rapid decline.
Cities are socio-ecological systems. The sustainability of the urban system depends on its resilience in the face of changes – including climate change. Building biodiversity and ecological connectivity into the fabric of cities helps reinforce this resilience.
Things are beginning to improve, slowly. Singapore's objective of becoming a 'City in A Garden' has set a new standard. The city-state has created many useable natural spaces for its five million residents by blending architecture and biophilia.
Read more: Four key tips for introducing mood-boosting plants to your workspace
A green building code was mandated in 2008 and plants are commonplace on roofs, façades and inside buildings. Elsewhere in Asia, minimum greenery site coverage is promoted through incentives like gross floor area concessions or mandated by land lease conditions or regulations.
The benefits are plentiful and immediate: Cooling of the city – especially important as climate change worsens; reduced stormwater surges, with plants slowing down rainwater flow; particulate matter filtration and carbon dioxide sequestration from new plant life, and many others.
Green roofs and terraces of high-rise buildings present opportunities to increase biodiversity, collecting rainwater and holding photovoltaic cells or biofuel algal collectors. These roofs and other hardscaped areas can also act as communal gardens, urban farms and 'edible landscaping' that can supply a considerable percentage of local food needs.
Take Hong Kong's Victoria Dockside, a mega mixed-use development designed as an 'active hill' of green terraces and extensive urban greenery. At 11,500sq m (about the size of 40 tennis courts), greenery covers over 30 percent of the site area. Or the new 15-storey campus for the Technological and Higher Education Institute of Hong Kong, with its multiple-level sky-rise greening in communal and common green spaces and which introduces clusters of landscaped communal and outdoor learning spaces on various levels.
Read more: Adding value to office design through roof terraces
Kowloon's Courtyard Residence is an exemplary application of biophilic design within a confined urban site. Seven unique, interlinked courtyards on multiple levels act as vegetation-lined passageways that provide a tranquil, natural experience to residents and seamlessly connect interiors with exteriors.
The urban biophilia movement is building. There is now extensive advocacy for biophilic design from individual practitioners, such as RLP, or globally recognised green certifications like LEED, WELL, BREEAM, Living Future's Living Building Challenge and Declare Label, as well as the UN's SDGs and many other global initiatives.
Biophilic design will bring nature back into our cities, bring love and respect for the natural world back into our lives, and, with commitment, planning and perseverance, bring our planet back from the brink.
Image courtesy of Ronald Lu & Partners