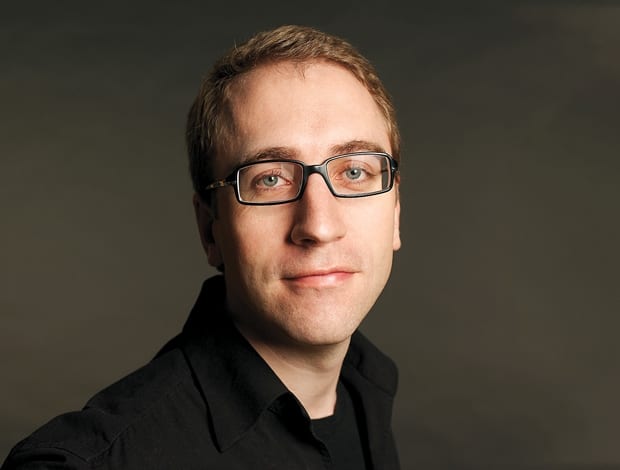 Stefan Borselius|Skandiform's curvy Spino sofa system, launched earlier this year|The Fogg light, manufactured by Swedish firm Ateljé Lyktan|Lengths of extruded aluminium are sliced up to make the Sting chair|Aircone, one of several acoustic room dividers designed for Abstractra|Air-flake sprang from a need for caustic dividers that are semi-transparent|The Sam table for Fogia, designed with Note and Andreas Engesvik|Detail of the Sam table|Dundra, another seating range for Blå Station, is soft and stackable||Skandiform's curvy Spino sofa system, launched earlier this year|Oppo, Blå Station's swivelling 'alien' clair|The Dunder easy chair Blå Station|The asymmetrical, hybrid Wilmer chair, designed for Blå Station|Peekaboo for Blå Station pioneered the use of automotive acoustic material||
The Swedish designer's conscious decision to restrict the number of collaborations he works on has only made him all the more sought after by manufacturers. Thankfully, he cooperated for an interview…
At this year's Stockholm Furniture Fair, one name popped up so frequently it was hard to ignore. That was Stefan Borselius, who launched products with Blå Station, Abstracta, Fogia and Skandiform at the show in February; has just released the Sam table with Fogia, and is now busy working on a number of new pieces for Orgatec in October – not a bad output for a one-man-band.
"I do what I have time to do," says Borselius, typically modest and matter-of-fact. "If I wanted to, I could have more people in my office and work on more projects, but I want to work on a personal level with each company."
Until recently, this unwavering loyalty meant for most of his 12 years as an independent designer (aside from a few carpets for Almedahls), the Swedish designer had pretty much only worked with two brands: Blå Station and Abstracta. He felt the collaborations wereworking well, so didn't want to dilute his focus by working with competitor brands. As a result, Borselius reckons he has designed around a third of Blå Station's entire back catalogue.
"When I started working with [Blå Station] it was not a big company. They were looking to work in a new way, with a young designer," he remembers. "As always, you need hard work to succeed, but also a bit of luck." In recent years, with both Borselius and Blå Station firmly established, the designer came to feel it was time to experiment and diversify.
Prior to his first product with the Swedish brand, Borselius had already banked no fewer than 11 years of training in his specialist field. Loosely inspired by his cabinet-maker grandfather and great-grandfather, he began his lengthy education in woodworking, with ambitions to follow in the family trade. He studied the subject for three years before attending the Steneby School, a craft school in Sweden, then the Carl Malmsten furniture school, where he began to branch out from purely making.
"It was nice," he says of woodworking, "but I thought it would be nicer to learn how to design the pieces as well."
The final piece of the puzzle slotted in when Borselius earned a place at Konstfack, the country's best-known design school, with an alumni list including Claesson Koivisto Rune and Front. There, he met future collaborator Fredrik Mattson (co-designer of the Sting chair) and cemented his expertise in furniture design.
"If I'd known I was going to be that long in education, I wouldn't have done it," laughs Borselius, "but it was fun, and one thing leads to another."
He promptly set up his studio straight after graduating in 2002, and began work on the Sting chair with Fredrik Mattson, a project that came to characterise his subtly intelligent approach to design and manufacture. The chair is made from extruded aluminium, produced in stretches of 50-60m of sheet material then "sliced like a salami", describes Borselius, to create the virtually seamless seat and backrest. With its super-slim, lightweight form, refined details and clever application of a mass manufacturing technique, it scooped up the design awards and press coverage and got Borselius' studio off to a running start.
"I try to look at materials and processes that aren't used in furniture"
"It was a door-opener," he says of the product. It also demonstrated the designer's professional goals. "I always try to do something more than just the shape; look at new materials and processes that aren't used in furniture, and see if we can deal with it. I think that comes from my woodworking background. I work from the ground up, from scratch. So I see every possibility
of the material."
Sting was Borselius's first project with Blå Station; he has worked with the brand on a new project every year. In 2005, the partnership yielded the Peekaboo chair, an evolution of the wing chair with a pull-down hood and a body made from sound absorbent material used in car-making – another pioneering use of material and process. It was also a forerunner in the now-very-busy market of breakout seating that offers a quiet, private space for individuals to work. "I tried to see how we live today, and find a new solution," he explains.
"I could have made ten times more products. I could make more money just shitting it out"
A similarly innovative approach has also seen annual projects with Abstracta, industry leaders in genuinely aesthetically pleasing acoustic panels (quite a feat). "It's easier to design a nice chair than a nice room divider," he remarks. The most successful include 2007's Airflake, a cascade of modular panelling that can be hung in various configurations and divides space without completely blocking it; and 2013's MOOW, a whiteboard system that allows panels to slide vertically or horizontally on wall-mounted rails or be freestanding. Abstracta, says Borselius, is one of a new generation of Swedish manufacturers braving new, more complex designs to compete on the international market.
"Swedish heritage is inquisitive in the way of making things, which is good and bad. Sometimes that means making it the easiest way and being stuck in tradition, but now companies are taking what's been done and making it better. They've gone to another level."
The overriding theme across his work, from the bulbous forms of Oppo for Blå Station to the winding Spino sofa for Skandiform, is his use of soft, curvy shapes – not a hard edge in sight. Borselius has been told his aesthetic is feminine, and puts it down to his development process. "I'm still a craftsman. I do work on the computer, but I always make prototypes, mostly in clay. I want to have it in my hand before I see it on the computer. So because I work in clay, I think the pieces have some sculpture in them."
On the agenda now is more work for Abstracta, Skandiform and, of course, Blå Station; for the latter, a collaborative project with company owner Johan Lindau and Stockholm-based designer Thomas Bernstrand, wherein the three designers will create three chairs collaboratively, each directing one – part of an endeavour to work in new ways. The new Sam table for Fogia is created in a similar fashion, designed together with Note Design Studio and Oslo-based Andreas Engesvik (the name Sam, incidentally, came from 'samarbete', the Swedish word for collaboration). He's also launching a light in November, the fruit of a three-year project with Ateljé Lyktan. But far from having dollar signs in his eyes, Borselius remains steadfast in controlling his workload, nobly prioritising design.
"I could've made ten times more products, because I have the ideas and people ask me, but I want to do things well. I could make a lot of money just shitting it out, but I like trying to solve something. And even if I don't, I want to know it's the best I can do."