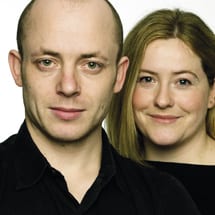 They say never work with animals or children. But should you add "your other half" to that list? onoffice finds out how good workplace design proves vital in this special type of creative collaboration.
e15
Farah Ebrahimi and Philipp Mainzer teamed up at on both a personal and professional level in 1998. Mainzer studied at Central Saint Martins followed by the Architectural Association. After working in England, Germany and the US, he co-founded e15 in 1995, in London. Its headquarters is now located near Frankfurt and Mainzer is managing partner and creative director. Ebrahimi was born in Iran but moved to the US in 1978 to study fashion design in Los Angeles. She was design director at DKNY and has been involved with e15 for 10 years. Ebrahimi moved to Germany in 2001 and is now creative consultant, working on projects such as selecting fabrics for e15's new range of upholstered furniture.
"There was a sense of adventure and desire to collaborate and to mix what we individually did best. We share a similar aesthetic and desire for good design. However, we are different in character and backgrounds, so inspire each other. Work and life blur into one. There is no real separation between work and life. We find it most enjoyable when we are able to draw on an experience for an idea, whether we are travelling or doing something banal like reading the newspaper. Besides an individual workstation, in a creative workplace, it is important to create a communal private space, where the team can preferably see, contribute and play with ideas using a designated wall and space to accommodate installations and prototypes. The simple idea of a communal creative space can help foster common goals, while maintaining team awareness for timelines and deadlines. In working with a partner, be prepared to see things differently and have fun.
Frank
Pam West and Matt Edmonds have been working together for nine years. They met at Buckinghamshire College in 1995 while studying furniture and related product design. They went on to study for a masters in furniture design, before forming Frank in 2001. Their work includes furniture design for Established & Sons, a catwalk for designer Markus Lupfer's spring/summer 2002 collection staged at the Royal Opera House, and a set of disposable drinks mats."As a couple, we had been informing each other's work for a good while before we ever thought of formalising our working relationship. It did feel very natural as the next step to take, but we both resisted for a long time – it's just something you don't do and everyone kept reminding us of that fact! We often have very similar ideas and sensibilities about projects but approach them from entirely different perspectives, while heading towards the same end. We have the luxury of being brutally honest with each other, so we don't have to spend time protecting egos when we're working. We don't take it personally. Work is work and home is home. I always liken it to being bilingual and flitting from one language to another in the space of one conversation with ease, in that work and home are more easily compartmentalised. We have a live/work space and the distinction between work and home improved when we designed and fitted a large unit which incorporates our office space at one end and gradually evolves into a domestic shelving/storage system at the other end."
Pinch
Husband and wife team Russell Pinch and Oona Bannon collaborate on the Pinch brand, which was launched in 2004 and now encompasses a range of award-winning furniture and lighting designs. After several years at the Conran Group, Pinch co-founded multi-disciplinary agency The Nest, with clients including Selfridges and Rip Curl. Bannon was account manager at The Nest and subsequently worked for branding design agency Bloom, before joining Pinch in 2006. They have been working together for seven years. "We are extremely lucky that we have some very different skills that complement one another, rather than compete. We also thrive on the challenges that each other brings to the business, which push both of us to do things beyond what we would do on our own. Our home is our studio and our showroom. It's crazy but we love it and it works really well – our life is completely wrapped up in both the professional and personal sides. We strongly think that a space which allows us to function privately and professionally works to our advantage. But we do have our own offices and I often resort to working with the music on to focus on design. As for striking a work/life balance – we don't! However, there is give and take, and occasionally we can say 'shall we just have an extra day of holiday?' I would advise anyone working with their partner to make sure that they maximise the advantages of doing so whenever possible."
Scabetti
Dominic and Frances Bromley met while studying industrial design at Brunel University. Dominic set up Scabetti, which produces lighting, sculptures and interior accessories in 1999, when he was living with Frances. When the business relocated to Leek, north Staffordshire, five years ago, Frances ceased full-time employment to concentrate on raising their family, before becoming more involved in the business.
"Although we're both designers and have mass-market commercial experience, my present focus is strategic design, while Dom's focus is the more visual angle," says Frances. "That said, we share and discuss everything we do. Dom may sculpt a piece but I would be the critical eye. I might develop a production process, but then it would evolve between the two of us until we were both happy. So much depends on the nature of your business. With us, we enjoy a practical yet inspiring environment. As we spend most of the day in the studio, it is important to enjoy the space. We also aim to have an environment that tells clients a little more about our personalities, rather than purely the work they are investing in. This includes 'safe' zones, meaning the children can join us in the studio and build race tracks for cars made from card, or paint murals on the walls. A fridge stocked with fresh ground coffee and home-made marmalade is also key! Our studio is a five-minute walk from home, which means we have a healthy separation from domestic duties, yet are close enough to put in some late nights if projects demand it."
NOW for Architecture and Urbanism
Having previously collaborated on a few projects, Nene Tsuboi and Tuomas Toivonen now work as part of Helsinki-based design collective NOW for Architecture and Urbanism, which has been in operation since 2005. Their work includes a series of Local Mugs for Iittala and a children's furniture collection for Artek. Tsuboi specialises in graphic-based work and office management, while Toivonen has more client contact and deals with the architectural side of things.
"Our work together is mainly discussion. We rarely draw or make models until we know what we are aiming for. We spend a lot of time formulating alternative starting points or analysing the situation from different points of view. Our workplace and home look and feel very similar, even though they are in different locations and the sizes are different. We spend most of our time at the office, so we want to make it like our home. For Nene, as a Japanese person, it's important that nobody wears shoes at home, so the office is a similarly shoe-less space. The location, space and arrangement of the working environment have a huge impact on the way we work and the results. We used to work in a shared office space, and when we decided to work together, we moved to our own space. It was important for us to move to be able to progress and develop as a company, as well as to change and challenge our way of thinking. Our work is what we are, so work and life are equally balanced."
Save Our Souls
Johannes Carlström and Magdalena Nilsson formed Save Our Souls in the summer of 2005, a time they describe as "marked by tsunamis, bombings and a clash of cultures". After a discussion by the waterside in southern Stockholm about how they wanted to work – Nilsson had just graduated in ceramics and glass, while Carlström was working on a TV show about interiors – their working partnership began. This professional collaboration came about a year after they had finished a two-year relationship. Their work includes Lightning Shelf (which Carlström is holding) and the Drops lamp (which Nilsson is holding).
"When Save Our Souls began, we did not know what was going to happen, just that we wanted to do something creative together. Normally we say that Johannes stands for the big gestures and the whole and Magdalena is more into details and finish. We complement each other throughout the design process. It's pretty simple for us to achieve a work/life balance as we do not work together every day and we rarely hang out as friends any more, so it is strictly business. It is almost like we have forgotten we ever were a couple – we have been working together for longer than we were dating. Plus, we can be tougher with each other because we don't need to be afraid of treading on each other's toes. We share the office with Johannes's other company, an interior and design firm, and for the future we would like to have a smaller workspace where we can truly create our little Save Our Souls world."

Two Create
Lucy Nunn and Tobie Snowdowne met at a group interview for a place on the Central Saint Martins foundation art and design course. After both winning places, they became a couple in the second year of the BA product design course. They set up multi-disciplinary agency Two Create in 2001, with clients including Habitat, MDF Italia and Mathmos.
"Being a designer is different from many other jobs, mainly in the way that you never really switch off. But I think this is where being a couple in life as well as work really helps, as we can discuss work outside work hours without it being stressful. More often than not, Lucy and I will disagree about design decisions. In fact, it is when we agree that we know an idea is really special. However, we never take these disagreements outside the studio. We can argue all day about a project and then spend the evening in good company. We work from a converted Victorian shop. The lower ground level is where we live and we work from the ground floor, which we have converted into a studio. Having an integrated workspace on a different level from our home works well for us. Our front door opens into the studio and we can work there all day without needing to come into our home. In the evenings, we can turn everything off and move downstairs and relax without the distraction of computers and prototypes. We have the benefit of a 10-second commute, but we realise the importance of a physical divide between the home and office."
Tezuka Architects
Lucy Nunn and Tobie Snowdowne met at a group interview for a place on the Central Saint Martins foundation art and design course. After both winning places, they became a couple in the second year of the BA product design course. They set up multi-disciplinary agency Two Create in 2001, with clients including Habitat, MDF Italia and Mathmos.
"Being a designer is different from many other jobs, mainly in the way that you never really switch off. But I think this is where being a couple in life as well as work really helps, as we can discuss work outside work hours without it being stressful. More often than not, Lucy and I will disagree about design decisions. In fact, it is when we agree that we know an idea is really special. However, we never take these disagreements outside the studio. We can argue all day about a project and then spend the evening in good company. We work from a converted Victorian shop. The lower ground level is where we live and we work from the ground floor, which we have converted into a studio. Having an integrated workspace on a different level from our home works well for us. Our front door opens into the studio and we can work there all day without needing to come into our home. In the evenings, we can turn everything off and move downstairs and relax without the distraction of computers and prototypes. We have the benefit of a 10-second commute, but we realise the importance of a physical divide between the home and office."