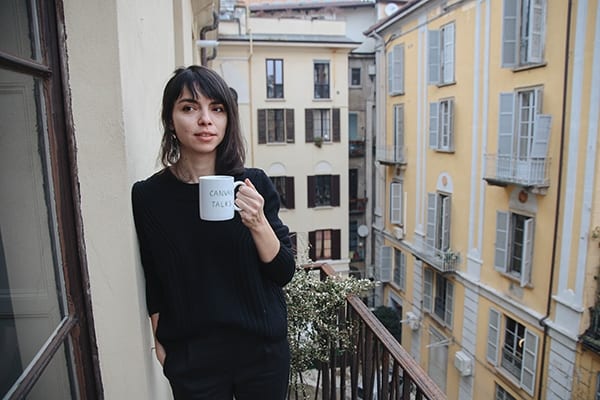 |||
Design is at the heart of Milan's well-heeled Brera neighbourhood and no more so than at its landmark institution Brera Design Apartment.
Nestled along the quaint Via Palermo – known as the "home" of the Brera Design District – the apartment recently teamed up with home-gallery Casa Canvas to launch Canvas Talks, which breaks stereotypes and old-fashioned business boundaries all at once.
Currently dedicated to female professionals within the fields of design, art and communication, the newly launched event, organised with the help of Santa Magherita Wines and Alysi, was created to stimulate creativity and encourage networking in an intimate environment.
Matching this spirit of collaboration, the initiative was dreamed up by Brazilian designer and founder of Casa Canvas Thayse Viégas, who joined forces with Portuguese graphic designer Silvia Matias to envision a contemporary platform where dialogue and inspiration were encouraged in a monthly setting among creative professionals.
Together, and with the help of Paolo Casati – co-founder of Studiolabo and creator of the design district's showroom Brera Design Apartment – the concept became a reality back in January this year.
Held once a month on Mondays at Brera Design Apartment, Canvas Talks sees a group of 14 professionals discussing different industry themes at each event. For the 2019 edition, the organisers have proposed a broad topic, Build and Rebuild, which is then explored in more detail, with talking points including the need for more inclusive spaces (among others).
To encourage conversation and engagement, a mediator fosters group interaction with the help of a diverse panel as well as various creative activities. Attendees transform "blank canvases", like white plates, into new stories, which cleverly stand as symbols of future change.
Meanwhile, Greek chef and Canvas Talk collaborator Vasiliki Pierrakea, who heads Milan's chic Vasiliki Kouzina restaurant, serves up tasty fare to complement the engaging talks, with the dining experience being a reflection of the event's wider ethos. "Canvas Talks are wonderful," says Pierrakea. "At the table we are all the same. No one is better than the other."
It is this sense of familiarity and comfort that makes Canvas Talks unique to most traditional networking events. By giving everyone an equal opportunity to be heard, the initiative allows like-minded individuals to connect in a more authentic way.
Canvas Talks founder Thayse Viegas
Viégas explains this in more detail: "We don't want to create a superficial environment but somewhere to genuinely connect with one another. On social media we sometimes portray our best selves but at Canvas Talks we can share our fragilities, vulnerabilities and successes all at the same time. My hope is that we support each other rather than being in competition."
While the current talks are aimed at women within the creative industry, Viégas is clear that she does not want to create divides of any kind. Future events could be aimed at just men or children, and the team is even in discussions about hosting Canvas Talks at international locations outside Italy.
Milanese journalist Laura Traldi adds: "Canvas Talks is inspired by the traditional closed-door meetings of creative people in Milan, but with a difference: it is an intimate meeting point that opens outwards."
Sharing and creating are at the core of Canvas Talks. As powerful synergies continue to form, the initiative helps build stronger communities who feel like they belong to a cause bigger than themselves.
An idea that was initially born simply out of people meeting and talking at Casa Canvas, Canvas Talks is reflective of Viégas' multi-cultural background in many ways. Her upbringing coupled with her exquisite home-meets-gallery space blur the boundaries between design, art and architecture as much as the talks do. In an unfortunate time of building walls, Viégas' open-door policy is needed more than ever before.