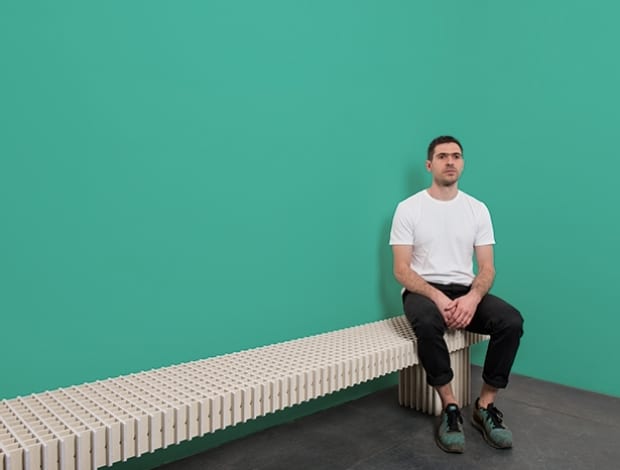 |||
Max Lamb is a master of materiality. It's no surprise then, that Really – a startup from Copenhagen that is now majority-owned by Danish textile giant Kvadrat – looked to this north London-based designer to promote a new sustainable material that architects and designers of commercial schemes will surely want to specify.
Fast forward to May's Milan Design Week and both Lamb and the Dutch designer Christien Meindertsma are showing installations which make use of this solid textile board. Really and Kvadrat's mission is to challenge the architecture and design sector to rethink how they use resources – and Lamb is showing the way with furniture.
At the location on via Maroncelli there's an air of anticipation and a general hubbub as Kvadrat folk and PRs, Jane Withers, who curated the exhibition, and our photographer get ready for the opening. Despite being pulled in multiple directions for publicity and last-minute preparations, and accosted by general well-wishers from the industry, Lamb is calm, patient and charismatic – all the more remarkable given that he became a father just ten weeks previously: his partner and new arrival look on proudly as he takes centre stage.
Lamb tests out his Really benches at the Milan launch
"It was very successful," he says, reflecting on the launch some weeks later. "It was a good departure for me. I normally make things and this differs in that respect. It had a real green mission and that felt very positive for me. It was coming from someone else rather than me. I enhanced the material forward – and the response has been overwhelming: you are trying to influence people to dig a bit deeper."
Although Lamb was not responsible for designing Really's material, his Milan installation ably demonstrated its possibilities, and allowed people to digest and absorb the potential applications of the product in architectural and design projects. But, there's more to it, as Lamb goes on to explain: "There's a much deeper story in that the material was created from scratch with a circular economy in mind and designed in a way that allows that."
Really's production process upcycles end-of-life textiles into a high-density, engineered material. From its origins as cotton and wool from the fashion and textile industries and households, as well as Kvadrat's selvedge waste, it is milled and mixed with a binder to form a solid textile board that is ripe for specification: it can be used as a substitute for wood and composites as a material for furniture. And eventually, when its time is done, the material can be regranulated and formed into new boards – a perfect example of the circular economy that Lamb refers to.
Throne-like chairs showcase the material's potential
Equal parts tactile, decorative and practical, the solid textile board could easily rival stone, wood, plasterboard or masonry, and its outer layers are available in four colours: cotton white, cotton blue, wool slate and wool natural. Lamb's pieces showcase the material's potential in different ways. The standard length of the board is 3m, and this is reflected in the dimensions of the benches. The chairs, however, which have a distinctly throne-like quality, show off the vertical potential of the sheets, which have been CNC cut and folded. Another table shows the trim edges after cutting. The seat, which resembles a thrown vase, has a triangular gusset (no sniggering at the back) and the edge of the grain has been revealed.
Since Milan, Lamb's benches have also made an appearance at the 3 Days of Design event in Copenhagen. Lamb too has been traversing the globe since the Italian design job, travelling to Chicago where the Art Institute is holding a solo exhibition of his work – both past and present – next spring.
One of his most recent projects was in Stockholm, where along with a host of designers including Scholten & Baijings, Philippe Malouin and Jonathan Olivares, he has been taking part in the Superbenches project curated by New-York-based creative director Felix Burrichter on the outskirts of the Swedish capital.
Lamb's pewter stools are hand cast directly on the beach
As part of a two-year initiative to regenerate Kvarnbacken, a park in the suburb of Järfälla, each of the ten designers is responsible for an experimental bench design. In a typically socially engaged move by the Swedes – a public-private initiative with developer HSB Norra Stor-Stockholm – the aim is to create a place of community where people will gather before a new housing development is completed.
The brief was to play with the idea of a traditional park bench, but focusing on the objective of encouraging people to meet each other. Lamb's contribution is a striking zigzagging design, created using a CNC mandrel bending machine, with which he has bent a length of stainless steel tube six times at 90 degrees in alternating directions. He describes it as a substantial, utilitarian piece.
Marmoreal can be used for both furniture and interior surfaces
Materials have been at the heart of what Max Lamb is known for, for practically his whole career. And in his time, he has worked with stone, wood, metal and plastic. Perhaps the most hands-on example of this is his triangular pewter stool, which was created on a Cornish beach by digging the form of the stool into the sand, then pouring in molten pewter to cast the stool, before digging it out of the sand.
More conventionally, Lamb's Marmoreal product, launched in 2014, is a high-specification engineered marble – its name means "marble-like" – that has a number of uses in commercial interiors and can be made into furniture or applied to various interior and exterior architectural surfaces. "Marmoreal is still very much in the foreground," Lamb says.
Lamb's Urushi low table brings a high sheen to cypress wood
Against a black or white background featuring Grigio Carnico, a grey to black limestone, or Bianco Verona, which is characterised by its opacity and shades of off-white to cream and pink to grey, colour is provided by the contrast of three bright Veronese marbles: Rosso Verona, a red modular limestone; Giallo Mori, a bright, ochre-yellow marble from Tyrol; and Verde Alpi, which has an intense green colour with contrasting white quartz veins. Produced by Dzek, the material is also available in custom colours – quite a painstaking process, Lamb admits, but ultimately a rewarding one.
Similarly meticulous, Lamb's Urushi series is a collection of wooden tables, stools and cabinets that have been finished with urushi lacquer, traditionally used in Japan on a variety of objects from buddhas to bento boxes to achieve a hard sheen. The shape of each piece has been achieved by working the wood by hand so that the natural grain and structure are still apparent beneath the lacquer.
Shelving from the 2015 Planks collection for Benchmark
Many of Lamb's projects share a provenance and an authenticity – this is most evident in his 2015 London Design Festival project My Grandfather's Tree, which was shown at Somerset House. Lamb decided to give the 187-year-old ash tree from his grandfather's farm in Yorkshire a new chapter in its history, separating it into a collection of 131 logs, with the rings, knots and gnarls revealing the decades of its life. The pieces of wood had been drying for seven years before being sanded down and oiled, and were then used for seating, tables or simply as decorative objects.
At the time of going to press, no London Design Festival projects have been pencilled in for Lamb. Instead, he is to spend a spell teaching at the California College of the Arts in San Francisco. From spring in Milan to autumn on the West Coast, Max Lamb's art-meets-design-meets-materials means he's a man in demand.
This article first appeared in the July issue of OnOffice
Urushi stools reveal the handworked wood beneath
We visited the London-based designer's installation in Milan for Danish brand Really, to find out more about his materials-focused approach to design