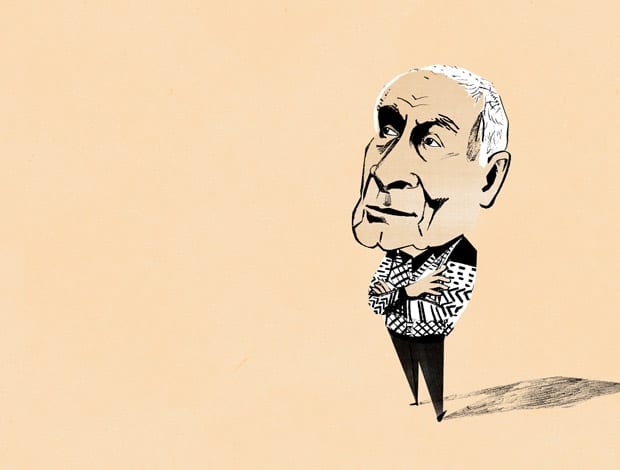 Kenneth Grange by Ellie Foreman-Peck|Grange's April seating, new for Modus, puts comfort back in the foreground|Hitch Mylius' HM 82, designed specifically for elderly care settings|The TX1 cab was safer and more accessible than its predecessor|The High Speed Train, designed for British Rail in 1978 and still going|Grange shaped a generation of kitchens with his work for Kenwood|Ranger, a steel clock designed in the 1960s for Short and Mason|A 1972 monitor for Reuters, with a keyboard that slides neatly under it|The elegant Milward Courier battery shaver, designed in the mid-1960s|Parker's 25 pen and pencil, made from black enamelled stainless steel|Grange's most successful project, the Kodak 33 camera, sold 25m units|The ergonomic Royale razor for Wilkinson Sword, with rubber hand-grip||
Sir Kenneth Grange talks to onoffice about Kenwood, Kodak and the unprecedented success of Ikea
"I came at this project with a great deal of prejudice about comfort, which you inevitably get when you're dealing with an old fart," says Kenneth Grange. The designer, who will shortly turn 85, relaxes into his robust-looking April sofa for Modus.
In Milan for the Salone, he seems to be enjoying the trickle of visitors milling around Palazzo Morando, where he and others members of the British design contingent are displaying their latest work. Occasionally, someone parks up in his accompanying armchair and stretches out appreciatively.
"In many modern interiors the furniture is chiefly there to support the architecture," he says. "The importance of comfort is not a big element in commercial interiors because no one under 50 sits on the things anyway."
When placed alongside the brash digital world, Grange's knack for self-deprecation feels like it belongs to a bygone age. But he is no yearning sentimentalist. A doyen of modernity, the designer has never stood still in a career that began in 1952.
With April, Grange dispelled the illusions of levity beloved by many furniture designers and extruded the thick legs from the seat as if the form was propped up on trestles. The piece conveys a sense of reliability coupled with a degree of wit.
"I would call it British with learning," he says. "The Danes were doing this sort of support in the 1960s and 1970s, but they had to hand carve it. Nowadays, it's wholly machined."
Grange's hopes for April stretch beyond the cut and thrust of the contract market. His finely tuned commercial antennae tell him the furniture will appeal to young couples starting their first home as well as downsizing retirees.
"My peers and I grew up thinking, make anything better if you possibly can"
In his twilight years, comfort has become something of a bugbear for Grange. Working with Hitch Mylius, he took on the general awfulness of furniture for the elderly with a curvaceous armchair in 2011.
"It was a bloody good chair, beautifully made as you would expect from Hitch, but they don't sell terribly many of them if I am honest. Their customers are young architects and specifiers and their age means they have no experience of what I am trying to sell them."
His most recent work with Modus also marked anrare creative partnership, with the old master joining forces with Jack Smith – an RCA graduate, former pupil and now erstwhile collaborator. A mutual love of making saw a re-energised Grange repay the favour by giving his young charge equal billing.
"You don't make these partnerships lightly, but he has been a tremendous tonic for me," he says.
While many young designers go into teaching to supplement their income, Grange entered the academic world late. Embracing the role of mentor with typical exuberance, the designer has found himself shaping a new wave of international talent. And contrary to prevailing opinion, he says the Europeans are still leading the field.
"There is a tremendous spectrum of ability at the diploma shows. The Chinese and Malaysians are extremely well-educated but they do not have the same kind of sophistication as the generation coming through Europe."
For Grange it boils down to design heritage, which he points out cannot simply be drafted in overnight.
"Not one of them will have worked in a modern designed office or a modern designed home. Here, there is a general consumer who expects modernism in their products."
Grange singles out the unprecedented success of Ikea as driving this expectation, even more so than figures like Terence Conran.
"The fact that it is a very cheap way of building a home invites snobbery. I have heard some designers turn their nose up at it but the bottom line is that Ikea has contributed a great deal to our society and to our trade."
So does the designer, who shaped countless British kitchens via his work with Kenwood 50 years ago, want to strike up a new working partnership in a similar vein? Grange leans forward. "I'm told they are extremely hard nosed about rewards."
It is a rare corner of life that Grange's designs haven't touched. I remember my father trying vainly to explain Pythagoras' theorum to me while sketching out little triangles with a Parker 25 fountain pen. Such is Grange's delight when I tell him I own one, I haven't the heart to mention that it leaks like a tap. Still, whatever frailties have developed over its 30-year life are negated by the pen's elegant dash.
Similarly, his Milward Courier battery-powered shaver was a crystal clear marriage of functionality and form – the elegant design curved to snugly fit the hand and had a shaving foil that mirrored the contours of the face. The product's simplicity surpasses the macho, overly engineered examples peddled today.
Grange has tackled the big stuff, too. Chances are if you have used a London taxi, it will have been the TX1, his sympathetic, but dynamic reinterpretation of the classic Hackney carriage which won the approval of the notoriously hard to impress London cabbie.
Years before, Grange had designed a car for Welsh sportscar maker Gilbern only for the company to go bust before it could be put into production. Yet, he still harbours ambitions in the arena of mass transit, despite the sector being the scene of his greatest triumph, the High Speed Train (HST).
"I was only thinking the other day that I would quite like to do a coach. Something big enough to be influential."
A London bus, perhaps? What does he think of the new Routemaster?
"You know I am a great fan of Heatherwick," he says. "What he did at the Olympics will never be equalled." One senses a "but" is on the way and sure enough it arrives punctually.
"The demands of a bus are very constricting and what has come out is a very dramatic graphic. But the interior is disappointing in detail. He is a big canvas guy, but sometimes you get a job where you have to hold your own against engineers and accountants with cogent arguments for insisting upon something."
"Kodak was very ethically run – they used to tell me to increase my fee. Imagine that today"
Though he is very much his own man, Grange's energy and ability to work with a diverse tapestry of accountants, salesmen and engineers is probably the key to his longevity. He still views himself as a problem-solver in the traditional sense. ("My peers and I grew up thinking, make anything better if you possibly can.") But also as someone who understands the commercial forces that must align if any product is to see the light of day.
"I have never been ashamed of being a commercial artist. With very rare exceptions, you start because someone comes to you because they want to make more money."
This hard-bitten realpolitik has helped Grange master the strange symbiosis of idealism and money-making. At the outer reaches of his industry, the lines between fine art and design have become ever more blurred.
The side effect is that commerce has become something to sneer at, as if the financial imperative somehow sullies the creative process. Worse still, that industrial designers are guilty of loading yet more stuff onto an already cluttered world with little thought to genuine innovation.
Grange, however, originates from a less complicated time when dowdy post-war Britain was desperate to embrace all that was shiny and new. The designer's own passion for modernism was first awakened while working for architect Jack Howe in the early 1950s.
"He was schooled in the rigors of Miesian architecture and was a very keen student of Scandinavian design. His idea of a holiday was to visit the latest modern cemeteries in Finland and treat us to a slide show when he came back."
By the time Grange left to form Kenneth Grange Design Studio in 1958 he was fully signed up to the modernist cause. His first major commission was for Kodak cameras where he experimented with form to produce the commercially successful 44A. However, it was his follow-up 33 series Instamatic camera for Kodak (1968) that is best remembered.
A truly democratic product, it transformed the everyday lives of millions of people for whom the idea of owning a camera was a pipe dream. His relationship with Kodak continued for 20 years in all.
"When Kodak took me on, they were prosperous enough to be very ethically run, and that morality extended to their suppliers. Kodak used to tell me to increase my fee, for Christ's sake. Imagine that today."
Kodak vies with Kenwood for top billing in Grange's expansive portfolio. Over his 30-year association with the latter, beginning when the designer met Kenneth Wood through the long defunct Council of Industrial Design, Grange chalked up around a hundred products. Food mixers, irons and hairdryers were all tackled with a similar verve – duds were rare birds indeed.
"One of my big blunders was refusing Ken Wood's offer of 2.5% of everything he made that I had designed. I thought I needed the money up front more."
In 1972, he founded design supergroup Pentagram with architect Theo Crosby and graphic designers Alan Fletcher, Colin Forbes and Mervyn Kurlansky, which heralded a move away from cameras and food mixers and into street furniture, taxis and loudspeakers. Grange's work rate is exhausting and all the more remarkable when one considers the quality of his output. With typical modesty he deflects any praise, fondly recalling an exhibition held at Pentagram's studios displaying the products that ended up on the cutting-room floor.
"It was more for our entertainment than anything. It helps if you can be relaxed about your mistakes."
Howlers were conspicuous by their absence at the Design Museum's 2011 Grange retrospective, when the designer was little heard of outside of industry circles. The show and accompanying book prompted glowing reviews from national newspapers and thrust Grange back into the public consciousness.
The accompanying sense of nostalgia for the glory days of British manufacturing was pervasive, and no doubt Grange, who has devoted his career to looking forward, appreciated the irony. One suspects the casual observer was surprised to discover that the person who designed the Intercity locomotive was also a dab hand at door handles.
Very much the antithesis to the world of the celebrity 21st century designer, Grange found himself elevated to national treasure status and a knighthood followed two years later.
"The High Speed Train is the one thing that will see me out. It certainly has another 30 years in it"
Immediately after Milan, Grange returned to his countryside retreat in Devon, where, in a follow up phone call, he says he thinks that the High Speed Train is his best work. Commissioned by British Rail's design department to spruce up an existing model, Grange, in a slightly buccaneering fashion, created and secretly tested his own version.
The result was an irresistible combination of pellucid styling and bulletproof engineering. Unveiled with great fanfare to the general public in 1978, it proved a high water mark in the organisation's fortunes.
"Chances are that it is the one thing that will see me out. I think it certainly has another 30 years in it. The things are built like brick shithouses."
Grange's work continues at a similar velocity. He is currently rekindling another time-honoured relationship with British lighting company Anglepoise with whom he revamped the classic task light. There is more furniture on the way too, as well as some hi-fi equipment, though he says the product is a couple of years off.
"It just gets sewn into your soul. You cannot do anything but work really. And for that I am everlastingly thankful."