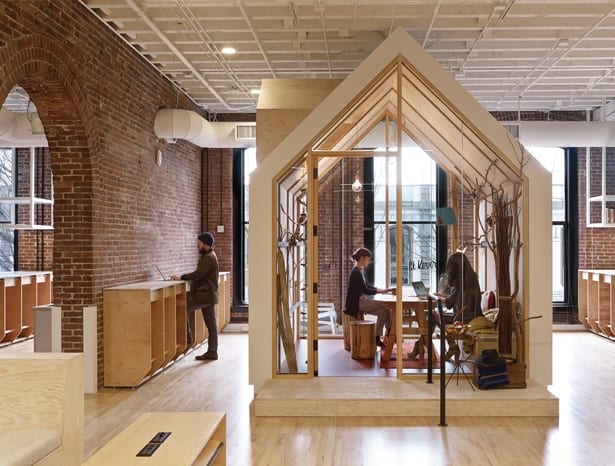 ||
You could say that the new office of airbnb's Customer Experience centre in Portland, Oregon is the very antithesis of that cliche about the Brits – "Every Englishman's home is his castle". The online property rental portal's core mantra is, not surprisingly, "belong anywhere", and this cuddly communal philosophy is reflected by its office's ultra-flexible, open-plan design by Aaron Taylor Harvey and Rachael Yu, who work for the company's in-house interior design team. "The environment we work in is understood as a direct representation of the brand and its core philosophy," say the designers.
Certainly, any territorial staff member keen to cling to his or her permanent desk would feel distinctly uncomfortable in this space, which has been designed to be radically fluid. Illustrating this flexibility is an unusually funky diagram provided by Harvey and Yu, which shows a roving, red-silhouetted employee's unpredictable movement's throughout one working day: soon after getting to the office at 8.30am, he or she breakfasts at a large, communal table, then goes into a staff meeting in a self-contained meeting room and later congregates with other employees at what Airbnb terms Standing Landings – tall, multifunctional pieces of furniture used as both a standing desk and storage unit where employees can hang up jackets, charge laptops and store the latter securely overnight. At other times of the day, the 250 agents working at the Customer Experience Centre (CX) might sit at a shared table and catch up on emails, make overseas calls in an acoustically private phone booth or tap away at their laptops in an area with comfy sofas and armchairs. Before leaving work, they might have a beer or dinner in the office's spacious cafe. Benefits that come with this flexible design, Airbnb points out, include healthier ergonomic movement and more socialising.
The CX agents' role is to answer Airbnb's hosts and guests' queries directly and resolve any problems – multiple, relatively spontaneous activity termed by the company as "workflow". 
"We design spaces to assist and support that flow, not provide generic tools for every employee," say Harvey and Yu.
In short, the design of this 1,670sq m office reflects an abhorrence of routine, and of the idea that any employee might have the office equivalent of a fixed abode. Yet originally it was the CX staff who set this agenda: it was their desire for variety, say Yu and Harvey – rather than any ruling from those in the company's higher echelons or from the designers themselves – that democratically determined the office's design. "We extensively researched ways to support and empower the CX agents via office-wide surveys and brainstorming sessions," say the designers. "The agents wanted their day split equally between standing, sitting and lounging positions. They wanted physical mobility throughout the office and not to be tied down to an assigned desk. This led to us designing the Standing Landings as a new type of office furniture, functioning like a kitchen island in a home, as well as armchairs, sofas and coffee tables." With a view to supporting local businesses, some of this furniture was manufactured by local companies The Good Mod, Phloem Studio and SuperFab. Otherwise, the office boasts restored and reupholstered vintage furniture. There are no formal desks here, rather large, shared plywood tables supported by second-hand Eames conference table legs.
The ultimate expression of the employees' creative input is the office's so-called Scratch Rooms – freestanding structures used as meeting spaces with themed interiors, designed by staff members. One, called SS Clementine, which is festooned with ropes, lanterns and a figurehead, is inspired by a ship's captain's quarters, while another takes a beehive as a creative starting point (one wall is decorated with a honeycomb pattern). These quirky, theatrical features reveal that, although the office has been designed in a communal rather than individualistic spirit, the employees still value individuality. The designers, meanwhile, reason that employees who contribute to their office's design "feel a responsibility for their environment and the work they do in it".
If the CX staff yearned for a flexible design at their new office it's partly because they had previously worked in a purely hot-desking environment, which they deemed cold, impersonal and soulless. It's an environment which Airbnb refers to as "generic" – a dirty word in its eyes.
Giving the office yet more character is the building it occupies in the Portland neighbourhood of Old Town; called Blagen Block, it was created in the late 19th century as a canvas factory and has retained its elaborate facade of cast-iron columns and arches. According to the designers, Old Town has been "somewhat neglected for the past 30 years; it's an area filled with soup kitchens but it 
is changing in a positive way and bringing money to local businesses."
If the new office's layout has been partly shaped by the employees' requirements, the treatment of its interior reflects the designers' belief in celebrating an existing site rather than attempting to mask it. "Blagen is a special 
building and our first task was to reveal its hardwood floors, brick walls and wooden joists," they say. "We also believe in natural materials, represented honestly, and developed a minimal palette of plywood, felt and steel. We then built freestanding volumes within the space – white boxes in a warm, old building."
One particularly eye-catching example of a freestanding structure is a two-storey wooden cube topped by a viewing platform, with seating areas built into its lower level. It's a playful idea not dissimilar to designer Verner Panton's 1960s Living Tower seating system. But is there a reason for the upstairs part? Yu and Aaron's answer is eccentric but not unreasonable: "People enjoy gaining a second perspective on an environment. They like to go upwards in space."
This piece of furniture typifies the philosophy behind this dynamic office environment, which is never dull for offering employees multiple viewpoints. It also gives them the freedom to decide precisely where and how they work.
"Generic" is a dirty word at Airbnb's Customer Experience Centre; with custom-designed themed pods and flexible working places to suit all needs, it's more than just a call centre