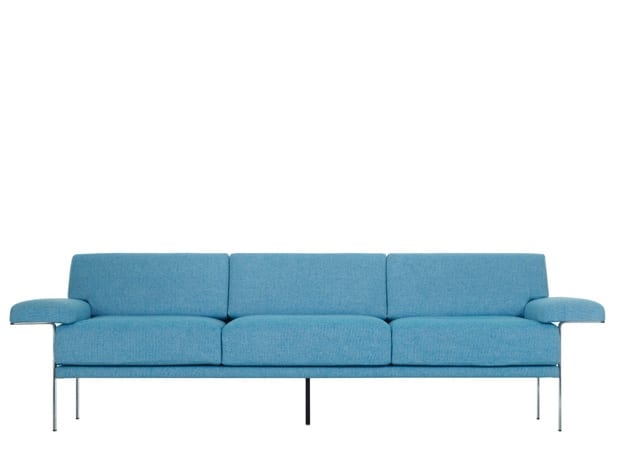 Modus's Park Lane sofa by Christopher Pillet|Mark Gabbertas's Haven seating for Allermuir|The Theo Chair by Chorus; a firm spearheading a more 'design-led' approach||
For decades, UK furniture manufacturers thought that in-house design was the way to work – but with lack of innovation an alleged side-effect, are we lagging behind?
The economic recession has ushered in a quiet wave of conservatism in the UK furniture industry. With the market engaged in a vicious dogfight over prices, things seem to be stuck in a creative rut. What isn't helping is the polarisation between the symbiotic worlds of design and manufacturing. Some of those on the production side view design (and the monetary rewards it might bring independent designers) with scepticism, and yet you can't simply manufacture your way out of an economic downturn with no regard to design value.
Industrial designer Mark Gabbertas has worked with the UK's furniture heavyweights for the best part of a decade. He is frustrated by what he sees as an island mentality in the UK. "We are slightly scared of design. There is a lack of belief in some British companies about their ability to be world leaders. If you looked at the main Fiera in Milan two years ago there was one British company exhibiting, which is insane. Do we have an equivalent of Lapalma or Vitra? No."
Of course, every manufacturer claims it is design-led, but the evidence to back up their earnest assertions isn't always apparent. A cursory glance at the websites of some office furniture makers will reveal nothing about a company's design credentials. "The key issue is that lots of companies pay lip-service to the value of design and then go off and do something completely different," says Gabbertas. "We have been in recession for nearly six years and if manufacturers look at what the competition is doing and change it 10% they are not going to go many miles wrong." This would go some way to explaining how the UK, a world leader in engineering and innovation, became so allergic to risk. By battening down the hatches and waiting for the economic storm to pass, opportunities for reinvention can often be missed.
Ki is one firm that has sensed the zeitgeist, setting up four factories in the UK producing workstations and third-space furniture. It's fair to say that the US company is better known for its storage and educational products than as a doyen of the aesthete crowd, but it appears determined to shift the focus. At the upcoming London Design Festival, it will unveil an acoustic screening system designed by Craig Jones Design. Head of Ki in the UK and Europe, Jonathan Hindle, a former designer himself, is compelled to comment on the importance of a joined-up industry. "Manufacturers understood the tooling, and they thought by churning out widget number four with a new twiddly bit on the bottom it would solve all their ills. What they weren't ready to do was sweep it all away and re-establish what the needs and trends of the market were."
With a turnover of £100m, the Senator Group is one of the most financially powerful UK manufacturers. With its savvy buy-out of respected design-led company Allermuir in 2005, it immediately inherited a creative pedigree to accompany its laden coffers. Tim Lishman, who had worked as design director at Allermuir, left to join Senator as design manager in 2003, and was then appointed design director of Allermuir after it came under the Senator umbrella. "When I joined Senator they didn't really work with outside design studios; the view was more about in-house. They [Senator] did not really like paying royalties, which is of course what independent designers want. The argument that I kept firing back was not to worry about what you are paying the designers, because you have built it into the cost of the product and you are selling it."
Lishman believes that occasionally there is a communication breakdown between high-volume manufacturers and designers, with the former seeing their creative cousins as head-in-the-clouds dreamers. The other side of the argument are those designers who fail to understand a company's tooling and add details that cannot hope to be replicated with the necessary accuracy. In these circumstances it's not difficult to see why designers are viewed with mild suspicion by those who write the cheques. "I spent eight years at Senator and until the day I left I was having to remind the company of the value of design," says Lishman. "They would question all the way down the line: 'Is this size of tube important? Because this other one is in stock.'" That's not to say that design decisions should never be questioned. A dud product by a flighty creative can kill a company's reputation as quickly as some dodgy accounting; just look at Hille, which despite working with independent designers today has never regained the status it had when collaborating with Robin Day in the second half of the 20th century.
To its credit, Senator has raised the stakes with new launches like the Tonina chair, designed by Claudio Dondoli and Marco Pocci. The knock-on effect will undoubtedly force competitors with less design acumen to raise their game, and it remains one of the few UK manufacturers that can, with a first class design director, hold its own on the global stage.
As for Lishman, he left Senator to work with Chorus, one of a crop of smaller companies that make a big play of their 'design integrity'. Somerset-based Modus is of similar ilk: it doesn't operate on anywhere near the same scale as Senator in terms of volume, but has instead ploughed a more European-style furrow, placing its international and homegrown talent at the forefront of the business. Director Ed Richardson explains that Modus' varied target markets (office, hospitality) precipitate an equally diverse product portfolio, and the best way to tackle this is to work with external studios. "They open up [more] technical knowledge and processes than if you were designing in-house and add breadth to your collection in terms of materials," he says.
When a company is working with so many influences, the role of the design director becomes ever more pivotal. "Every company needs a cohesive identity or else it gets lost," says Richardson, who has high expectations of designers in return. "A good designer will understand the requirements and constrictions of a manufacturer. I would expect them to take on a lot of the early developments of a product and work through the ergonomics in their own studio before it gets to an engineer for full production." The other significant arrow in the quiver is the engagement of overseas talent, which can penetrate hitherto closed markets. It seems ludicrously but endearingly parochial in this globalised world, but people still like to support their countryfolk. "If we work with French companies they will buy products by French designers," says Richardson. "We've found that in a few countries."
Continuing in this vein, there are encouraging signs emanating from unexpected realms. Gresham Office Furniture, a solid if unspectacular company based in the north-west has to date been notable for its lack of outside design influences. After 37 years of in-house design, a brave new dawn awaits, as the company's design director of 20 years' standing Karl Anderson explains: "We are at a level now with the growth of the company where we can't keep pace with the people that we have internally. We don't want to be working within a goldfish bowl. We have a better opportunity as well to bring in fresh ideas on particular projects." Gresham is working on new products with an independent design studio, although it is too early in the process for it to reveal who it is. Gresham's underwhelming mot juste – "reasonable furniture at a reasonable price" – as Anderson puts it, would appear to be on the wane. While naptime might well be over among some of the country's sleeping giants, nothing would push the economy forward more than a two-fisted flurry of creative innovation across the board. The talent is there, we just need the belief to match.